Anchor Tattoo Ideas, a globally known marine icon, have long been connected with the sea and adventure. As a result, they are also widely sought after when it comes to creating a lasting impression on our skin.And perhaps it is difficult to find a more enduring symbol than an anchor. It is the tool that safely fixes and stops the boat, that keeps it stable, and that keeps it at rest. And man has employed it in various watercraft well before the Christian period. It is difficult to locate something that is over 4,000 years old that still exists in the world today.
Symbolism
The anchor symbolizes the return to shore after sailing and the good fortune that sailors had in being able to return safely to their homes at the end of a voyage. However, anchors are also a symbol of character, convictions, or ties. As a result, its symbology has been translated to the affections, with the anchor representing the love that binds us strongly to those we love and to whom we constantly return. This link between couples is frequently etched, which is why anchor tattoos with names or initials are visible.
Another meaning of anchor tattoos is security and tranquillity. The sailors (the first to tattoo anchors) felt safe and secure when they were anchored on land.The anchor provided them with a sense of equilibrium, and it can be the seal we choose to place on the skin of a specific moment of peace or conformity in our lives and decisions. Loyalty and honor, two virtues connected with the life of a sailor, may be principles that the person who gets an anchor tattoo desires to extol. The anchor's power of strength and attractiveness is related with robust and long-lasting connections between couples. Those who select it want to capture that bond of love on both of their skins and thereby attract the stability that the anchor represents.
History
Anchors have been a popular motif for tattoos for nearly two centuries; how can they not be considered a classic? The connection between anchors and the sea, as well as anything nautical and sailor-related, is self-evident, thus it would be hard to discuss its meaning without mentioning this feature. First and foremost, anchors are nautical equipment, instruments that are utilized in this sector and are crucial in navigation. Anchors are used to stop a ship at sea so that it does not have to fight the current. It gives sailors the security of being able to stop and stabilize, allowing them to relax. There are various sorts of anchors, and they have historically been utilized because to their functionality.
However, like the fish, it was a symbol associated with the early church in ancient times. It was envisioned as a tool capable of firmly holding something, of halting something and maintaining it in a safe location, without the chance of deviating into bad roads or dangerous areas. Anchors were once used to signify the Christian cross, the same one to which Jesus Christ was nailed. With the passage of time, anchors came to be regarded as a sign merely associated with the water. The anchor became a symbol of stability, security, and trust for the people who lived in that environment.
Designs
1. Feather Anchor Tattoo
This type of girly anchor tattoo is currently mostly worn by guys, primarily in America. This anchor tattoo represents two things: the anchor and the feather. The feather represents bravery, boldness, independence, and travel, but the anchor represents love and stability. This tattoo can be found on the wrist, arms, legs, back, and neck. However, some women prefer to have this tattoo placed on their stomach, lower back, or waist. This tattoo can also be produced in a variety of colors to give it a more appealing appearance.
2. Neck Anchor Tattoo
Many young people all across the world are becoming interested in these anchor designs. With such simple tattoos, the significance of an anchor tattoo is clearly understood. These tattoos represent safety, stability, protected affection, and so forth. This tattoo can be done in a variety of colors and with dark black ink. The grey shade enhances the appearance of the anchor tattoo in this case. Beautiful shadings are also applied to the rope wrapped to give it a more appealing appearance. These tattoos are applied to the neck and can be rapidly removed.
3. Starfish And Anchor Tattoo
Starfishes can latch themselves to the surface very strongly, yet another characteristic that they share with the anchor. Getting a tattoo of them together is a great idea of make them compliment each other.
4. Disney Anchor Tattoo
Anchor tattoos are also popular among Disney animation fans. This tattoo features Minnie Mouse's bow, the renowned Walt Disney cartoon character. The bow is neatly set on the anchor, and various colors are used to enhance its appeal. This style of tattoo is worn on the legs, back, or arms.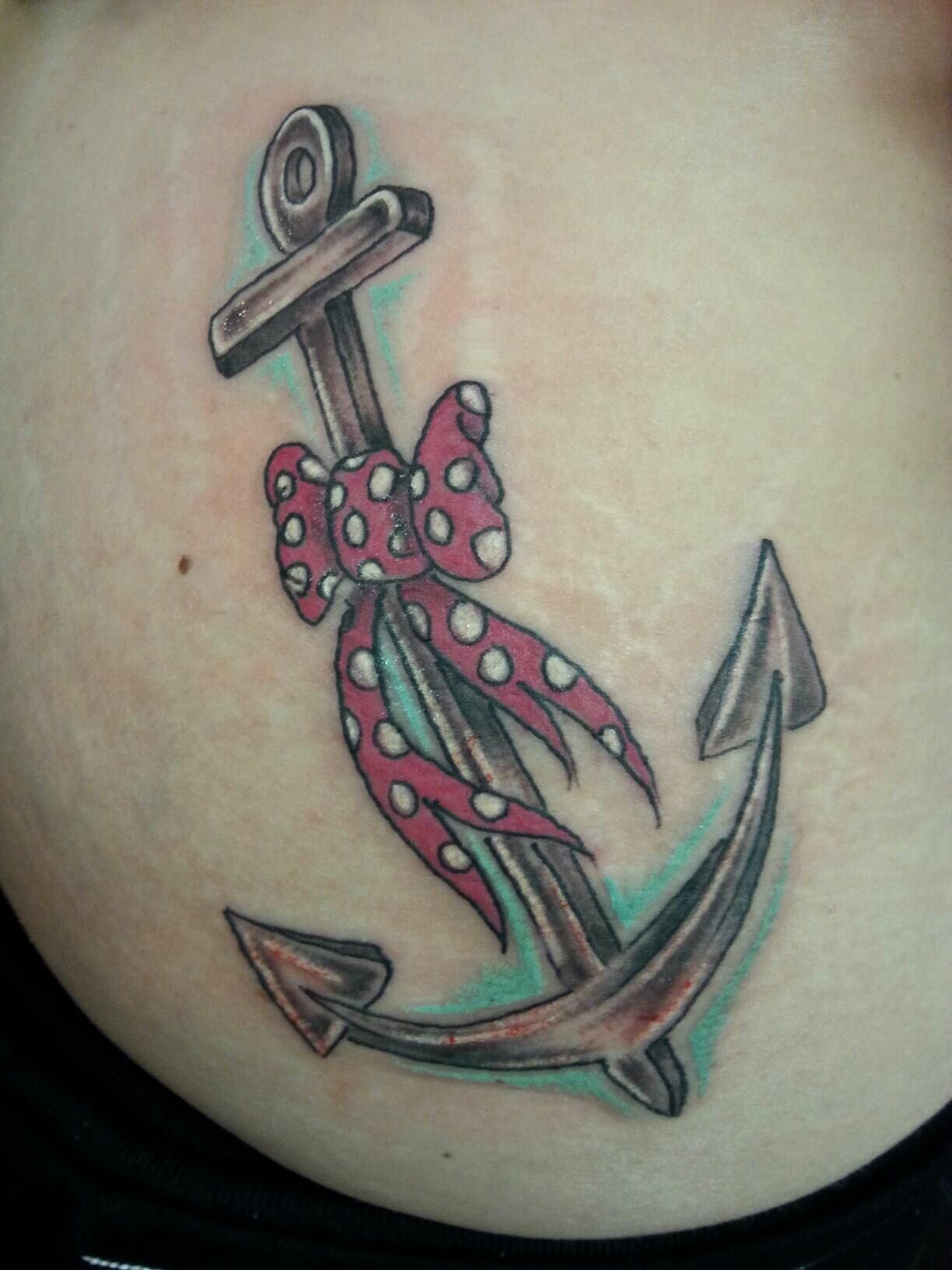 5. Anchor With Date Tattoo
These anchor tattoo designs are created by folks who have lost loved ones and want to honor them with a tattoo. This type of dedication is also often practiced by persons who have a connection to the ocean or who have lost someone. The tattoo depicts an anchor, with a wrapped ribbon bearing the loved one's name and the date he died. This tattoo is commonly seen on the wrist, back, and leg.
6. Floral Anchor Tattoo
A feminine touch to your anchor tattoo, with vines and flowery designs adorning the full length of your tattoo as the anchor faces down, ready to settle. These tattoos are also stunning in black, but they are usually colored to give them a new aspect. It is most flattering on the waist, back, and arms. This is one of the most beautiful anchor tattoo ideas for women.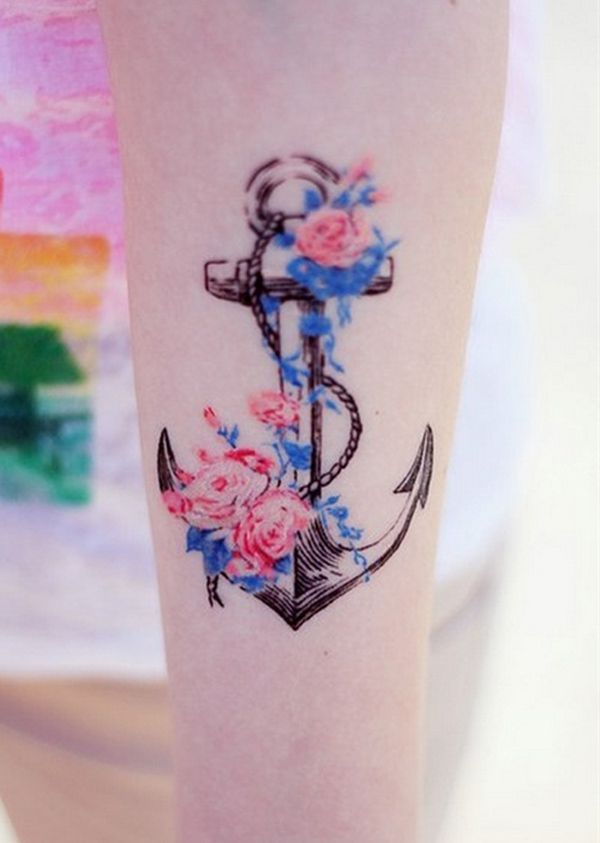 7. Name Anchor Tattoo
This name tattoo contains a symbol for every believer to idealize. The infinity symbol at the beginning encourages you to keep going, even in the face of failure, while the solid wooden anchor bears not only the name but also a heart sign with a floral arrangement on the side.
8. Wheel on Anchor Tattoo
Along with the anchor, this tattoo includes the ship's or boat's steering wheel, illustrating how the wheel is an important element of the journey, guiding us to our objective while the rope-tangled anchor on the front preserves constancy by keeping our feet on the ground. It is one of the most beautiful anchor tattoo designs.
9. Anklet Anchor Tattoo
The nicest thing about a charm bracelet is that it allows you to carry all of your favorite objects in one bracelet chain. This tattoo is a lovely charm anklet with three of the most significant symbols: a heart representing love, a cross representing faith, and an anchor to keep your weight balanced. It is one of the most well-known anchor tattoo designs for women.
10. Anchor and Compass Tattoo
The anchor is a meaningful tattoo design that can be used alone or in combination with other artwork. Consider an anchor and compass tattoo for a symbolically rich nautical theme. The anchor represents stability and strength, and it reminds the wearer to keep strong during difficult times. The compass symbolizes direction and endurance. The navigational instrument has been used by travelers and explorers to keep them safe and find their route, so when these two artifacts are joined, they make a powerful statement and can be a means to convey your thoughts and feelings. This might also be an excellent choice for a sailor as a way to commemorate your time at sea.
11. Minimalist Anchor Tattoo
Simple tattoos are a good alternative for people who wish to keep their design as simple as possible. These pieces frequently focus on the basic contour and lack contrast and fine detail. They can be tattooed large or little, and the clean look appeals to individuals who like a minimalist approach. Your design can also enhance rather than detract from the symbolism associated with the anchor. Anchor tattoos reflect a variety of emotions, including strength, calm, and the capacity to overcome obstacles. It might be a very beneficial option for body art.
12. Anchor Trash Polka Tattoo
The garbage polka tattoo is without a doubt one of the most eye-catching styles. This tattoo style originated in Germany and was developed by tattoo artists Simone Pfaff and Volker Merschky. It blends abstract and realistic elements. The outcome is strong, chaotic, and visually stunning pieces that are heightened by the color combination of black and red ink. You can change the subject matter to your liking, and you can focus on a picture of the anchor paired with abstract designs. Alternatively, use other pictures to enhance the overall message of your composition.
13. Tattoo of a Navy Anchor
The anchor is very important for individuals who work at sea because it prevents the vessel from drifting in the current and keeps it in place. It has become a symbol of stability, tranquility, and perseverance, and has inspired a plethora of tattoo designs. The anchor can also represent the individual's victorious return from a Navy voyage. It can symbolize dignity and integrity, as well as a method to honor the profession.
14. Anchor Cross Tattoo
An anchor and cross tattoo is a striking choice that is rich in symbolism and represents your religion. The anchor represents constancy, strength, and perseverance. When coupled with a cross, these attributes might represent different things to different people, including unshakeable faith in a higher authority. The cross symbolizes dedication, but it is also a sign of Jesus' love and sacrifice; he is thought to have died on the cross to atone for mankind's sins.
15. Anchor with Rope Tattoo
Many anchor tattoo designs include rope, which is frequently wrapped around the anchor. If you want to go technical, the rope could feature a specific knot that has value to your profession. However, the anchor and rope also symbolise masculinity and power, and are frequently associated with sailors. A rope wrapped around an anchor makes it more difficult to raise, which could represent the difficulties you confront or have conquered. Be creative with your design and collaborate with your tattoo artist to obtain the design that best represents your tastes.
16. Tattoo of the Globe and Anchor
An eagle, globe, and anchor tattoo has special value for Marines and is worn as a symbol of honor. This is the Marine Corps symbol, which appears on flags, uniforms, and occasionally as tattoos. You might get this tattooed as a symbol of your passion to your career or to demonstrate how much pride it gives you. It could also be to recognize grandeur and achievement for being a member of one of the world's most elite fighting groups.
17. Typical Anchor Tattoo
The anchor can be fashioned in a variety of ways, ranging from realistic depictions to colorful and dramatic forms that make a statement. Techniques such as Neo-Traditional and American Traditional are excellent choices for people seeking a distinctive tattoo. Both styles are characterized by bold black outlines and a brilliant but limited color palette. The difference is that Neo Traditional feels more modern, with deeper and more dimension parts. The topic is also more varied, however both embrace anchor designs and nautical themes. This is your option if you desire rebellious but cool body art!
18. Wrist Tattoo of an Anchor
Wrist tattoo are amazing for anchors because the object can be simplified to fit smaller locations, the wrist is perfect for an anchor design. Because the wrist is a small body part, your design options are somewhat restricted, yet wrist tattoos are popular because they are visible, allowing you to glance down at your body art every day. Because of the thin skin, lack of muscle and fat, and proximity to bone, getting inked here can be uncomfortable. This area should be designated for tattoos that are meaningful to the user, such as the anchor, which represents strength, stability, and perseverance.
19. Tattoo of an Anchor and a Rose
The rose is the most popular flower to use into your anchor design. Rose tattoos represent honor, desire, and love, as well as a reminder that objects of beauty may cause us grief. The various colors of your rose also indicate different things; for example, a yellow rose represents friendship, but a red rose represents romantic love and passion. An anchor and a rose can represent numerous things, like honoring a loved one and the calming presence they have in your life. To make your piece more personal, consider adding your name, initials, or a statement that expresses your feelings.
20. Tattoo of a Crown and an Anchor
Crown tattoos symbolize royalty, power, strength, and triumph. The anchor is connected with stability, durability, tranquillity, and security, therefore incorporating one within your crown design will contribute to the overall meaning. This combination might mean different things to different people. It's a method for them to recognize their relationship and the person who helps them feel safe and secure. Others may celebrate self-love, reminding themselves that they come first or that they can overcome any obstacles they face. It could also have a religious connotation, indicating your willingness to put your trust in God. The beauty of body art is that no two pieces must have the same meaning or design. So, use your creative freedom to pick something that properly expresses how you feel.
21. Popey the Sailor Man and Anchor Tattoo
Popeye, the Sailor Man, is a fictitious character who like spinach and has been around since the late 1920s. If you grew up watching Popeye, which was also made into a film in the 1980s, getting a tattoo of him could be a fun way to commemorate a childhood memory. Perhaps you like the design or the fact that he is robust and tough. In addition, the character had an anchor tattoo. There are numerous reasons why someone could be drawn to a Popeye tattoo, and the addition of an anchor simply adds to the entire significance.
22. Tattoo of an anchor and an eye
The eye is frequently regarded as a doorway into our souls. Eye tattoos are also associated with vision, mystery, protection, and clarity. It could be tattooed to fend off evil and negative energies and to remind you to be cautious about who you trust. You might also choose The Eye of Providence, a celestial all-seeing eye frequently portrayed in a triangle. This could be to keep an eye on you while you're at sea or to reassure you that you're not alone. An eye and anchor design is an intriguing and one-of-a-kind approach that is visually appealing and can express your ideas and feelings.
23. Anchor Tattoo on the Back
One of the most appealing areas for body art is the back. Back tattoos are frequently done on a larger scale, allowing you to be creative with your design and incorporate many pictures. You can combine the anchor with various other things, such as a compass or a rose, to contribute to the overall message, or you can focus on the anchor alone and complete it to take up much of the back. Small and basic designs, on the other hand, can look just as good here. Tattoos on the back can be easily concealed and displayed when desired. Aside from the spine and toward the hip bones, the back is classified as moderate on the pain scale because to the thick skin, muscle, and fat that provide cushioning.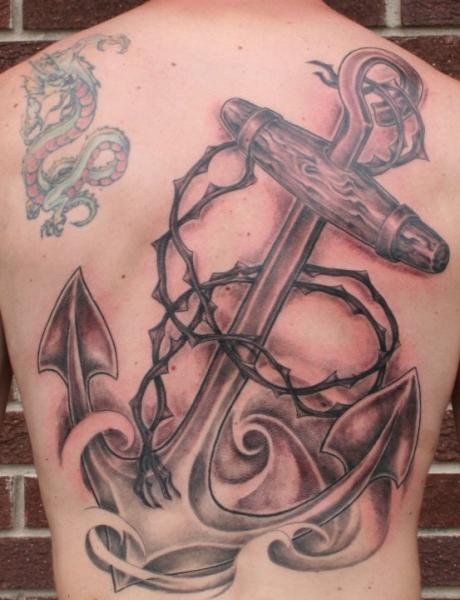 24. Tattoo of Anchor Heart
The heart is an internationally known love symbol. It can also symbolize devotion, commitment, and bravery. The heart, on the other hand, is associated with anguish and heartbreak. Your anchor design can either puncture the heart, suggesting grief, or feature beside it, depending on the meaning you want to express. This strong piece will make a statement and works best in bold colors and styles such as American Traditional or Neo-Traditional tattoos. You may also place a loved one's name on your heart tattoo or use the photos to create a memorial tattoo remembering someone who has passed away.
25. Tattoo of an Anchor on the Finger
Finger tattoos are edgy and hip, but they are not for the faint of heart. Because of the thin skin, proximity to bone, and high concentration of nerve endings in the hand, this region can be extremely painful. For the greatest results, tattoos on the finger should be modest and simple, and the anchor is an excellent choice. The placement is quite prominent, which appeals to some people because they can see their tattoo every day. This allows you to show the world the inner workings of your mind while also proudly displaying artwork that is meaningful to you. The visibility is also a disadvantage because it can be difficult to conceal. Finally, as beautiful as finger tattoos are, they do not endure very long. Because of the exposure to the environment and the frequency with which they are used, they will fade quickly.
26. Tattoos of an Anchor Couple
Couple tattoos are a terrific way to show your love for one another. It is an expression of love and commitment to the partnership; after all, body art is designed to be forever. The anchor's rich symbolism makes it a tempting choice for a pair tattoo, and you can obtain matching designs or portions that complete or compliment each other. Choosing the ideal tattoo and having it inked together may be a bonding experience that brings you closer together.
27. Tattoo of Infinity with an Anchor
The infinity tattoo symbol depicts infinity, which can mean boundless possibilities, everlasting love, and much more. An anchor is an object linked with tranquility, stability, and strength, and it can serve as a reminder to yourself that you can endure difficult and chaotic times in your life. Combining the anchor and the infinity symbol has a romantic meaning and can be inked by someone to commemorate and demonstrate their dedication to their mate. To make the work more personal, insert their name and key dates. The anchor and infinity, on the other hand, reflect your determination and resilience, as well as self-love and confidence.
28. Tattoo of a Hand Anchor
The anchor represents commitment, strength, durability, and stability, therefore it's no surprise that it's a favorite body art design. The shape can be simplified and inked on a tiny scale, or it can be combined with other imagery to create a huge and intricate design. Consider the hand if you want a setting that commands attention. Hand tattoos are contentious because they are visible and difficult to conceal. Some people find this appeal and hand tattoos to be rebellious and cool. They demonstrate that you are someone who does not conform and is not concerned with what others think. However, visible body art still has a stigma, and a hand tattoo may jeopardize your work prospects. It is also one of the most painful places to get tattooed. Because of the large concentration of nerve endings, proximity to bone, and thin skin, this is the case.
29. Anchor Tattoo on Forearm
Forearm tattoos are ideal for designs that you want to see every day. The anchor is a powerful and thought-provoking tattoo, and seeing it every day might motivate you. This is a versatile placement because they may be readily concealed with long sleeve garments or displayed off. Because of the thick skin, muscle, and fat that provide cushioning, it is also regarded mild to moderate on the pain scale. The area is large enough that you are not limited in your design and can incorporate other imagery such as flowers, hearts, or an infinity symbol. Or, for a maritime motif, incorporate swallows, ropes, a sailor's hat, and other items.
30. Mermaid Anchor Tattoo
Mermaids are a popular tattoo style, and many sailors combine mermaid motifs with anchor tattoos. This tattoo is likely to incorporate as many ocean motifs as possible, such as this one, which depicts a mermaid sitting on an anchor surrounded by a wavy sea. The anchor tattoo can be coupled with a variety of designs linked with the sea and sailing. All you have to do is be creative and experiment with hand-drawn designs until you find what you're looking for.
31. Half Sleeve Anchor Tattoo
Anchors can be found on a variety of sleeve tattoos. Anchor sleeve tattoos, like the one shown above, are linked with other symbols associated with sailors and sea life. This tattoo is embellished with a compass, which is a faithful friend of many anchor tattoos. In addition, there is a map of Earth created to lend a backdrop effect to the sleeve. Of course, you may embellish the anchor sleeve tattoo with other features such as a chain or even a colorful motif. Nonetheless, this basic design appears sharp and precise.
Other Articles