Hair is the most important and delicate part of your body. When it comes to looks if your hair is unhealthy then so outfit can save you. Due to our daily hectic schedule, it's hard to take care of the hair on a daily basis. Obviously, it is the most exposed part to natural elements. Heavy pollution and UV-ray damages cells and hair bulbs, resulting in grey hair at an early age. Not only that, the chemical we use to style hair and get instant shine is very much harmful to hair and scalp. Therefore, we start losing hair and end up with a thin, dull, brittle hair. But everybody deserves healthy luscious hair, no matter the hair is short or long, straight or curly. All you need is a proper treatment for your hair. And the best and effective solution is hair steaming.
Hair steaming is nothing but a procedure to supply nutrients and moisture to hair and scalp. Due to heat the hair cuticle and scalp-pores open up and allows deep penetration of moisture. Similarly, it also helps keep cleaning which shampoo cannot provide. Regular apply of hair steaming helps to restore breakage and assure strong and healthy hair. It also retains the natural texture of your hair to look gorgeous.
There are lots of costly treatments you can find but hair steaming is less expensive than others. You only need conditioner or oil, shower cap, face towel and hot water. Making time to go salon after office or daily routine is quite tricky. Rather you can apply it at home and that saves lots of time.
Benefits
As mentioned above, make a habit of steaming hair and avoid the entire hair problem before it goes out of your hand. Not only one, but there are also numbers of benefits which need know: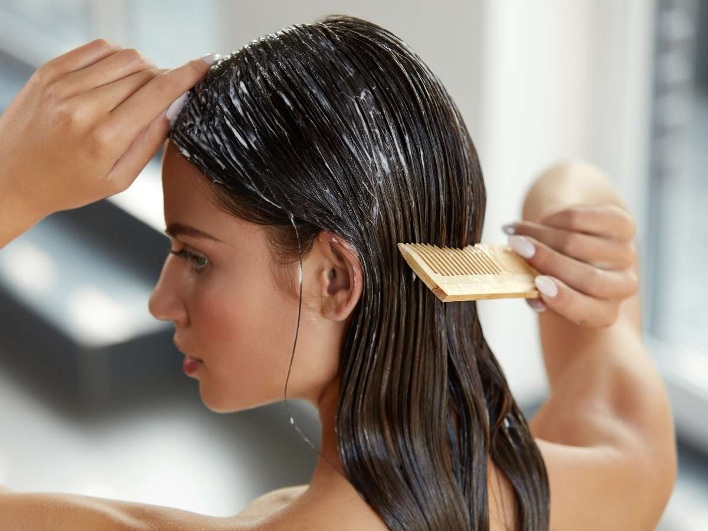 Deep nourishment: Steam allows opening up the pores on the scalp and hair cuticles. Thus, deep cleaning is allowed as well as moisture can go inside. It also regulates blood flow on the scalp.
Omit dandruff: When the scalp gets hydrated enough, you can notice the change. No dandruff means, no hair damage any more.
Reduce hair-loss: Due to season change and heavy pollution, it's quite natural to lose hair in an irregular manner. And again steaming is the best solution. Due to good blood circulation hair-roof gets stronger.
Increase elasticity: Steam improves the elasticity of the hair. It repairs breakages, split ends and protects from farther damage.
Enhance hair growth: As we discussed, steam prevents hair loss, hair breakage, split ends, now your hair can grow faster than ever.
Healthy hair: And finally get back all the shine of hair that you are dreaming for. Steam provides intensive repair and softens the hair. Touch and feel it.
How to apply at home
Well if you choose to go salon and spend well, you really don't need to worry much. Otherwise, there are two options, either you buy a hooded hair steamer or do it yourself with a towel. In both the cases at home there are the steps you need to follow:
Use steamer:
Step 1: First of all wash your hair with suitable shampoo twice. Take time and Washout properly.
Step 2: Apply deep conditioner on your hair and spread it till the end. Never, apply conditioner on the scalp. Instead of this use hair oil which is suitable for the scalp. But the best option is to apply any hair ampoule (according to your hair condition) on the scalp and spread it to the rest of the hair.
Step 3: Now tie up your hair in a loose bus, so that it allows steam to reach all over.
Step 4: Sit under the hood of the steaming machine and adjust accordingly.
How to Steam Hair Wait for 1 hour and try to relax or read a book.
Step 6: Remove the stream and leave the hair for 5-10 minutes at normal temperature to sit.
Step 7: Rinse your hair with cold water.
Step 8: Don't apply further blow drier, just leave them for air-dry.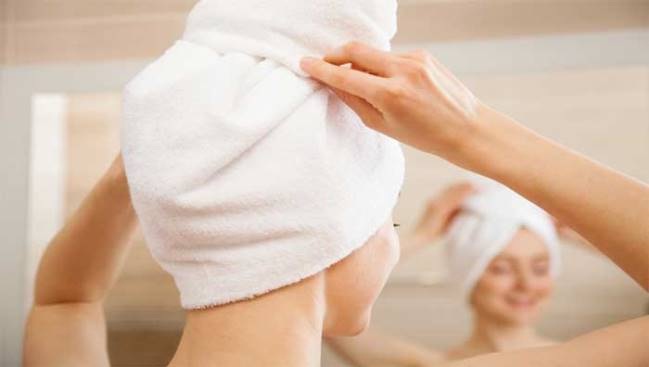 Use towel:
Step 1: As said earlier, always wash your hair with suitable shampoo twice. Take some extra time and Washout properly.
Step 2: Apply relevant conditioner according to your hair and spread it evenly all over the hair. Don't apply conditioner on the scalp. You can use hair oil which can cover the scalp too. But, the best option is to apply any hair ampoule (according to your hair condition) on the scalp and spread it to the rest of the hair.
Step 3: Now tie up your hair in a loose bus, so that it allows steam to reach all over.
Step 4: Take a shower cap and cover your hair entirely.
Step 5: It is easier to use a small face towel. Soak the towel on hot water for few second, squeeze it very carefully. Make sure there is no dripping water and place it over the shower cap. You can warm up the towel on a microwave for 2 minutes approx.
Step 6: Cover the entire head with another shower cap.
Step 7: Now relax and leave it for 20-30 minutes or more.
Step 8: Repeat the process at least 2-3 times, as the towel gets cooler. Or you can simply reheat the towel with a hair drier.
Step 9: Take off the stuff and shower cap and rinse your hair thoroughly with cold water. Coldwater allows the cuticles to lock.
Step 10: Best, leave them for air-dry. It will help maximum moisture absorption. Don't use drier, may cause hair breakage.
Tips
Try to steam your hair once in a week. Overdone can cause breakage due to over-moisturizing.
Don't apply steam on unwashed hair.
Manage your hair in such a way that the steaming process can cover your hair top to bottom. It is very essential to avoid split ends.
Sit under the steamer after it is ready with hot steam. Normally the water takes about 5 minutes to bubble up.
Don't ever try to take nape during this time. It may cause causalities.
Try to use natural products instead of chemical ones.
Choose suitable shampoo and conditioner according to hair. Find out the problem first, then apply dandruff care or breakage repair product. If you have coloured hair, do apply the colour protection product.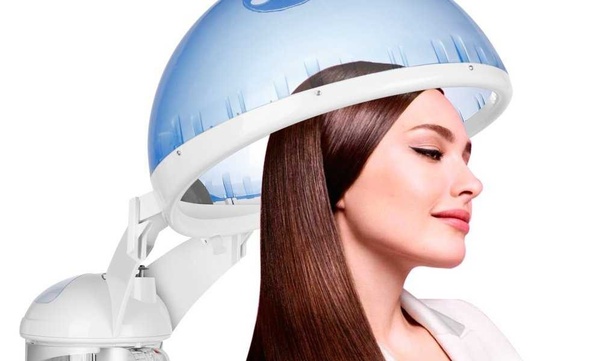 Conclusion
Excessive natural exposure, application of any chemical colour, straightening causes low porosity on hair and don't allow hair to absorb enough moisture. It led to dry hair followed by breakage, dullness, split ends. Losing hair is like a nightmare for everyone. So the best idea is to go for hair steaming process on a regular basis. It will help you to regain the thickness and natural shine of hair. Now no more dullness; enjoy and get obsessed with your strong and smooth hair.
Other Articles