Healthy, lush hair scattered over the shoulders has always been considered a girl's ornament and associated with vitality and fertility. And vice versa: according to various cultures' traditions, women cut their hair as an expression of grief or as a sign of shame. It's great that we now have options, but despite the diversity of fashion trends, some things remain constant in today's world. We will explain how to make your hair fluffy, soft, and lush.
How to Make Fluffy Hair at Home
Texture and expressive fluffiness of hair are currently in style. Do you want to get your hands on the latest fashion trends?
When we say pretty fluffy curls, we don't mean electrifying and annoying frizz but rather something aesthetically pleasing. Hair health is the foundation for well-groomed hair, and this indicator is directly related to how carefully you choose hair care products. Follow these instructions to make your hair look curly and full of volume.
1. Cleaning up
Regular cleaning is essential, and if you're considering extending your bath time, reconsider. It's not even that unwashed hair looks terrible. Clogged pores are caused by sebum buildup on the scalp, dust, and styling product residues. As a result, dandruff and increased hair loss may appear. According to stylists, ignoring cleaning is dangerous.
How frequently should I wash my hair? Follow your skin type, needs, and comfort. Some people prefer to wash their clothes twice a week, while others prefer to wash them daily.
Here's some advice from hair experts: Look for shampoos with volumizing properties. Their primary responsibility is to clean thoroughly but gently. For example, L'Oréal Professionnel's Volumetry Shampoo contains salicylic acid solely for exfoliation. The product was specifically designed to add volume and texture to fine hair and works even on the finest hair, so the name "anti-gravity" is entirely appropriate.
Matrix's High Amplify is another example of an effective and gentle professional shampoo. Its protein-enriched, silicone-free formula lifts hair while adding volume to the roots, but it also cuts through tough dirt.
2. Conditioning
Conditioning is equally important. If you want to keep your hair soft and fluffy, use lightweight products that don't strip it of volume. Another essential point to remember, according to our team of experts, is to apply conditioner only to the lower half of the hair length, avoiding the root zone.
A short haircut can be used to avoid the conditioning stage entirely. However, colored and damaged hair requires conditioning, at least at the tips.
Tip: The rinse-off care products for volumizing contain lightweight textures that do not weigh hair down. For example, in Matrix's High Amplify range, this is lamellar water – a conditioner alternative for the thinnest hair. It only takes 8 seconds (you don't have to hold it for any longer) to make combing easier and to shine the strands.
Biolage VolumeBloom Conditioner is also made for fine hair: it nourishes and moisturizes without weighing it down. Its extraordinary ability is to lift strands of hair for long-lasting volume and elasticity.
3. Non-washable Maintenance
Non-washing detergents have long been a part of our beauty supplies. Their primary function is to protect the hair from harmful environmental factors. However, there are unique formulas that work as lightweight styling products, which is precisely what you require.
Tip: shampoos and oils will not work for straight, sleek hair, so opt for spray formats. Volumetry by L'Oréal Professionnel and VolumeBloom by Biolage are two of our recommended non-washable volumizing products. They should be used before styling.
4. Scalp Care
Individual scalp care may also be necessary because fluffy hair means volume and density!
Tip: There is no way to make hair thicker than its biological norm, but there are ways to "wake up" dormant hair follicles and cause hair to be thicker, healthier, more voluminous, and fuller.
This result will scalp remedies with growth enhancers when used in combination over several months. L'Oréal Professionnel's Serioxyl Denser Hair Serum contains stemoxidine.
What Procedures Can the Salon Use to Make Hair Fluffy and Voluminous?
Stylists use various techniques to keep hair fluffy for an extended period and create permanent root volume. The effect will fade as the root zone regenerates, which will only encourage you to schedule another appointment at the salon. We tell you which salon procedures are specifically designed to add volume to your hair.
Boost-Up:  A treatment that adds volume to all hair types, from fine to coarse. A hair-altering and hair-shaft-fixing spray are applied to the roots of the hair, which is then rolled up and secured with hairpins. The effect of the booster lasts for several months. The only exception is that the haircut must be 15 cm long.
Fleecing: Another salon procedure that adds volume to the hair for several months works as follows: a special syrup is applied to the root zone of the hair, and then the strands of hair are combed at the base. One advantage of fleecing is that it can be performed on specific areas of the head rather than the entire head—a practical method for raising the "flat" nape of the neck.
Biowave: Our mothers and grandmothers used a gentler version of the good old perm for the same purpose – to make their hair fluffy. Modern biowave differs from "chemistry" because hair damage is minimal due to gentle compositions free of ammonia and theoglycol. You can achieve puffiness while having luxurious or relaxed curls with biowave, also known as eco-hair.
Complex coloring:  Bleaching increases hair volume due to cuticle detangling, which, of course, is not for everyone. Complex techniques are advantageous because they only affect a portion of the strands. Volume and relief texture have a visual effect.
Chemical treatments should not be used on severely damaged, thinned, or brittle hair. We recommend waiting until the strands regrow before carefully caring for them with restorative gammas.
Homemade Masks to Make Hair More Fluffy
1) Yolk and Honey Mask
For hair volume, combine the yolk of one egg with 1-2 tablespoons of heated castor oil and a spoonful of honey. Apply the resulting mixture to the scalp, rubbing with gentle massaging movements, then wrap the hair in a plastic cap, cover it with a towel, and leave it on for 30 minutes. Then, using shampoo, rinse the head. This mask can be used once a week for an indefinite period.
Tip: There is some evidence that castor oil stimulates hair growth, but we have yet to find any proof. This mask is unlikely to suit people with oily scalps.
2) Coconut Oil and Yogurt Hair Volumizing Mask
Farah Dukay popularised the recipe, which originated in Asia, where women have been using coconut oil for hair health since ancient times. This mask can be made as follows:
Combine two tablespoons of oil and 1-2 tablespoons of honey in a water bath, then add two tablespoons of natural-fat yogurt.

Apply to the scalp and the entire length of the hair, massaging with your fingers. The mask can be left on the hair for several hours (ideally 2 to 4), after which it should be rinsed with shampoo and gently towel dry.

Repeat once a week for one month or more.
Tip: The mask will be effective on hair falling out due to breakage. Again, pure oil should be used with caution because it is potentially comedogenic for acne-prone skin.
Short Hair Styling Tips for Their Fluffiness
Short hairstyles are widely regarded as the best foundation for fluffy styles. As a result, we will go over how to give short hair volume and fluffiness in great detail.
1)  The Traditional Styling
Of course, different haircuts necessitate a different approach, but the general guidelines can be emphasized. Stylists are advised, for example, to apply mousse directly to the roots of wet hair, stretch to a length, and dry or hair dryer with a nozzle-diffuser (putting the head down and turning the hair dryer to finger diffuser lift the root zone), or, if there are styling skills on the brush, pull on a round comb while heating a strand with a hair dryer nozzle-concentrator.
Another simple and effective method is to use L'Oréal Professionnel's thermal protection Blow-dry and pull the hair strand by strand upwards at an angle of nearly 90 degrees with a steam styler. The same curling iron can achieve a luxurious texture by twisting the strands in opposite directions: clockwise and anticlockwise. If you curl your hair in only one direction, it will have a flat Hollywood wave.
2) Curlers
A tried-and-true stylist trick for making short hair look as lush as a Golden Age Hollywood star. After showering, apply mousse (e.g., Matrix Total Results High Amplify) or spray (for thin hair, we recommend Tecni. Art Pli by L'Oréal Professionnel), comb through the hair, twist each strand onto curlers, and secure them so that they "stand" on the head rather than hang down.
Use a hair dryer on high heat to dry. Unwind by applying L'Oréal Professionnel Super Dust powder or Matrix Height Riser to the hairline. Shake it with your hands, and you're irresistible!
3) Afro Pigtails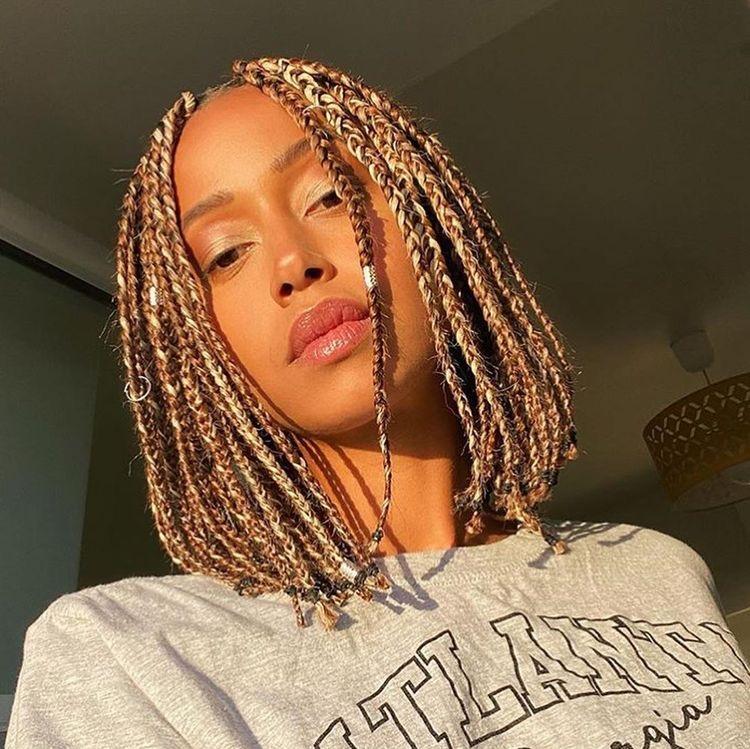 Braiding your hair overnight in thin plaits is a technique many of us have used since childhood. It is also effective on short hair (a bob, a long bob, or even an undercut will not limit you in any way).
Apply the Beach Waves salt spray to slightly wet hair, braid the strands into tight braids, and whip the curls with your hands in the morning to dissolve. Please do not abuse this method because it is not gentle.