Homecoming hairstyles can save your homecoming event by making you look extraordinarily beautiful. Braids, buns, curls, waves or everything combined, you can have it all. These hairstyles are super adorable and can help you to brighten up your look on your prom or quinceañera. Check out this article for some amazing homecoming hairstyles.
1. Waterfall Braids
Waterfall braids are an adorable as always. These are suitable for all hair types, straight, wavy, curly, medium length or long hair, everything goes well with waterfall braids.
2. Reverse Crown Updo
Reverse crown braid is very similar to a normal crown braid. The only difference being the fact that it doesn't cover the entire head, just the rear side of the head.
3. Half Updo Knot Bun
The half updo knot bun is a classic choice for homecoming events. It's very casual and easy with a little bit of messy volume.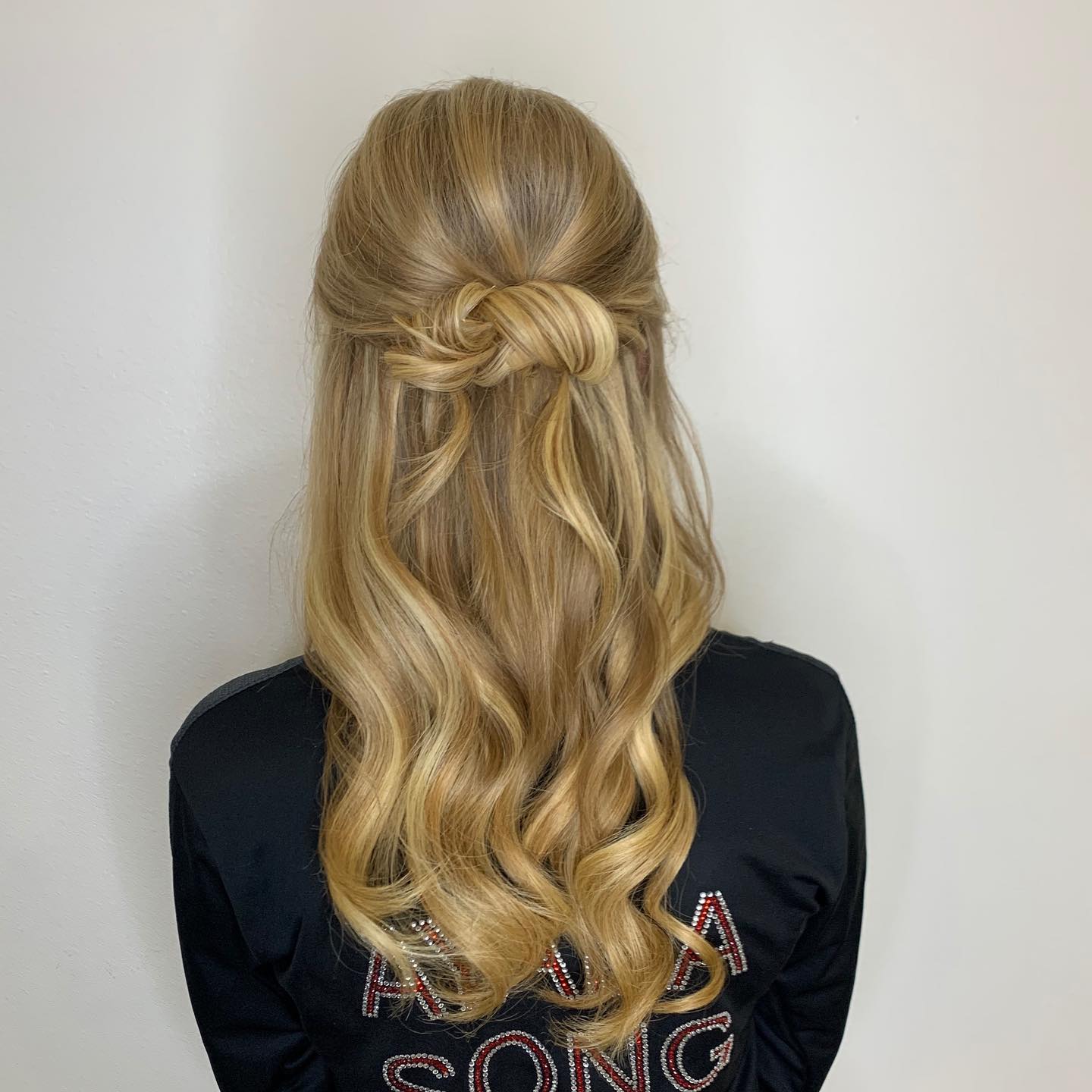 4. Braided Updo Half Bun
This braided updo is a combination of dutch braid and a messy bun, both of which are effortless hairstyles. This hairstyle therefore looks effortless yet cute at the same time.
5. Half Loose Braid Updo
This half loose braid looks beautiful. The curls looks adorable as well. What makes this hairstyle even prettier is the little detail of hairpin.
6. Reverse Crown Braid Curls
This reverse crown braid curl is very simplistic and cute. Not much effort is required for this hairstyle but the only requirement is bobby pins.
7. Semi Braided Afro Curls
Black women are ultimate beauties. They have amazing curly hair and this hairstyle is perfect for that. Afro hairstyle is a perfect for this look, the beads make a subtle yet beautiful detail.
8. Semi Cornrow Ponytail Homecoming Hairstyles
Cornrow hairstyles are extremely time consuming so we have a substitute for that. This hairstyle isn't entirely a cornrow but has a hint of it. This one comes with a high ponytail.
9. Beaded Side Braid
This hairstyle is also among the easiest homecoming hairstyles. This is a loose side braid. The loose ends are curled into beautiful locks.
10. Fishtail and Waterfall Braid
I'm a big fan of braids, and this one is a combination of two of my favorites. Fishtail along with waterfall braids. Doesn't it look beautiful?
11. Side Braid Bun
This side braid mixes into a bun and not just any bun, but the cute classy type. It's curly and would specially looks good on blonde hair but almost all other hair colors are also workable.
12. Braid Bun
This braided bun is literally and braid, rolled into a bun. The hairstyle is easy and can be made using only a few bobby pins and rubber bands.
13. Twisted Half Bun
Even though it's called a half bun, it's barely even a bun. There are only a few curly strands that ate rolled up to give a bun like appearance.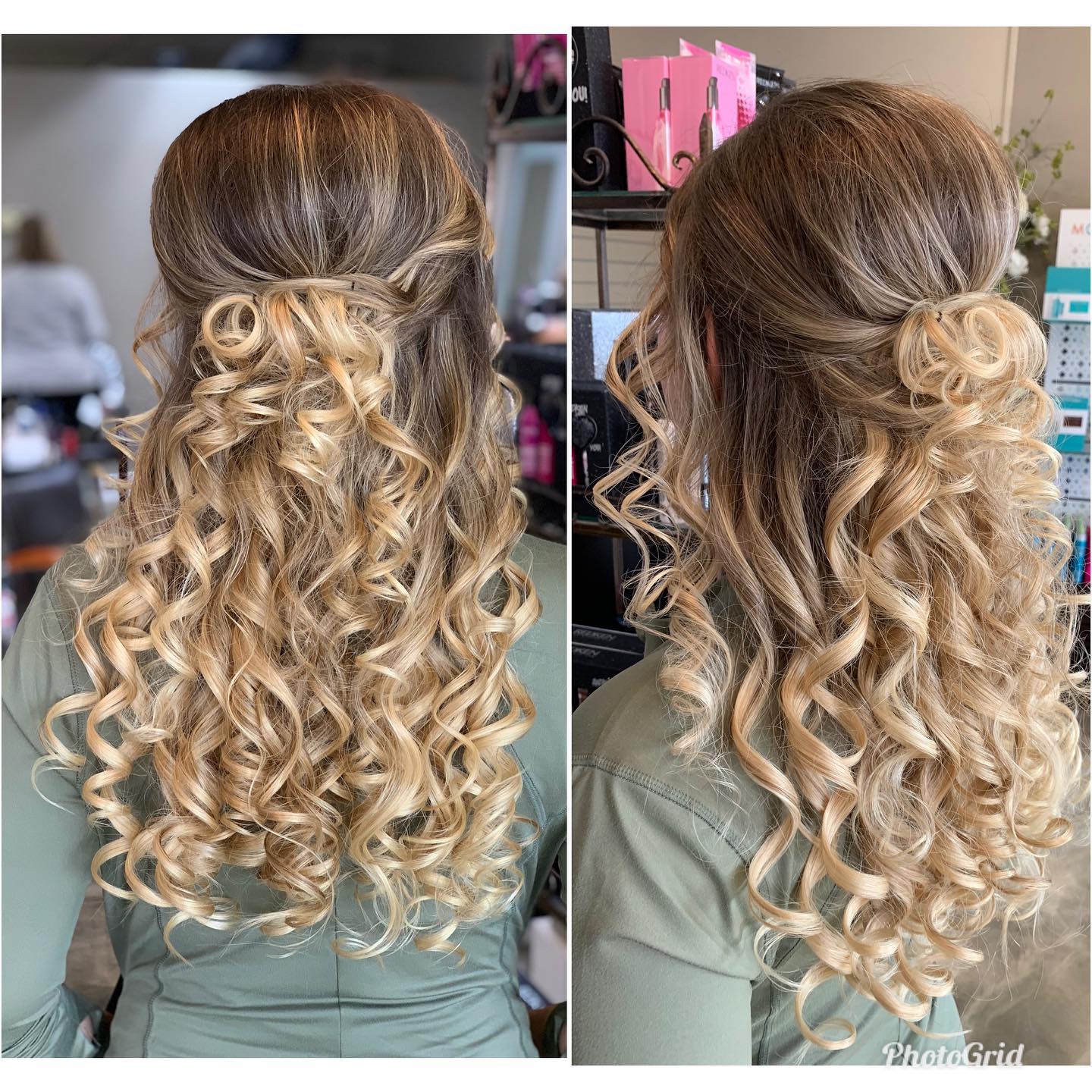 14. Messy Twisted Bubble Braid
This twisted bubble braid is messy and looks very effortless. It's only a regular bubble braid but the only difference is that the upper part of the hairstyle is all twisty.
15. Bubble Braid
This hairstyle is just a regular bubble braid. But, it's not all entirely braided up, half of the hair is down and curled up.
16. Twisted Low Ponytail
This hairstyle is a twisted low ponytail. It's casual yet fancy and if you add a few hair accessories to it, it will look beautiful as a prom hairstyle as well.
17. Dutch Braid Top Bun
The dutch braid is a cool braiding style. Now imagine if this braid gets combined with bun. And not just any bun, but people's favorite, messy bun.
18. Flipped Braid
This flipped hairstyle is gorgeous. The braid reminds of a Disney princess, to be very exact, Rapunzel. If you decide to add some hair accessories, it would look dreamy.
19. French Twisted Braid
Everything about France is beautiful. Food, architecture, people, fashion as well as hairstyles. This hairstyle is very classy and elegant because nothing says french like an elegant bun.
20. Rose In Hair
This hairstyle is a florist's dream. It looks like a beautiful bunch of roses making it look it's emerging out of the hair. It will look good on both long and medium length hair.
21. Rose Bud Bun
This bun looks like a bunch of little rose buns and what could be prettier than that? It has a soft feminine look to it and also looks very party ready.
22. Wavy Bob
This has to be among the easiest hairstyles. It looks beautiful and effortless. Just a bob with some loose curls or beach waves.
23. Half Dutch Braids
These dutch braids are so pretty that you just can't resist. It's a clean and chic look, specially for mid length and short hair. Rest of the hair down loose and pretty.
24. Bouncy Blowout
The bouncy blowout is a minimalistic and beautiful hairstyle to work with. If you are running out of time and have medium or long length hair then this one should be your go to hairstyle.
25. Curtain Bangs Loops
I have a personal favorite and this one is it. It's so easy that it looks almost unreal. However, the preferred hair length for this hairstyle is medium to short hair. Not to mention, curtain bangs will be perfect.
26. Half up Half Down Hairstyles
This half up half down hairstyle is very easy and cute as well. It surprisingly doesn't require any rubber band at all. All you need is few bobby pins. Feel free to curl your hair or add some waves.
27. Boxer Braids
If you are a sports enthusiast then this hairstyle can be a good choice for you. Boxer braid is a very protective type of hair styling that is often very liked by sports women all around the world. This could be a great hair style for homecoming.
28. Mid Height Curled Ponytail
This hairstyle is very basic but also one of the most loved one. It's a basic mid length ponytail that has been curled. If you have highlights then it makes everything better.
29. Half Rose Updo
The half rose updo is an elegant way to combine braids and buns. It also leaves room for some extra hair styling like curls and waves. The two flat braids roll up into a bun which looks very delicate and feminine.
30. Textured Fishtail Updo
This hairstyle provides a ton of volume to the hair. It's a combination of bun and braids both, which means best of both worlds. two fishtail braids from each sides merging into a bun.
Other Articles