Getting your back tattooed is a long and tiring process. It can take up to 3 to 4 days and multiple tattoo sessions to completely cover your back with a tattoo design. Not to mention, it's also quite painful. Getting a tattoo is not painful in itself, but the poking of the skin for multiple days consecutively can cause skin irritation and pain. However, What if I told you that a team of Ganga Tattoo artists has come up with a new concept that is far easier than this? Under this concept, an individual's back can be covered with their desired tattoo design within a session. The best part of the process is that it's painless. Therefore, there is no pain. Here's all you need to know about it.
What is Ganga Tattoos?
Ganga Tattoo Studio LA is home to the top tattoo artists in the world. The Director of Ganga Tattoo Studio & Ganga Tattoo Academy is Joaquin Ganga, a tattoo artist specializing in black and white realism. This LA tattoo artist is well-known for the stunning realism of his sophisticated designs. Drake, Post Malone, Chris Brown, and even Nicky Jam have Ganga's artwork tattooed on their skin. This incredible Spanish artist's story is one of bravery and self-achievement.
Not only musicians are among his most prominent followers, but also a startling number of elite athletes. Ganga Tattoo Studio brings together some of the top tattoo artists on the planet, including the brand's CEO and founder, Joaquin Ganga. The studio is located on Santa Monica Boulevard, one of the main avenues in West Hollywood, a desirable location in Los Angeles. While that is all about the studio, Ganga Tattoo Studio & Academy is based in Murcia, Spain.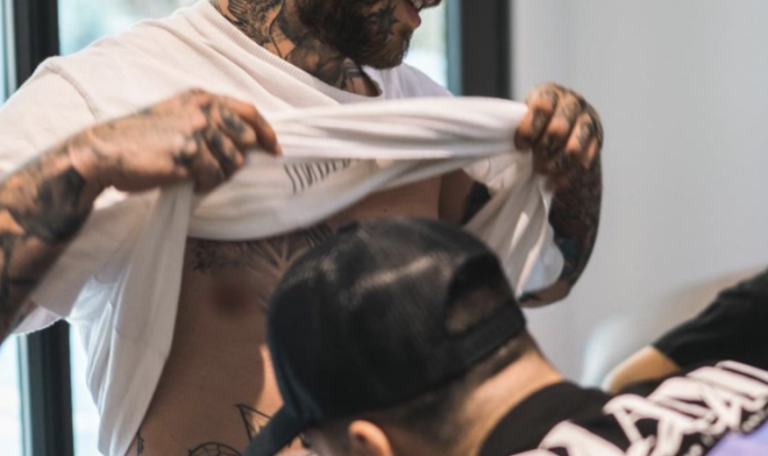 No Pain By Ganga
Since the beginning of time, tattoos have been associated with pain. You can not think about getting a tattoo for the first time without asking the artist, "Will it hurt?". The location of the tattoo on the body and the size of the tattoo are two main aspects that influence how painful the experience might be. Because of these variables, tattooing hours are limited due to the accumulation of discomfort over time. A huge-scale tattoo, such as your entire arm or back, is usually completed over numerous sessions with the tattoo artist. Multiple breaks, multiple sessions, various days, and multiple hassles are all a part of getting a giant tattoo.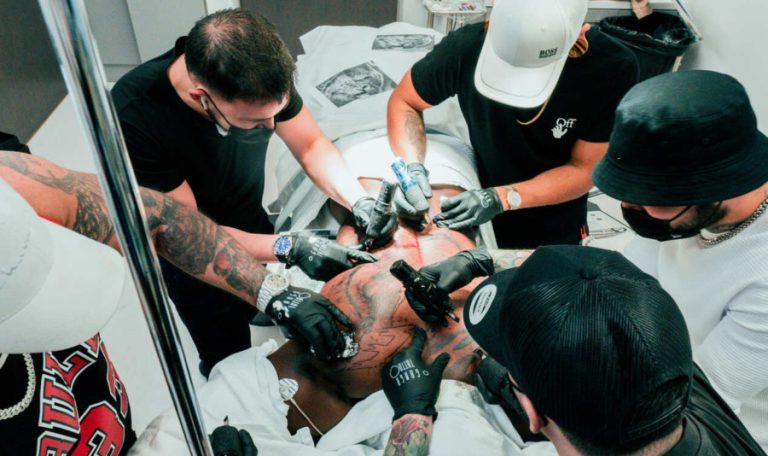 On the other hand, the unique concept of No Pain by Ganga is designed to execute tattoos without any size limit or pain, achieving the realization of your tattoos more rapidly and without discomfort. This approach involves qualified medical experts utilizing anesthetics and receiving proper training for this specific work setting. Consequently, this enables the artist/artists to effectively work on large body areas for extended duration.
Depending upon the size and design of the tattoo, this concept enables numerous artists to work on the body simultaneously. People are now able to get tattoos that used to take three or more sessions spread out over several weeks, done in only a few hours with no pain. The Ganga Tattoo Studio is devoted to constantly improving its clients' experiences, and No Pain by Ganga marks an essential advancement for the tattoo business, paving the way for additional breakthroughs in the future.
Used of Anesthetics
Various tattoo anesthetic agents are available on the market. Most commonly used solution are the creams. Medical prescriptions are the only way to access these, as extreme caution must be exercised when handling any chemical or drug. While there exist various types of creams for this purpose, not all of them have received approval. Regrettably, professionals have not validated all of them for endorsement by health organizations. This stands as a critical issue.
There are other solutions on the market, such as the Emla or TKTX brands. However, they are not permitted in some areas. However, as far as Ganga Tattoo Studio is concerned, they have a team of medical professionals with them who are equipped to work in a situation like that. They use the correct medical supplies and anesthesia on the client, under their constant supervision, to make the process painless. The client doesn't have to worry about caution because there are professionals who do it better. It's the safest anesthesia tattoo that one can get.
Team Members
As of 2023, the Ganga tattoo studio has 100.000+ Instagram followers, 4.9 stars on Google, and more than 6 years of experience and expertise with 14 unique and dedicated tattoo artists.
Ganga (Founder and CEO)
Artists
Honrat
Wisy
Lola Bueno
Mosin
Parse
Niko Blue
Lewis
Peque
Zeus
Raserk
Cristian
Danyalo
Charly Avila
Costing
In an interview with Complex, the Studio's artisans stated that a tattoo costs roughly $100,000 for one day of work.
Other Articles