If you're thinking about brightening your mane with Californian highlights, here's everything you need to know. What is the distinction between Californian highlights and balayage highlights? Will they flatter me? Where can I get them completed? Continue reading!
Our bodies are begging for a change as summer approaches. The sun, heat, sunbathing, and vacations make us want to look more refreshing and luminous. Does this happen to you as well? You're not by yourself. Women are flocking to hair salons to make a fresh start, get highlights or different hair colors, and Californian highlights and balayage are the most popular this season!
Both techniques lighten the hair by simulating the effect of sun exposure, adding shine and radiance. They are, however, different coloring techniques, even though they are sometimes confused. We explain the differences between Californian highlights and balayage highlights.
WHAT ARE THE HIGHLIGHTS OF CALIFORNIAN WICKS LIKE?
Californian highlights are inspired by California beach surfers, as the name implies, and are meant to mimic the effect that constant exposure to sunlight has on their hair.
Two peculiarities: this is not a new trend, nor is it originated in California. Despite their popularity in recent years, Californian highlights originated in the 1970s. This technique was invented by Jean Dessange, a Parisian hairstylist, to lighten the hair with a natural effect, leaving the roots darker and delivering more light to the roots to soften the facial features. How did he accomplish this? Applying more products to the ends of the hair and working down to the roots.
WHAT IS THE DISTINCTION BETWEEN CALIFORNIAN AND BALAYAGE HIGHLIGHTS?
The famous balayage highlights originated in France and gained popularity in the 1990s. Balayage means "sweeping" in French, which is exactly what this technique does: it changes the color from the roots to the tips. In this case, the outcome is "a slightly lighter mane with a luminous and natural appearance. You get that sun-kissed look that is so appealing", explained some popular hairstylists.
Californian highlights, in general, provide much more contrast. The roots are left in a darker tone, while the ends are much lighter, allowing all the light to pass through. The height at which the strand begins is visible. They are slightly more damaging to the hair than balayage. Balayage highlights, on the other hand, strive for a more natural look. The contrast between the roots and the ends is less pronounced. The gradient is much more gradual and blurred. It's unclear where the strand starts and ends.
Californian highlights mimic natural hair degradation but are more noticeable at the ends and can leave a more subtle, soft, or extreme tone. Balayage is a French lightning technique that begins a few centimeters from the root, resulting in color degradation at the ends and throughout the hair in a more natural way. The latter allows you to experiment with contrasts between natural hair tones and highlights without revealing the markings.
WHAT SHOULD BE CONSIDERED BEFORE GETTING HIGHLIGHTS FOR THE FIRST TIME?
Something as simple as having healthy hair is essential, as bleaching dehydrates and damages the hair fiber. You will most likely have broken, dry, and dull hair if it is already damaged.
USE CAUTION WHEN WASHING YOUR HAIR
Many cases of bleached hair have been reported in recent years for various reasons. The type of shampoo you use is one of the most unknown to most people. Go to the bathroom and double-check that none of your products contain caustic soda. Bleaching is a ticking time bomb when combined with this ingredient.
The aforementioned caustic soda is labeled with the following ingredients: "SODIUM HYDROXIDE OR SODIUM OXIDANIDE." It can generate enough heat when combined with an active substance to ignite combustible materials.
HOW ARE CALIFORNIAN HIGHLIGHTS DONE?
"We do freehand highlights in the open air and apply a bleaching product on the strand drawing a V to mimic the effect that the sun leaves on the hair of Californian surfers. Then we blur as much as we can from means to ends without getting to the root of the problem. Then, without reaching the roots, we blend as much as possible from the mid-lengths to the ends. To achieve an extreme light effect on the ends, we must leave the roots dark and fully cover the mid-lengths and ends with the bleaching product. This results in a gradient of darkest blonde at the roots to platinum at the ends, "David Lesur, director of training at David Künzle salons, explains.
You may skip a salon visit and do your Californian highlights at home. Some tutorials are available on the Internet, but we don't recommend doing so unless you are an expert in the field. These coloring techniques are only appropriate for stylists because they require specific skills. The success of this type of highlight is dependent on good execution and technique. The professional will assess the conditions and type of hair to determine the best way to apply them.
HOW ARE BALAYAGE HIGHLIGHTS DONE?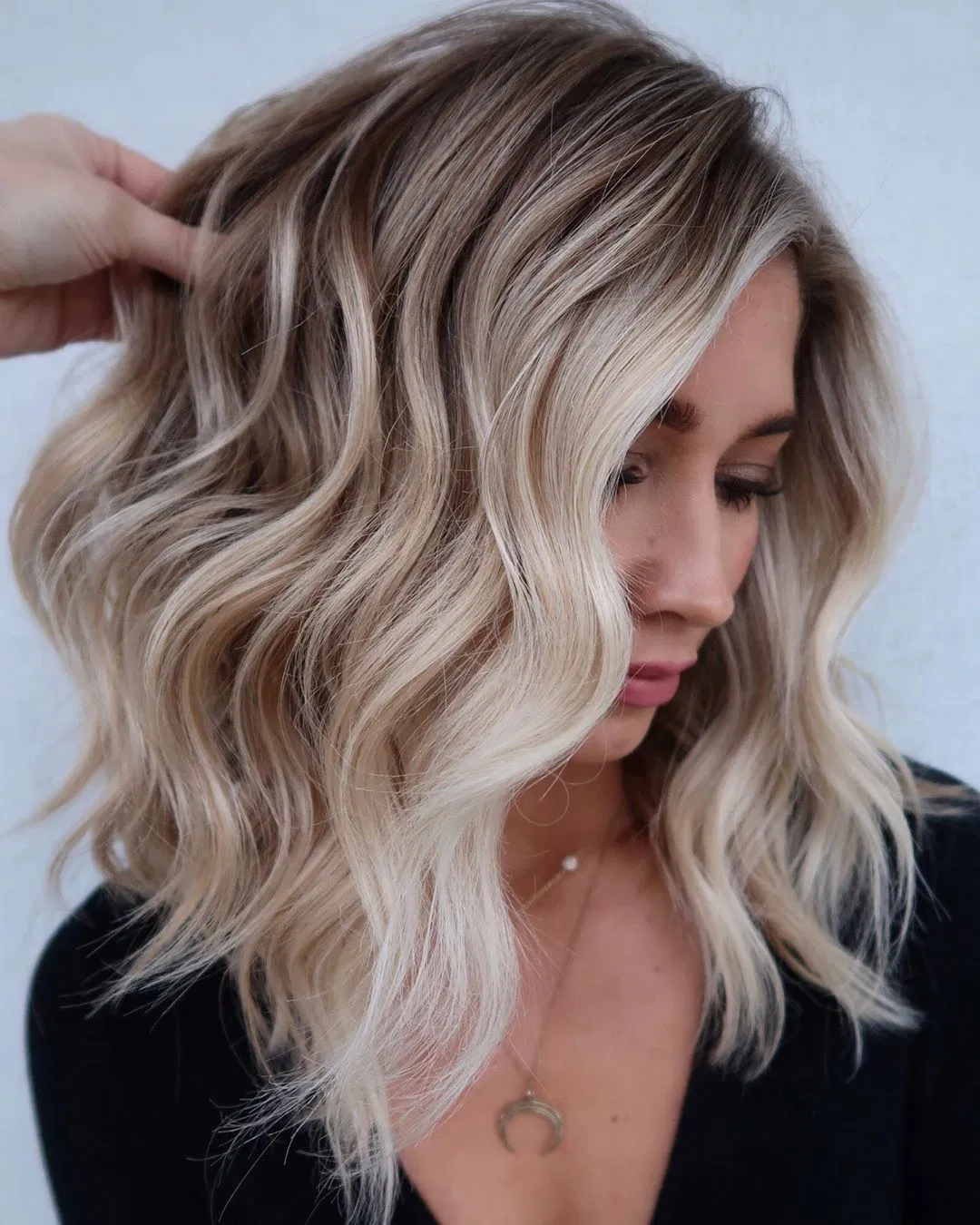 Balayage highlights are gentler on the hair. They add naturalness, dimension, and radiance to the hair. They consist of sweeping the color from the roots to the ends with a brush and freehand, air bleaching for more subtle gradients, or covered bleaching for more lightening tones. The outcome depends on the colorist's skill because it is a personalized technique. It is necessary to have a strong command and understand how to apply the strand and blend to achieve a greater lightening at the ends. Because the highlights are blurred, it's difficult to tell where the strand begins and ends.
WHO SHOULD APPLY FOR CALIFORNIAN HIGHLIGHTS?
You may be considering changing your appearance and wondering whether you would look better with Californian or balayage highlights. Here are the top experts' responses to your questions.
Long, blonde hair with Californian highlights: Californian highlights look best on long hair and blonde tones (platinum, grey, ash, or light sand) because they provide too much contrast on dark hair, and bleached hair will always show orange tones. Californian highlights are ideal for tanned skin. Californian highlights look great on dark, slightly sallow skin, while balayage highlights look great on all skin types. If you have dark hair, balayage is the way to go: They look great in both cool and warm tones (platinum, grey, ash, or sand) (gold, honey or brown). They look better on dark hair if we lighten it with warm tones. Balayage work is much more gradual and lightens the base tone in a very natural and subtle manner. This enables it to be adapted to any color. Californian highlights, on the other hand, are not appropriate for dark hair because they are too pronounced on very dark bases.
Gray hair with Balayage highlight: If you have a lot of grey hair, balayage highlights are preferable because they are applied closer to the roots and can hide them better. Californian highlights keep the roots very dark and visible.
HOW TO MAINTAIN PERFECT CALIFORNIAN HIGHLIGHTS?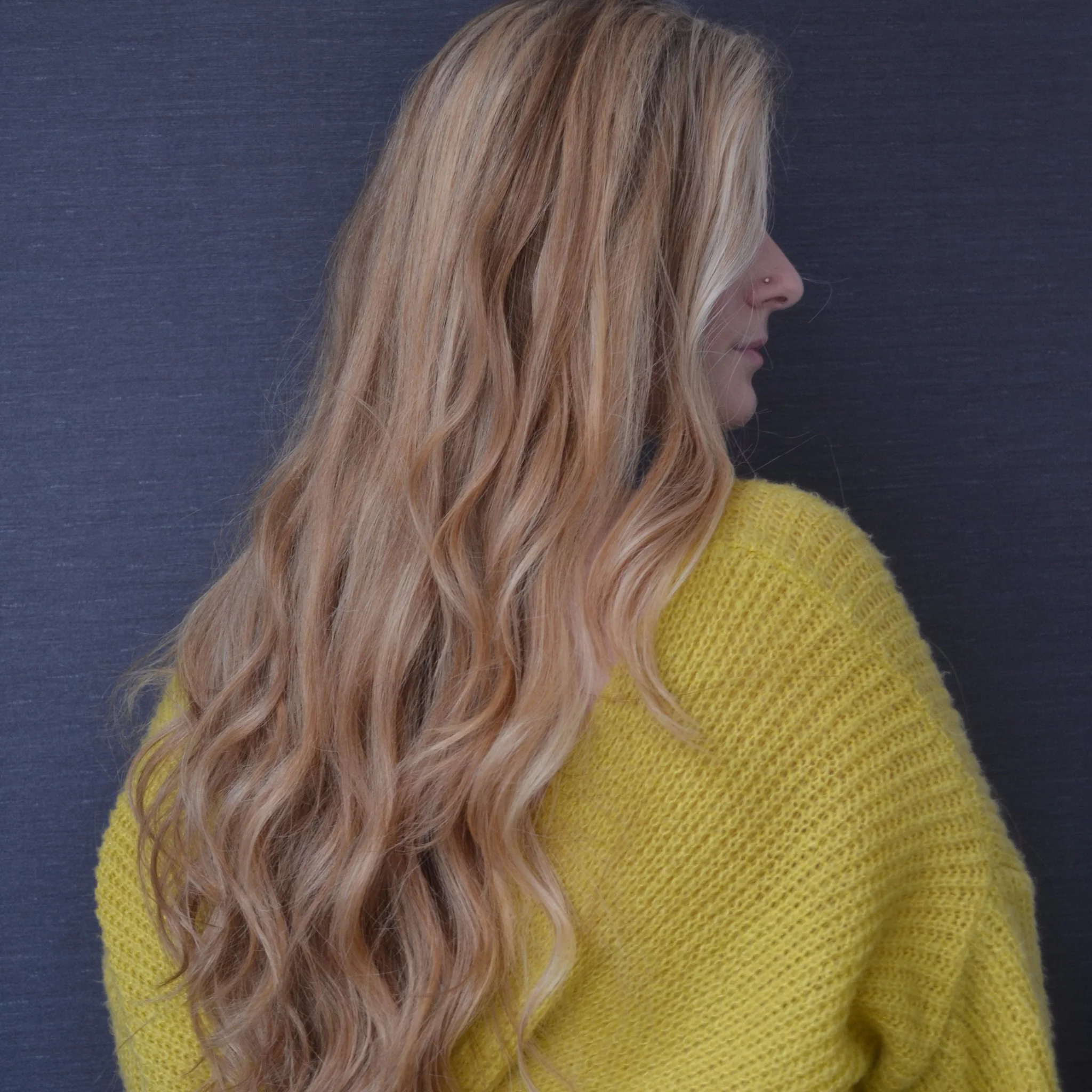 As with any coloring technique, you must pamper your hair after applying Californian highlights so that it does not suffer. This is necessary for your hair's health and to ensure perfect color. According to stylists, summer is the best time for Californian highlights because it exposes our hair to more aggression. It's critical to keep the color vibrant so that it doesn't take on undesired tones when we go to the beach or the pool. So, they recommend excellent nutrition. Instead of using the mask once a week, as we do in the winter, it is more convenient to use it twice or thrice a week. Replace the mask with a nourishing treatment or shampoo instead of the conditioner. When the hair is well nourished, the cuticle scales close and blue pigments from swimming pools and greenish pigments from the sea find it more difficult to enter.
They agree that all bleached hair should be moisturized and nourished frequently. Still, they also emphasize the importance of protection:
Before going out in the sun, apply sun protection (or a mask) to your hair.
It is also a good idea to rinse the hair with a mild shampoo after swimming in the sea or pool to remove chlorine and saltpeter.
Avoid using straighteners and hair dryers as much as possible.
HOW OFTEN SHOULD YOU APPLY CALIFORNIAN HIGHLIGHTS?
The best thing about Californian highlights (and balayage) is that they don't bind you to a salon schedule. This is the most appealing aspect of these types of highlights. They don't require much touch-up because the hair grows, and the gradient fades naturally. There is no root effect, which is extremely unsettling. It is sufficient to visit the salon a couple of times per year to keep them looking beautiful. The main benefit of Californian highlights is their low maintenance requirements. They can be touched up every four months because they do not touch the roots and do not interfere with natural hair growth.
HOW MUCH DO CALIFORNIAN HIGHLIGHTS COST?
The cost of these hair coloring techniques varies greatly from salon to salon. Still, it typically ranges from 65 to 150 euros, depending on the work done and the hair protector used to protect the hair from damage during bleaching. Putting yourself in good hands is critical so that the outcome is flawless and your hair is healthy and beautiful!
Other Articles