We discovered that good looks (i.e., modern and stylish, but not necessarily physically attractive) contribute to overall success in life, both personally and professionally. Men's fashion icons are becoming more popular. One of them is Zac Efron. Here are the 23 best Zac Efron hairstyles to inspire you to try something new.
You will inevitably find something you enjoy and want to try soon.
1) Zac Efron's Light Platinum Blonde
Zac Efron captured our hearts at a young age. He sings like an angel, and now his stylish new hairstyle is making our hearts skip a beat. Color your dark straight hair to platinum blonde to attain this look.
2) Zac Efron's Straight Two-Tone Hairstyle
Every time Zac Efron changes his hairstyle, we fall in love with it even more than the last! His face is shaped by the short hair on the side of his head. This two-tone hairstyle will make you look more awesome. Use a similar light blonde and black color combination.
3) Zac Efron's Messy, Short, Dark Brown Hairstyle
Zac Efron is all about eye candy, and this hairstyle proves it! He keeps his hair short on the sides to keep it away from his ears and to frame his face. It also helps to keep her hair in shape. The top portion has been left longer, which lengthens her face and gives the appearance of an oval face.
4) Zac Efron's Curly Hairstyle
Men's hairstyles with a wet look have always been popular, especially in the summer. If you use too much styling product, your hair will become "greasy" rather than "wet." This hairstyle suits curly hair.
5) A Swept Quiff with a Short Tousled Style
This is a more casual look that is neither boring nor ordinary. It also has a romantic undertone to complement Zac's shirt's fun print. When styling your hair for everyday wear, choose flexible styling products that don't dry out your hair and give it the exquisite sense of movement we see in most of Zac Efron's new hairstyles.
6) Men's Grunge Hairstyle
If Zac wore a classic men's hairstyle, the black leather jacket and a white shirt would look boring. Grunge adds a dissonance that (surprisingly) results in style harmony. Never underestimate the importance of a hairstyle in your overall appearance!
7) Ironic Messed-up Hairstyle
You must have a good sense of irony to wear a black tie look with a messy hairstyle. Even if Zac Efron later regretted his appearance at the 82nd annual Academy Awards in that style, it was a daring style experiment that we applaud.
8) Slicked Back Sleek Hairstyle
This Zac Efron hairstyle is appropriate for both formal and office settings. It will work similarly for the wedding. (Any bride would appreciate it.) Even on soft hairstyles like slicked-back hair, a subtle hint of teasing with a lighter shade is acceptable and flattering because it enhances texture.
9) Backcombed Gelled Look
Gelled hairstyles are associated with this season's easy-to-do and trendy hairstyles. Zac Efron couldn't ignore this trend, but it's not his best hairstyle choice. His appearance, specifically the shapes of his head and face, benefits more from hairstyles with some volume on top that has an elongating effect.
10) Pompadour, the Eccentric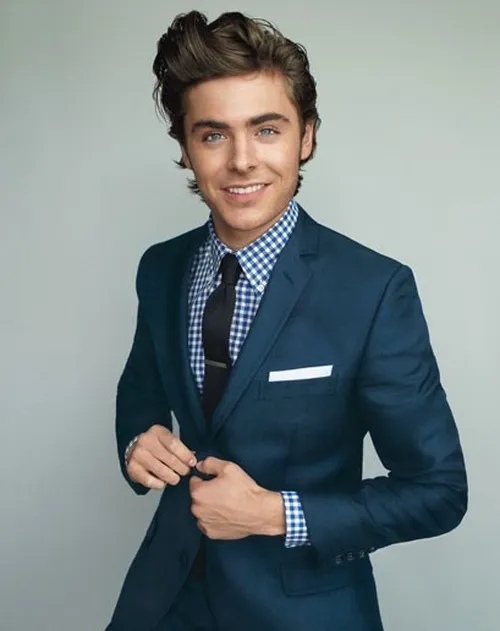 The ability to style your hair in various ways, including trying on extravagant hairstyles when the opportunity arises, is an undeniable advantage of long haircuts. Zac Efron has an eccentric pompadour that is too good to pass up without a second look.
11) Zac Efron's Medium-length Hairstyle
Men's short haircuts today should be slightly tousled. Zac Efron's hair is lively and spontaneous in this photo but not sloppy. This differentiates a nice tousled men's hairstyle from a messy appearance.
12) Imaginative Wavy Hairstyle
This fun hairstyle has a distinct retro style, but it looks completely current thanks to the obvious messy touch, expressed through the protruding ends. When your retro-inspired hairstyle successfully blends the present and the past, it's an instant hit.
13) Spiky Short Men's Hairstyle
Spiky hairstyles on men are popular with women. Here's an example of a classic look of this type. For a disco night or a party, comb it straight and define the ends with a medium or strong hold product if you like haircuts with an elongated top.
14) Sideburns on Elongated Short Haircut
The awesome look suits Zac Efron and accentuates another side of him as a male fashion icon. Zac styles it with many definitions and carefree touch to look fashionable. The avant-garde pompadour hairstyle complements this haircut perfectly.
15) Crewneck with a Slightly Longer Top Section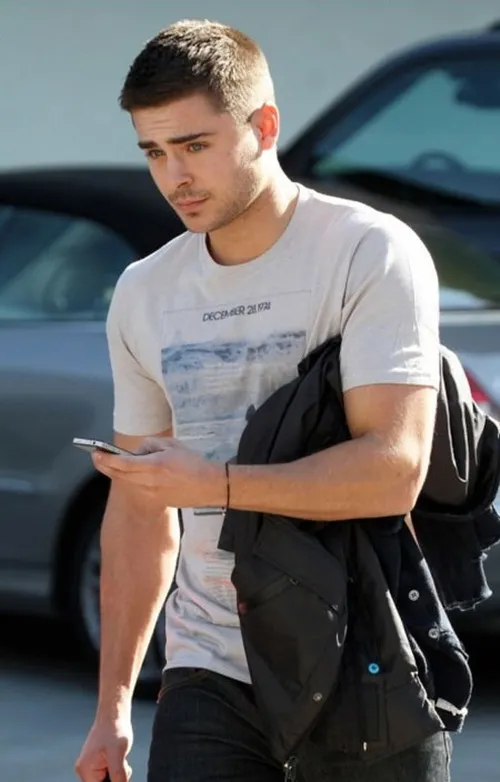 Like any other man, Zac Efron appreciates haircuts that allow him to get out of bed and go without worrying about his hairstyle. The haircut in this photo suggests little to no upkeep and appears clean and nice. What else can a regular guy expect from a haircut?
16) Zac Efron's Faux Hawk Haircut
Zac Efron has another edgy, short haircut – does he intend to outdo David Beckham in stylish looks? We don't know, but he has all the options! This fauxhawk is stunning, with the perfect contours and those thin ends!
17) Basic Crew Cut
A crew cut is popular among men who prefer short, understated haircuts. I'm sure Zac Efron tried it on as well. It's not his most prominent look, but it works for various occasions. With a buzz cut, you may not have to worry about styling your hair and may even forget to style it at all.
18) Men's Textured Shag Haircut
In this photo, Zac Efron's hair is cropped and taut for a low-maintenance look that most men will accept without hesitation. It's all about the texture, which looks edgy but tidy despite the short length – great for thick hair!
19) A Quiff with a Short Tapered Haircut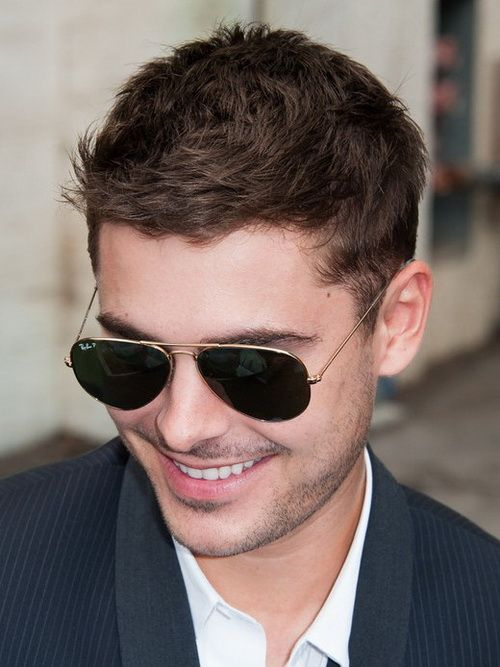 Zac Efron is one of those men who can completely transform their image by changing their haircut. This style does not encourage color or length experimentation, but it is notable for its fantastic texture. Modern men's haircuts are deemed successful when they are not static and uniform. This one is extremely lively, cute, and simple to style.
20) Fantastic Short Hair with Acicular Texture
This edged haircut is recommended for men with straight hair. Consider color accents that work as texture enhancers if you are open-minded about fashion. This is a good haircut to try in 2021.
21) A Short, Elongated Haircut with Razored Flicks
When you choose a longer length or color accents, you should pay attention to every detail to achieve a sleek, manly look. Zac Efron completes the task. He easily pulls off the look with highlighted feathers and cute, edgy side moves.
22) Medium-length hair with Spiky Cropped Ends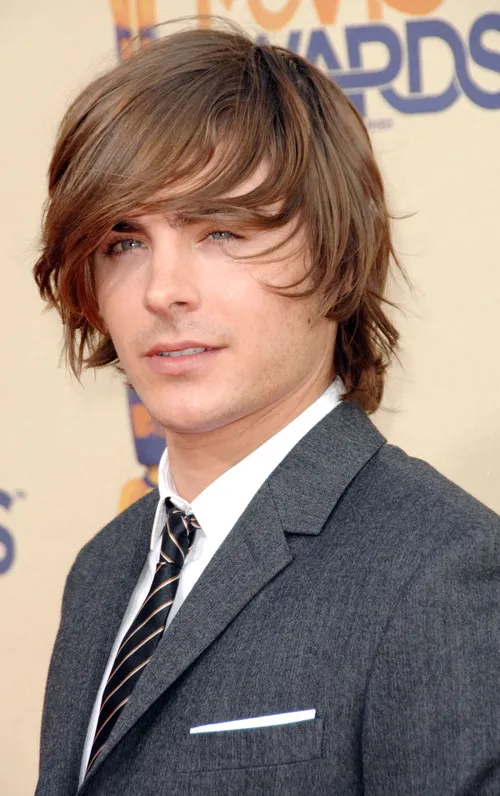 This haircut is popular among teenagers. It has long hair with cool angled ends. You'll get the sleek look of a boy interested in current hair trends after styling it across the face and to the side. Use flexible styling products (pomade or wax) for texture and definition.
23) Medium-length Curly Hair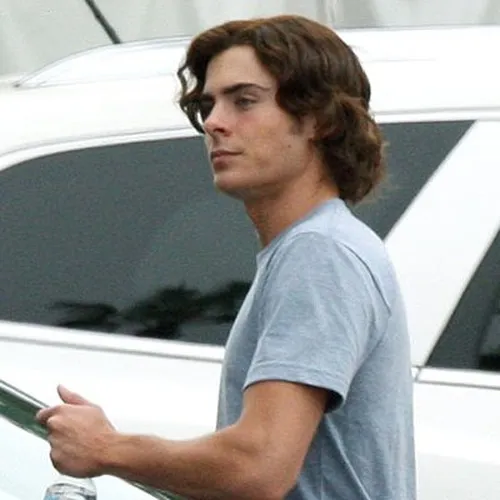 Consider a medium-length haircut if your hair naturally has a beautiful wave and is quite thick. It will require almost as little upkeep as a shortcut: no daily styling, just regular washing and conditioning, and, on rainy days, a little curl enhancer.
As you can see, Zac Efron's haircuts and hairstyles are a kaleidoscope of ideas in which every man can find something familiar or something new. Men enjoy a good challenge, so go for it.
Other Articles