There was a time when only women were concerned with beauty and fashion. However, the turn of the century introduced men to the latest fashion ideas and the notion that beauty is not only for women but that men can and should take care of themselves. This shift ushered in a new wave of men's fashion designers, and with it, men's overall appearance underwent a complete transformation, including hairstyles and accessories. Men nowadays care more about their hair than women do.
A preppy hairstyle is one with a neat, tidy, and well-groomed appearance. It's a sexy and stylish way to keep your hair looking good by using a lot of hair gel or pomade. Please scroll through our list for inspiration or ideas for the sexiest male hairstyles of the season. Try out one of these preppy haircuts for men; they look great.
1. Comb Over
Look at the thin side-swept, low updo, and smooth hairstyle. You can achieve the desired effect using a comb or other available tools. A high-quality gel can also be beneficial. This is one of the most-desired preppy looks.
2. Fringe Hairstyle
This haircut for boys is popular among young teenagers because many movie stars wear it. Preppy boy hairstyles with spikes are created by parting the hair in the middle. The two sides resemble a curtain falling on the forehead or messy short bangs.
3. Summer Short Haircut
Short hair suits all men well, so using this as an advantage to wearing short hair as a summer haircut is the best choice. The front part of the hairstyle is curvy, and the back part is well-trimmed, reducing the length of the hair.
4. Vintage Preppy Fashion
Sweeping the hair toward the centre of the head creates this vintage look. A lot of hair wax is required to keep the hair in place. This hairstyle is special because neither it is slicked nor looks quiff; instead, it gives a "good boy" image.
5. Sharp Cut with a Fade
Say to your stylist that you want a deep side part and a regular fade that goes down to the skin at the temples and back. With an inch and a half of top hair, you can style it to the side, forward, or (as seen here) a combination.
6. Curly Hair Preppy Hairstyle
Curls are difficult for women to manage and difficult for men to manage. You can wear a few long strands trimmed in the front and back of your head. As Nick Jonas has tried out this curly preppy hairstyle, you can switch to curls at home.
7. A Side Part
A preppy hairstyle like this will define and highlight your jawline. Sweep your mid-length hair to the side with loose bangs to the head and fade the sides slighter.
8. Faux Hawk Fade
A haircut that shows you're not afraid to stand out. It becomes narrower at the nape of the neck and fades into the skin on the sides. You'll get a subtle punky hawk effect that your girlfriend will love, but your boss might not notice.
9. Inspired by Alex Costa
You've been missing out on a lot lately if you have not subscribed to him on YouTube. He's a fashion icon who frequently shares outfit and hairstyle ideas. He has his way of styling preppy hairstyles. Achieve a messy mane look.
10. Ivy League Asian Haircut
All men can pull off the Ivy League haircut. However, it works particularly well with traditional Asian hair textures. Because Asian hair is typically soft and straight, it perfectly complements the polished preppy Ivy League look.
11. Backcombing
This hairstyle is ideal for men with medium-thick, manageable hair. Use your favourite gel and convert your long, short, or medium hair into a wet-look effect. This is a party favourite hairstyle with no drawbacks.
12. With a Receding Hairline
The Ivy League haircut is ideal for men with receding hairlines. This style, in addition to being fashionable, will help you conceal your receding hairline. Begin the side parting at the corner of the receding hairline. Then, comb the hair to the side to cover the most receded part of the parting. Try making a row of spikes over your head.
13. Curls and waves
Curls are said to attract girls, and now it's your turn to prove it. The key here is to wear an unstructured hairstyle with a relaxed finish. Add a wavy ocean touch to your hair to achieve a praise-worthy hairstyle.
14. Combed and Dapper Hairstyle
Are you attending a formal event or an important meeting? Part your hair to the side and use hairspray to keep it in place; for men of all ages, it gives a soft and seductive look. The special feature here is the strands sliced upwards into a pattern.
15. Ivy League Length
Request a semi- or mid-length cut on the sides and back from your hairdresser. Short hair should be a quarter of an inch long, while long hair should be two to three inches long.
16. Defy Gravity
It's finally time to have some fun. Put Afro-American style through your hair and leave it in the front to defy Gravity. This will add volume and lift to your hair. You can achieve an elegant and glamorous look with a suit and tie.
17. For Adolescents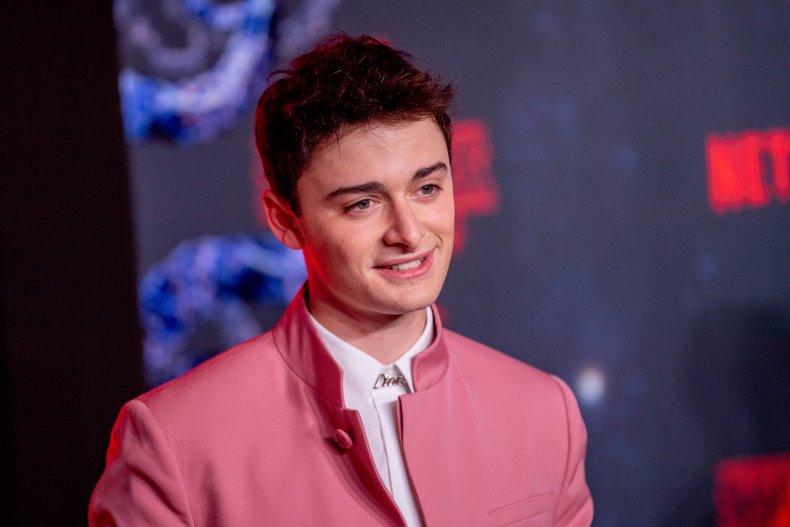 You can get some ideas from Noah Schnapp's hairstyle, which is both preppy and trendy. Indeed, an eye-catching, cute and sober hairstyle for all the teens out there. All you need to do is use your fingers to create soft spikes.
18. Highlighted Undercut Pompadour Hairstyle
Pompadour at his finest. Many young and mature men can adopt it. But only on special occasions. Ask your hairstylist to give you an undercut with dual-toned hair. Like shown in the above image, try out this look this season.
19. Gossip Girl Hairstyle
Ed Westwick's Gossip Girl character inspired this one. Try this hairstyle withbrunette-colouredd hair and a professional outfit. Slick the hair to the side using your fingers for a better look.
20. Schoolboy Appearance
For younger teens or guys in their early twenties, returning to school means resuming your cute and handsome appearance. A wardrobe is important, but the hairstyle is something else entirely. They can style their hair with a rough texture. They leave the other side rough and standing up. This way, one side appears neat and polished, while the other appears wild and messy.
21. Cropped Hairstyle
Were you looking for a fun but professional look? Choose this cropped hairstyle for men if you have layered hair. It looks good with clean-shaven sides and slicked-back layers. It's most appropriate for young men or artists.
22. Quiff Hairstyle
It is very similar to the Ivy League long cut. However, it is critical to stand out. Wear it forward for added volume in a tousled manner. Use hairspray if you're worried about maintenance.
23. With Clean, Straight Lines
This Ivy League haircut's clean, shaved lines and soft styling make it appear more urban and less preppy. A very short haircut is easier to wear for men with thicker hair. Request a hairstyle that falls towards the nape of the neck rather than straight. You can also try the faded look as shown in the image.
24. Messy Mullet
It's one of the most popular trends for 2022. Take a cue from Johnny Orlando, who has been rocking this look for quite some time. Not just him; many celebrities and personalities nowadays go for faux hawk hairstyles with different unique features such as this messy one.
25. Prim and Proper Appearance
This hairstyle is difficult, but it is suitable for men of all ages. Take the front centre section of hair and comb it back with gel, but leave the rest combed to one side. Only the centre front section is pulled back in this manner.
26. Curtain Bangs
This mid-length 90s look is appropriate for men with long hair. This hairstyle features curtain bangs that look like an opened-book style. Consider adding a modern look by getting a layered haircut.
27. Short Hair Preppy Hairstyles
Look military. Very modern and popular among young men. Summer-appropriate because you won't feel the heat and won't have to comb your hair repeatedly.
28. A Tousled and Bearded Appearance
Choose the tousled look if you have a slightly bushy beard and wavy hair. Brush some hair gel through the front of your hair and let the waves fall over your brow. This look is ideal for those in their twenties.
29. Long-haired Preppy Hairstyles
You can maintain the hygiene and neatness of wearing long hair with a shaggy appearance if you carry this meaning. Only then should you adopt this style; otherwise, it is uncool. On the contrary, unkempt hair will make you appear pitiful.
30. Italian Style
Italian men are the most attractive! Allow your soft, straight hair to open upwards to complement its sleek look. To keep it neat and polished, comb it back from the front. Try this look if you have a thin face with high cheekbones and a moustache.
31. The Pulled back Bun Look
Pull your hair back and tie it back into a bun for a more rugged appearance. It has a very masculine appearance and goes well with a beard and moustache. This hairstyle is particularly popular among low-income and carefree men.
32. Ivy League with Mid Fade
With a beard, this mid-length fade looks very modern. Clean lines around the temples and along the brow keep the look urban. Comb the hair forward with gel or pomade. Pull hair upward with your fingers for texture and volume.
33. Spiky and Short
This hairstyle is described as low-maintenance and simple to style. To add volume, use the appropriate amount of pomade or cream. You can skip the comb and use your fingers to achieve a spiky and messy look on your short hair.
34. Bushy Mane Look
This look is ideal if you have tousled, fluffy hair. Don't use hair gel or pomade; leave it natural and style it. The messy front hair will suit you, and a Dutch beard or a clean-shaved look will give you a badass vibe.
35. Men's Ponytail
This hairstyle exudes personality thanks to its medium ponytail and long hair with a sleek texture. Even though the look is casual and traditional, the overall hairstyle is comfortable, classy and not stiff. The trick is to replace hair gel with a texturizing cream.