Who says men don't care about their image? Looking good is synonymous with feeling better, so many men have a complex or are worried about one of the problems that directly affect them: hair loss and receding hairline. If you're looking for some hair care tips, you can check out our previous post on How to Care for Your Hair: Tips for Men.
In addition to the aesthetic treatments to remedy it, there are more straightforward ways to disguise the receding hairline. The following uncommon article explains some of the best hairstyles for men with a receding hairline. You can easily change your look with the right Haircut and hairstyle while maintaining a modern style. Change your look!
1. Long Hairstyle
If you refuse to cut your hair but are starting to have a receding hairline, letting long strands fall on your forehead will allow you to hide your hairline and broad forehead. This type of long hairstyle is characterized by parting the hair from the middle of the top to the sides subtly and chaotically, giving you a modern look.
2. Textured Hairstyle
Many men with the receding hairline and large foreheads opt for the textured hairstyle. What is it? Let the hair grow a little below the ears so that it can be layered in a way that allows you to work it and manage it more freely. In addition, with this layered cut, you can generate more volume to cover the most unpopulated areas of hair.
If you liked this article on hairstyle ideas for men with a receding hairline and prominent forehead, we recommend you look at our posts—types of haircuts for older men and Hairstyles for men with little hair to find more inspiration.
3. Undercut Haircut
The undercut is another popular hairstyle for men with a receding hairline and a prominent forehead. It is an asymmetrical hairstyle consisting of a side parting with the hair shorter on one side and a higher wig on the other. This hairstyle is versatile and perfect for those who want to hide receding hairline since the toupee can also be combed backward. Do you dare to try it?
4. Caesar Cut
The Caesar cut is one of the most common hairstyles for men with a pronounced receding hairline. Many men opt for this Haircut and hairstyle to hide their receding hairline and broad forehead. The idea is to keep the hair at the same length and comb it forward, leaving some straight bangs. It's perfect for all ages but works incredibly well on those with long hair with a more pronounced receding hairline.
5. Long Hair Slicked Back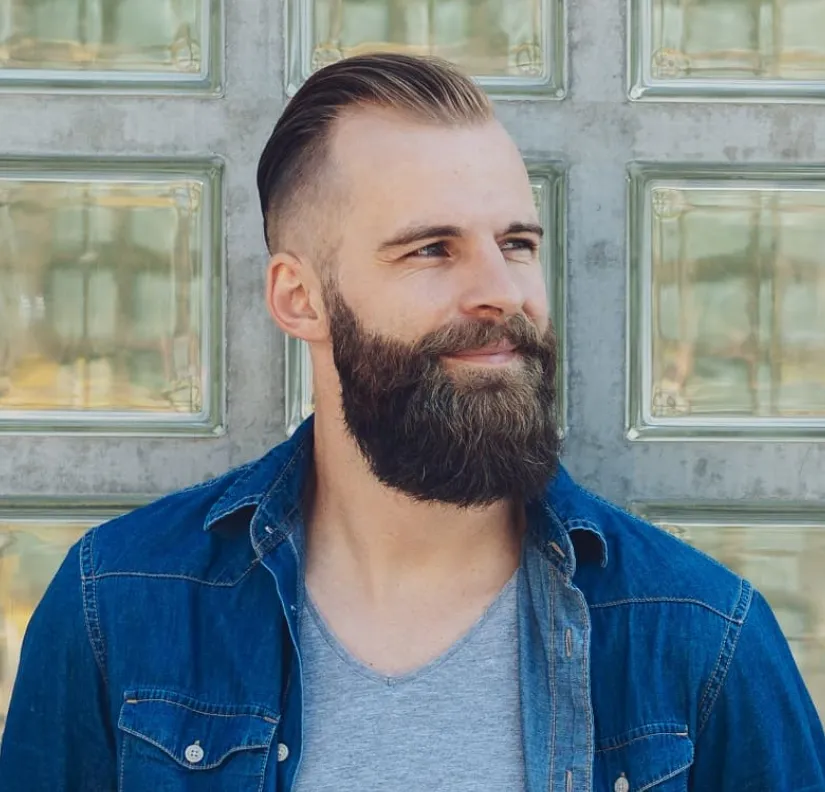 And if you have long hair, another option is to style it backward since one of the most common receding hairlines that men tend to get self-conscious about is hair loss in the crown area. With this type of hairstyle, you can hide it perfectly.
The idea is to let the top part of the hair grow so that when you comb it back, you can hide the crown of the head with its length. You can use wax or hair gel to hold the hair back. The sides can be shorter or shorter – it doesn't fail!
6. Long Hair on Top
Another popular hairstyle for men who want to keep their hair modern and at the same time hide their receding hairline is to leave it long. If you have curly hair, this option is perfect for you. The idea of leaving the hair long on top is to help cover the areas most affected by hair loss, hiding the receding hairline through the volume of the hair well accommodated.
The long hair on top is an excellent option among haircuts for young men with a receding hairline.
7. Toupee with Long Bangs
Another hairstyle idea for men with receding hairlines and prominent foreheads, and the more daring, is a variety to the previous hairstyle: the toupee with long bangs, another ally to hide the receding hairline. Use gel, hairspray, or wax to give volume to your hair. Then comb it back or to the side, making a toupee with more or less volume. To your liking!
8. Discreet Toupee
In case you're wondering, "What hairstyle can I do if I have a receding hairline" a discreet hairpiece can be an excellent ally to hide a receding hairline. It is a simple hairstyle but a safe bet for men with receding hairlines or hair loss.
The Haircut is characterized by gradient sides and a top part with more volume but short. The idea is to control and style the hairpiece with a bit of wax, giving you more volume. If you have curly hair, it's ideal for you because it's easy to style and maintain. Try it!
9. Side Partings
If you are looking for modernity in your hairstyle and, at the same time, you want to hide hair loss or a receding hairline, try side partings. This hairstyle can be used with a short haircut and emphasizing the side partings, so they are very marked. Unlike the first proposal with the sides very short or gradient to 0, here we propose to leave the sides a little longer, between 1 and 1.5.
With the side partings, you will create the effect of having more hair than you think. You can even complement it with a toupee-shaped fringe in the purest 50s style. It is an excellent option among the hairstyles for men with the receding hairline and prominent forehead we propose.
10. Shaved
Along the same lines as the previous tip, if you have lost a lot of hair and it is impossible to hide the receding hairline, one of the best options is to go for a complete shave. Shaving your hair completely can give you an attractive style and end the complex of having your receding hairline showing too much, in the style of Bruce Willis.
Even if you go for a shave, remember to take care of your scalp for a more favorable result. Invest in products to moisturize the skin and keep it shiny and much healthier.
11. Hairstyle with Short Hair
What Haircut is best for a man with a receding hairline? Wearing your hair short is one of the best options to hide a receding hairline. But how to do it properly? The idea is to cut the sides almost shaved or in a gradient, leaving more hair volume on the top of the head.
You can then style it by applying hairspray to the side to give it a modern look and hide the hair loss. Give it a try!
12. Crew Cut
This Haircut is perfect for the receding hairline. It is characterized by a very pronounced cut on both sides of the head, while the top is cut short but with a little more length.
The back of the head is also quite pronounced with a very shaved cut. Between the top of the head and the lower part of the back of the head, there is a subtle gradient between the two areas so that it is perfect to be seen.
13. Natural or Medium Cut or Low Fade
It is designed for classic cuts, where the hair flows naturally but with a groomed look. Its style is to wear the sides short and in degradation with the top that will be much longer than the rest, leaving the whole area in the same length.
14. With a Bit of Fringe
This is to wear the hair semi-long and combed even in opposite directions. It's a terrific hairstyle, and many celebrities like Justin Theroux wear it. In many of these cuts, the locks are left to fall down the forehead and are detailed oddly with a bit of fixing gel or hair wax.
15. Mullet Cut Style
This hairstyle is reminiscent of 80's haircuts but is ideal for those who are starting to notice their receding hairline. Your long hair is cut or shaved to the sides, and you get to leave a long fringe that can be combed upwards and will always remain unruly. And at the back of the head, long hair is left at the nape of the neck.
16. Mini Mohawk
Although this style is not for everyone, it is a bold look that consists of shaving the head except for the central part, where a slight crest characteristic of this style is created. This creates an effect where the receding hairline doesn't exist.
17. Upside-down Haircut or Buzz Cut
A buzz cut is one of the best haircuts for men with a receding hairline. A short haircut is one of the most manageable to maintain and style after a clean shave. A military-inspired haircut is an excellent choice for people with thinning or patchy hair, as no one will be able to identify where you are losing your hair because the strands are so short they are barely visible. The Buzz cut is also one of the best men's hairstyles for a round face and helps transform the look.
18. Faux Hawk
One of the all-time favorite men's haircuts is the fohawk, which also works perfectly for receding hairline. Faux hawks, an affordable alternative to the mohawk, strike a balance between modern standards and relentless self-expression. Because they direct all the hair towards the center of the head, they also conceal receding hairline very well. Remember to keep it short on the sides as well.
19. Pompadour Style
If you're looking for a hairstyle that offers a polished, sophisticated look and is perfect for professional settings, look no further. As the name suggests, the hair is combed back and held in place with a styling product such as gel or pomade. It usually has a wet look. It can enhance the hairline and is ideal for men of all ages. If you want to highlight your widow's peak in a way that is not too flashy, this is a great alternative.
20. Quiff Hairstyle
The widow's peak is the best Haircut for the receding hairline in the front. There are many examples of receding haircuts that feature this typical "M" shape, which occurs when the hair at the temples begins to recede, leaving a section remaining in the center. Quiff Widow's peaks are widespread V-shaped sections of hair that some people have in their receding hairline.
Quiffs are perfect as they give a deliberate appearance, which can be exacerbated in people with a receding hairline. One only has to look at Justin Theroux to see how well he does it.
21. Ivy League
Since Ivy League institutions were founded, it has been known as the Ivy League. It has a clean shape and contributes to a polished look that is ideal for everyday wear. The style is simple, with the top of the hair slightly longer and cropped close to the head at the back and sides. The wave crest has volume.
It is a low-maintenance option that requires little effort to style and is desirable because of its adaptability. The Ivy League will flatter your widow's peak and can be worn with hair of any texture. It will also soften your hair parting, although it will still be noticeable.
22. French Haircut
Another haircut for men with a receding hairline is the French cut. The French cut is a trendy alternative if you still want the freedom to wear your hair in various ways. It is easy to style and has a lot of different looks thanks to the short hair at the back and sides and the fringed bangs.
23. Tousled Bangs
Messy hair gives your look an air of intentional disarray and is ideal for adding texture. Its lack of structure makes it ideal for a more relaxed look. It goes well with many hairstyles and styles, including bangs. A tousled fringe will hide your widow's peak, add volume in the front and give the impression that your hair is more prominent. Plus, it will produce an effortless air of freshness.
24. Butch Cut
A traditional short hairstyle for boys is the butch cut. It is simple and manly, making it ideal for those who value simplicity and short preparation times. The sides and back are the same lengths, and the cut is short, measuring about a quarter of an inch around the entire head. The cut can be customized to your taste and give it a contemporary feel, but it also works well to hide a widow's peak.
25. Shag Haircut
The shag haircut, a style from the 1970s, adds structure and volume to the hair. Several choppy layers are used in the cutting process, which gives the appearance of bigger hair and relieves heavier hair. It also has a fringe, which will hide your widow's peak. The shag is attractive because it can be worn on various hair textures and is adaptable.