Cats are the prettiest, most mischievous, and eccentric animals on the planet, but did you know that in ancient Egypt, they were linked with the deities Isis and Ba'ath and were frequently represented in various artworks and even mummified? With so much of human and cats' history overlapping, it's only natural that our feline pals have collected different symbolic interpretations. While a black cat may be seen as a negative omen, cats, in general, are regarded as symbols of independence, revolt, and intellect. If you're looking for a new body art design, a cat tattoo is a fantastic option because it represents many desired traits. Cats are also associated with cleanliness, desire, deception, and cunningness.
Below is a collection of tattoo ideas for our favorite cats, ranging from discreet tiny tattoos and basic cat tattoos to realistic drawing ideas; there is a wide variety of choices for someone out there who is a cat person. Just keep scrolling to get a cat tattoo that will be your next tattoo.
Cats are known for being the prettiest, most mischievous, and eccentric animals on the planet, but did you know that they were linked with the goddesses Isis and Ba'at in ancient Egypt, and were frequently represented in numerous artworks and even mummified? Or that cats were mass-murdered in the Middle Ages because they were connected with witchcraft? Thankfully, the feline slaughter came to a stop when HyvelDda, a medieval Welsh ruler, declared killing or injuring cats unlawful.
1. Minimalistic Cat Tattoo
Minimalist tattoos communicate a clean and essential design using sharp black or colored lines, negative space, and limited color palettes. This tattoo is the best for someone who already has a cat and feels like they want it to be a part of them. Get the cat tattoo on your forearm so that every time you are away from home, you will always have this thing that will always remind you that you have to get back home to your favorite. 
2. Cute Cat Tattoo
Who said that fine line tattoos are always dull? If you have a good look at this cute cat tattoo with an almost fine line, one will notice an excellent new look that is classy simple yet beautiful at the same time. This is for some who have a playful kitty and would like to show the world that they will always go back to their company despite having a bad or a rough day.
3. Cat And Flower Circle Tattoo On Ankle
Flower tattoo meanings are as varied as multi-layered; in ancient societies, flowers directly showed God's satisfaction. Flowers are frequently used to signify love between two individuals nowadays. That's why this tattoo depicts the undying love that the owner of the tattoo has for their cats. If you love this pet and feel like you are so attached to it, this is meant for you.
4. Full Black Cat Tattoo On Wrist
Black cat tattoos are among the most often misinterpreted tats. They may have connotations ranging from positive to negative, so it all depends on who the tattoo owner is and what they want their black cat to represent. Black cats are commonly associated with the reclusive and introverted, a lively individual whose vibrant personality is more private than others. This is a very particular meaning intended for those who believe they have a lot to contribute but keep it hidden from everyone save those closest to them.
5. Fine Line Cat Portraits Arm Tattoos
This single needle tattoo is specially meant for women who want to minimize their pain from inking and maximize beauty and style in a tattoo. This tat is so simple and is intended for someone who wants to get a tattoo that is so special to them. Getting this tattoo on the arm will never go unnoticed because it does not shout out but at the same time delivers the intended meaning.
6. Sleepy Kitty Tattoo
Cats prefer to cuddle up in unusual locations; aside from that, don't be shocked if you discover a cat resting on a computer; cats prefer high places to sleep. When it comes to the meaning of a sleeping cat tattoo, the individual who wears one is usually peaceful. It signifies peace and tranquility. Furthermore, a tattoo of a sleeping cat can also symbolize that the wearer is a homebody; they prefer to stay at home and spend most of their time with their family.
7. Black Cat With Moon And Loving Hearts Tattoo
Firstly, the moon is symbolic of a wide range of hobbies and ideas; combining a cat and the moon tattoo is what makes this tattoo an ideal choice for anybody who believes in the celestial body's impact or enjoys its beautiful appearance. This tattoo is so colorful, and mixing it with vegetation and heart represents more profound happiness and compassion and the loving nature someone has. This is the best tattoo for someone who always feels like they don't know how to say things but want to express their feelings.
8. Solitary Kitten Of The Delt
When it comes to cats, the first thing that comes to mind is independence. Someone who gets a cat tattoo will undoubtedly have some of the same characteristics as these magnificent creatures. As these animals love heights when they become playful, they tend to sit on the shoulders; this tattoo reminds us that we should be kind to cats. A person with this tattoo portrays their unedging connection to these animals.
9. Giggling Cat Tattoo
It's a lovely foot tattoo with a smiling cat on it. This tattoo represents your upbeat and optimistic personality. The tiny depiction of the universe represents your wanderlust. Thus, travelers who enjoy exploring new locations have this tattoo tattooed on their arms, chest, and feet. If you love adventure and want a tattoo that will speak on your behalf, this is the best tattoo for you.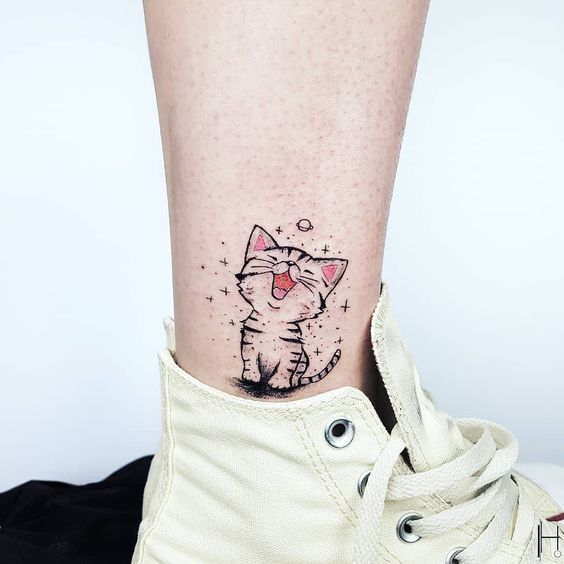 10. Spying Cat Tattoo
This is a cat tattoo that speaks a lot about the personality of the owner. This tattoo gives the concept that the person having this tattoo can judge things too deeply. It also gives out the meaning that they can decern inner things and thoughts competently and effectively. This will depict their cunningness and their ability to maneuver through situations easily. If you are of this nature, then this is the best tattoo for you. 
11. Sleeping Cat Tattoo
Nobody cares about the backstory behind this beautiful tattoo. Everyone is happy that this tattoo design exists since it's an excellent example of one of the most fabulous adorable tattoos one might have on their body. This is a fantastic cat tattoo if you adore your tiny kitten and want to commemorate them and their habits or if you enjoy cats.
12. Simple Cat Eyes Tattoo
As a symbol, the eye is often thought to represent the idea of the window to the soul. Cat eyes are said to be a sign of wisdom, understanding, and divinity. They, along with black cat tattoos, serve as a conduit for mysticism and bring their owners closer to the afterlife. A cat-eye tattoo may demonstrate your capacity to see far beyond the average person.
13. Two Cats Staring At The Moon Tattoo
When the moon fades, cats will frequently approach the shovel officer, hoping to be near humans. The moon is an excellent predictor for all cats. Cats utilize the position of the moon to determine the direction on the way home, an essential element for domestic cats in defining their habitat. Two cats tattoo staring at the moon symbolizes two hearts connected to the same place. This tattoo is used to represent the ties you to your siblings or with the love of your life.
14. Cat On The Line
The cat tattoo is frequently associated with good fortune, life beyond physical death, mystery, calm intellect, and grace. A cat tattoo may signify affection for a departed pet for some individuals. Many people who have a cat tattoo have a passion for exotic and adventurous things, may reject authority, or have a strong desire for a spiritual connection. This tattoo will look great with a line that wraps around an arm, thigh, or ankle.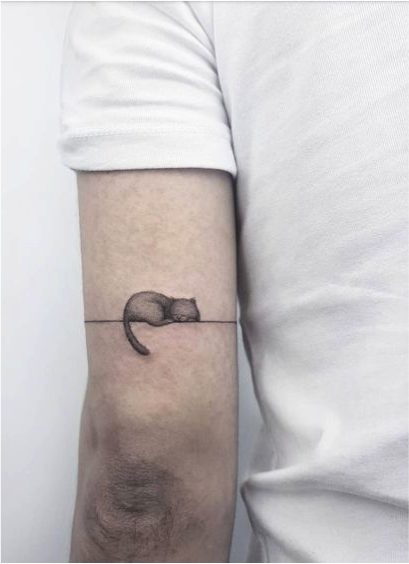 Conclusion
With so much of human and cats' histories intersecting, it's only natural that our feline companions have amassed a plethora of metaphorical connotations.
Cat tattoo will bring the desire to search out spiritual components in your life and belief in self-reliance. In addition to that, it will display feminine power, a challenge surmounted, bouncing back from a terrible circumstance, and bringing luck with you wherever your adventures take you. It would be best to consider the following before you get tattooed, make sure the person tattooing you are a specialist who creates unique products. Copied tattoos are the worst, all the best as you get your new tattoo!
Other Articles