Bird tattoos are one of the most appealing and adaptable tattoo designs. When it comes to animal tattoos, hummingbirds are among the most popular designs. They might be understated and traditional, colorful and flamboyant, or nautically themed.
Why a hummingbird tattoo?
Tattoos of hummingbirds have a long history and a deep meaning. They contain a variety of deep meanings that relate to strength, perseverance, and love. If you're thinking about having a hummingbird tattoo, read this article to learn more about the actual significance of these beautiful animals.
A brief history of the Hummingbird tattoo symbolism
The hummingbird is an enthralling and lovely creature. It is the world's tiniest bird species, but it is full of symbolism, frequently linked with beauty, good fortune, strength, resilience, and hard work. The small bird is revered in many cultures, including the ancient Aztec civilizations, where it was seen as a sign of rebirth. Hummingbirds, they thought, would reincarnate as slain soldiers. This animal has the advantage of being able to be replicated in a variety of styles and methods, including American traditional and watercolor. You might go for a basic black ink design or go for something more intricate and colorful. Hummingbird tattoos are among the most popular kind of bird tattoos.
This bird is chosen for its beauty and elegance. Hummingbirds are the tiniest birds on the planet, yet they are among the most beautiful and intriguing. They are members of species that do not reside in every region of the world; therefore, the meaning of their tattoos is not as universal as the meaning of other symbols. These birds are fascinating because of their size, anatomy, and other characteristics. A hummingbird tattoo also represents a person's well-being and sexual vitality. The bird is usually portrayed lingering in the air and sipping nectar from a flower. This nectar is similar to the heady honey of crazy love. Hummingbirds represent a cheerful attitude and optimism, as well as a person's genuineness and distinct uniqueness. Below are some of the most exciting hummingbird tattoos and their meanings. Just scroll through the list to get yourself the best tattoo out there.
1. Tattoo of a Hummingbird, Rose, and Flower
If you are going through a difficult time, the hummingbird can represent hope; it also indicates dedication, good fortune, and joy, which is why this small creature inspires many people. The bird can be coupled with other motifs to add meaning and a hummingbird and rose tattoo is a lovely and symbolic choice. The bloom is a popular choice for body art because it is visually beautiful, adaptable, and full of significance. It is associated with balance, beauty, pain, love, and passion, and it may be created in various styles and techniques. You might want your hummingbird to hover over the rose, symbolizing the mutualistic link between these two beings. You might also use this as an occasion to thank people you rely on.
2. Tattoo of a sunflower and a hummingbird
Because both the sunflower and the hummingbird are viewed as symbols of happiness and good fortune, what better way to convey this message than by combining them? Sunflowers are frequently connected with optimism and happiness, and they serve as a reminder to look on the bright side of life. The bird, on the other hand, is associated with a positive thought. A sunflower and hummingbird tattoo is an eye-catching design, and this is an excellent opportunity to use vibrant, vivid ink. However, if you choose to focus on the symbolism behind your graphics, your design can work just as well in blank ink. Experiment with different approaches, from realistic to watercolor paints, and choose a location you will see every day.
3. Tattoo of a Hummingbird Lily
Because of their mutualistic relationship, combining a hummingbird and flowers is a popular choice. However, it also makes for a vibrant and eye-catching design, and a hummingbird and lily tattoo is rich in symbolism. The lily is connected with rebirth, motherhood, strength, and purity, making it a popular option for those who respect these qualities. It may also indicate a departure from your beliefs. It takes on even more significance when inked with the bird, as this tiny creature represents hard effort, tenacity, determination, and optimism. If you choose a style with a lot of detail, choose a large enough spot to accommodate this. The forearm, thigh, or shoulder are all excellent choices.
4. Tattoo of a Hummingbird in Memory
Beauty of body art is the fact that it can be utilized to express yourself and honor the people who are significant in your life. A memorial hummingbird tattoo honors someone you love who has passed away, and it is a lovely way to express how strong they were or how much joy they brought to your life. It could even be as easy as the bird being their favorite. Many individuals opt to include names as well as the birth and death dates of a loved one who has passed away when selecting a memorial piece. You might also include a significant quotation or remark. Because this is a work with so much symbolism, you must ink it somewhere you can see it every day when determining where to place it. This will remind you of why you did it in the first place.
5. Tattoo of a Hummingbird
Some body art techniques are sophisticated and detailed, while others, such as a hummingbird outline tattoo, are simple and focus on the fundamentals of the design. As the title says, this piece focuses on the most basic parts of the design: the form, with no shading or other detail. Outline pieces are typically made in black ink and will be completed faster than works that require a lot of shading. It may also be less expensive because it will take less time to finish. This is an excellent alternative for someone who prefers a more simplistic way of life!
6. Tattoo of an Aztec Hummingbird
Many people are interested in and inspired by the ancient Aztec civilization and the symbolism associated with it. The hummingbird was thought to be a sign of rebirth, with deceased warriors resurrected as these small birds. It is also said that the Aztec sun and battle god was depicted in art as an eagle or hummingbird. Your chosen Aztec tattoo design will most likely be complex and symbolically rich; you can get it inked in black or colored ink.
7. Hibiscus hummingbird tattoo
Birds and flowers make for lovely and meaningful tattoos, but few have the same effect as a hummingbird and hibiscus inking. The hummingbird is little, yet it is dedicated and powerful. It might signify your determination to overcome difficulties and be interpreted as a symbol of joy and determination. The hibiscus is frequently connected with vacation, summer, and the Hawaiian state. The hue of the bloom also has a slightly different connotation. A red hibiscus, for example, is connected with love and passion, while a blue one is associated with tranquillity. Yellow is associated with fortune and optimism. When choosing your design and the colors you want to employ, consider the meaning you want to portray.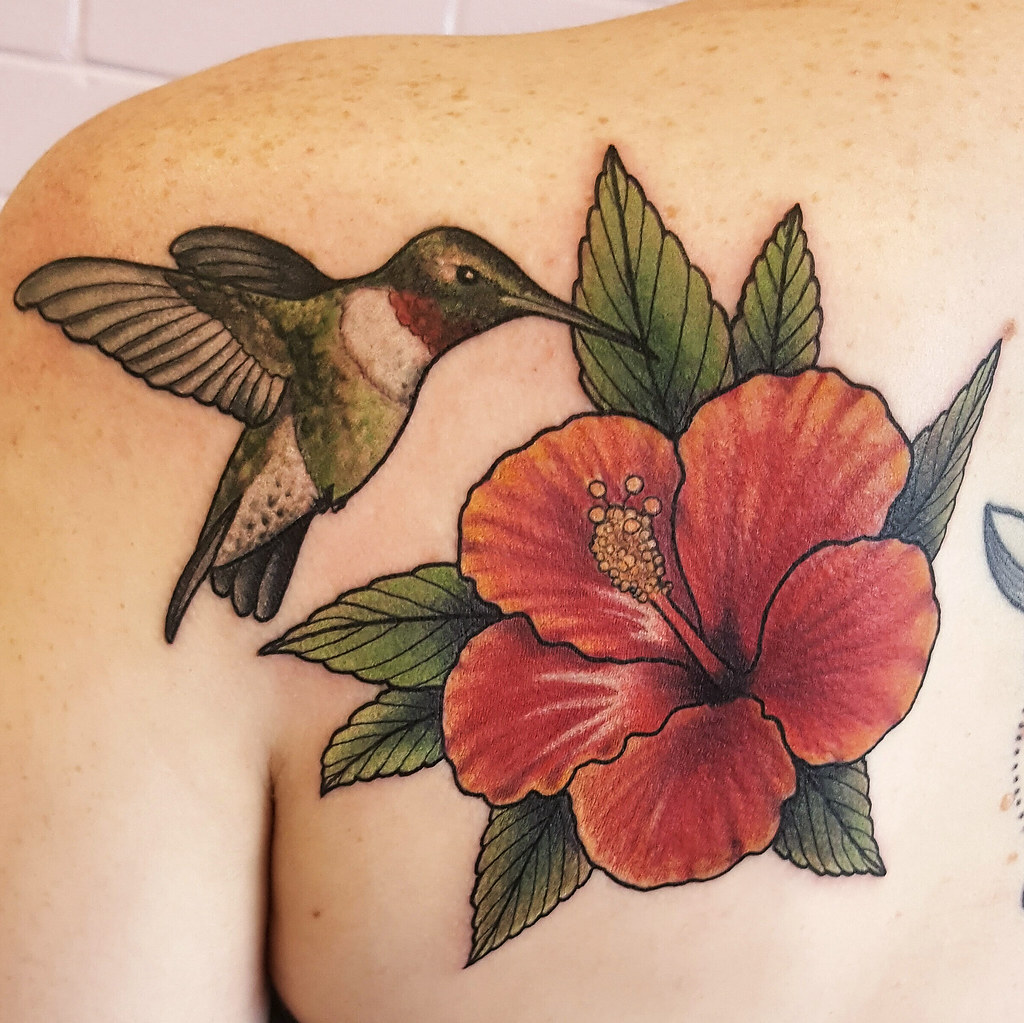 8. Tattoo of a Hummingbird and a Butterfly
A hummingbird and butterfly tattoo is ideal if you enjoy bright and vivid designs. Hummingbirds are associated with happiness, good fortune, hard effort, and hope. The butterfly, on the other hand, denotes beauty, femininity, and transformation. It is frequently picked by someone who has overcome adversity in their life. Or by someone who wants to remind oneself that good things are on the way. Combining these two creatures adds more meaning to the piece, making it even more powerful.
9. Tattoo of an Infinity Hummingbird
The infinity tattoo symbol, which resembles the number eight turned upside down, is associated with eternity and is frequently understood as everlasting love and loyalty. It is a popular tattoo design for honoring love or representing timelessness. Still, when paired with other imagery, such as an infinity hummingbird tattoo, it can become much more profound. Beauty, good luck, strength, resilience, and the spirits are all linked with the bird. It not only adds to the message of your composition, but it also makes it visually appealing. Because the design is so straightforward, use black ink. Although you can make your body art any size you like, it is better to keep this one tiny.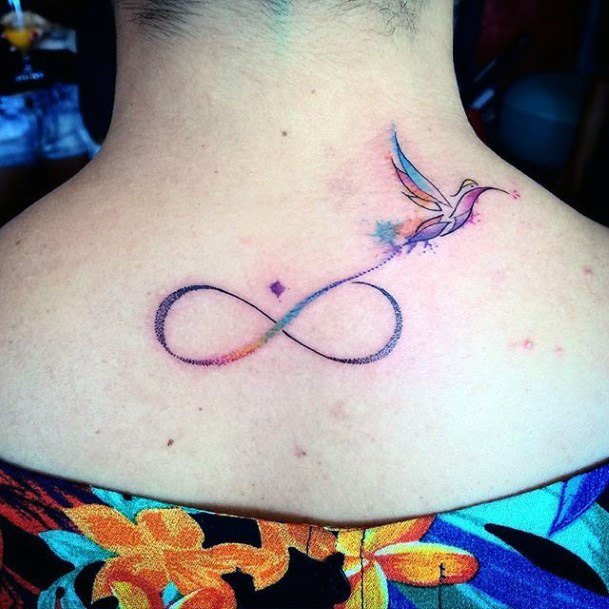 10. Tattoo of a Jamaican Hummingbird
The hummingbird's tenacity and determination have inspired many people, but it is especially meaningful to Jamaicans because it is their national animal. The doctor bird, also known as the swallowtail hummingbird, is found exclusively in Jamaica, and some think it has magical qualities. The male's feathers, which sometimes resemble an old-fashioned doctor's coat, inspired the name. The bird is vibrant and would look fantastic in color. It may bring good luck and hope to some, but getting inked with this bird is also a great way to show your Jamaican pride or history.
11. Tattoo of two hummingbirds
It might have different meanings depending on where your two hummingbirds are placed. If they are far apart, it could signify distance, the yearning to be with someone far away or the fact that they are no longer alive. If they are close, this could be a method to respect your relationship or to celebrate the closeness you share with someone. This is a great option for someone in a passionate and dedicated relationship; you could have matching ink, or each bird might represent a different aspect of the couple. You may also wish to include names, notable dates, and symbols to personalize the piece.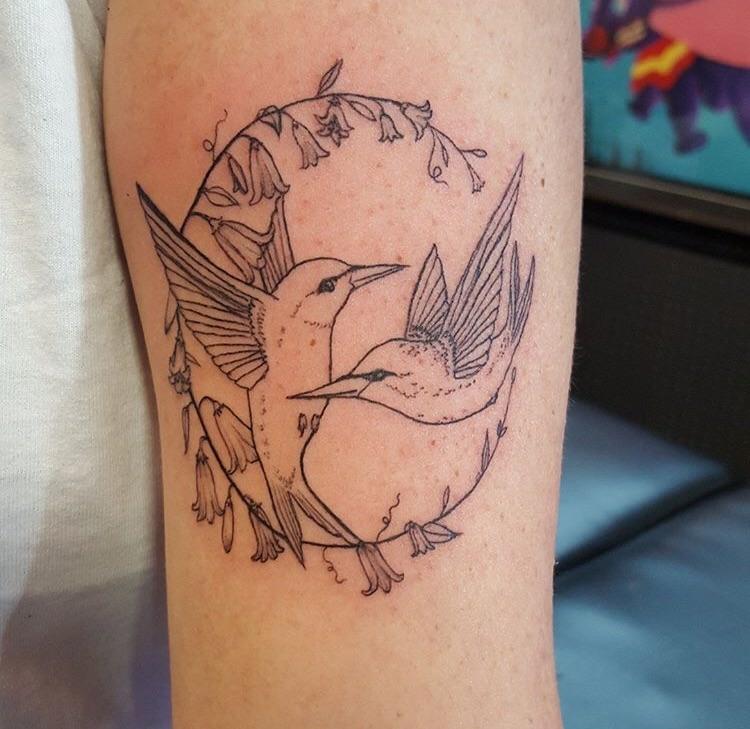 12. Tattoo of Three Hummingbirds
A three hummingbird tattoo can be a captivating and significant choice. Many people associate the number three with the beginning, middle, and end of anything. It can symbolize the body, soul, and spirit, as well as the heavens and earth. Three birds are also connected with freedom, joy, and triumph over adversity. The beautiful thing is that there are many design alternatives and interpretations of the message. You may show your hummingbirds in flight or one above the other. Alternatively, you might get creative and combine them into a symbol.
13. Tattoo of a Hummingbird Circle
A hummingbird and circle tattoo can be made in a variety of ways. It might be flying through the circle, or it could be a geometric tattoo design that blends these two aspects creatively. This shape's connotation is that it signifies totality and perfection. It represents immortality and timelessness, and despite its simplicity, it has a powerful impact. The hummingbird is frequently associated with tenacity and the capacity to overcome adversity. It also represents hard labor, love, joy, and hope.
14. Tattoo of a Purple Hummingbird
The hummingbird's attractiveness is that there are so many different species to choose from that you can pick your favorite. They can also be brilliantly colored, and a purple hummingbird tattoo is a unique and eye-catching option. Colored ink is more expensive, but the results are spectacular. Purple is a color that complements all complexion tones, depending on the shade you choose. Purple is also a color associated with richness, power, and monarchy. Therefore there is a lot of symbolism linked with it.
15. Tattoo of a Blue Hummingbird
The hummingbird not only represents many things and is significant in many civilizations, but it also appears in a variety of hues. The blue hummingbird is one of several species of small organisms, many of which have vivid plumage. They have glossy feathers that change color according to the angle of illumination. You can get a simple inking done in one shade of blue or a combination of several. Hyper-realistic and 3D techniques allow you to bring beautiful birds to life on your skin, highlighting their beauty and complexity.
16. Hummingbird Heart Tattoo
The universal symbol of love and passion is the heart. There are many types of heart tattoos, such as a hummingbird and a heart tattoo. Depending on your desire, you might make the heart inside the bird or separate it. The color you choose can also influence its significance; for example, red is associated with passion, whereas black can represent mourning or loss and could be inked as a part of a memorial piece. If you're drawn to these two symbols, play around with location and design to come up with something truly unique to you.
17. Tattoo of a dragonfly and a hummingbird
You may want to add other images to your design if you choose a hummingbird inking. Flowers or insects, such as a dragonfly and hummingbird tattoo, are popular alternatives. The dragonfly is associated with strength, luck, harmony, and prosperity, while the little bird is associated with optimism, positivism, and hard work. Both animals can be inked in various styles and techniques, and they can be small or enormous.
18. Tattoos of Hummingbird Moths
The Hummingbird moth tattoo represents both dignity and reincarnation. The moth is the bird's first stage of development. The moth here reflects your true self as who you were, and it is encouraging to see where you are now.
19. Tattoo of a Skeleton Hummingbird
The dynamic skeleton tattoo allows you to show off different parts of your body. You can exhibit the dynamic satanic feeling with a hummingbird skeleton tattoo or a hummingbird tattoo with a lethal skeleton.
20. Tattoo of a Hummingbird on the Back
You can do the multicolored hummingbird tattoo with excellent line work on your back. You will be the most fashionable person in the world if you wear a gorgeous white backless gown with a bright hummingbird tattoo on your back. Any backless tops or gowns with hummingbird tattoos are a fashionable way to display the world.
21. Flying Hamming Bird Tattoo On The Arm
The people revered these birds for their remarkable strength and power when flying despite their diminutive size. They acknowledged them as courageous soldiers. In Zapotec culture, the hummingbird was considered immortal and symbolized Huitzilopochtli, the deity of battle. This tattoo is meant for someone who wants to tell how courageous they are and to indicate that the person wearing the flying hummingbird tattoo is a leader.
22. Hummingbird Tattoo On The Elbow
Hummingbird tattoos are popular due to their versatility. This bird tattoo is popular among those who have faced adversity in their lives. The hummingbird represents good fortune and healing and is considered to bring good luck and vitality. Hummingbirds are continually on the go, meaning hard labor and perseverance. Because they fly alone and across great distances, this bird is frequently linked with freedom.
23. Small Hummingbird Tattoo
Small hummingbird tattoos may be placed anywhere, while larger patterns take up more room. It is recommended to position the bird based on its size and kind. Hummingbird tattoos on the leg are a popular choice. Some favor the thigh, while others prefer the calf or ankle. Considering how small this bird is, there is enough room on the leg to show it in complete form without losing its features.
24. Hummingbird Tattoo On The Shoulder Blade
The bird is usually portrayed lingering in the air and sipping nectar from a flower. This nectar is similar to the heady honey of crazy love. Hummingbirds represent a cheerful attitude and optimism, as well as a person's genuineness and distinct uniqueness. Hummingbirds with butterflies and flowers are a popular female tattoo design representing incredible lightness, beauty, purity, and grace. Women use such patterns to express their sensuality and compassion.
25. Colorful Hummingbird Tattoo
Hummingbird watercolor tattoos are stunning. This is one of the most significant ways to create a picture of this tiny and delicate bird. Smooth color transitions will allow you to correctly express the lightness of the wings and the flapping of the bird's flight. Watercolor tattoos are always soft and accurate, and with a few random splashes, the design will have a unique appearance. Tattoos in realistic style draw many admiring eyes, and drawings on the body in this manner are pretty popular.
26. Hummingbird Watercolor Tattoo
Whether to have black or colored ink is primarily determined by design, although there is a lot to be said for a colorful hummingbird tattoo. One of the reasons this bird looks so good in bright colors is that it adds realism and detail to your painting. You may also insert photos of flowers or insects such as dragonflies and butterflies. Color makes your tattoo more apparent.
27. Simple Hummingbird Tattoo
If you love significant yet fundamental body art and have a more minimalistic attitude to life, then a simple tattoo is an ideal choice for you. These paintings are often basic patterns produced with simple lines and black ink. This is ideal for someone who prefers a more relaxed way of living. Hummingbirds are beautiful and symbolic creatures that lend themselves perfectly to this style of painting.
28. Purple Hummingbird Tattoo
The hummingbird's attractiveness is that there are many different species to select from that you may pick your favorite. The tattoo may also be quite vividly colored, and a purple hummingbird tattoo is a unique and eye-catching alternative. Purple is a color that complements all complexion tones, depending on the shade you choose. Purple is also a color associated with richness, power, and monarchy; therefore, it has a lot of symbolism connected with it.
29. Simple Small Hummingbird Tattoo
Small hummingbird tattoos, in general, represent the capacity to conquer life's obstacles and a successful trip. A tiny and vivid but colorful hummingbird tattoo would be a fantastic way to celebrate your love of nature if you enjoy colorful tattoos! All small hummingbird tattoos, regardless of design or placement on the knuckle, have solely good connotations. You will always turn the heads up by this tattoo; you will never go wrong if you want to attract all attention to your hand.
30. Hummingbird Tattoo On The Back Of The Neck
Hummingbird tattoo designs look fantastic in any setting. Because they are so adaptable and can be worn in so many various ways, including the neck or multiple places of the body, the size, and design of the inking will determine where it is placed. Hummingbirds may be customized to fit your body by adjusting the size of the wings, reducing the beak, or changing the body size.
31. Outstanding Hummingbird Tattoo Design On Back
In their tattoo design, some people may choose to portray a hummingbird in flight, hovering above flowers, or sipping nectar from a flower. Because the hummingbird and flowers rely on each other to survive, this connection might represent perseverance, conquering adversity, and being cheerful. Although the lovely hummingbird is robust and adaptable to external influences, it does not do well in confinement. Some people may get a hummingbird tattoo to signify their desire to be free and live their lives as they see fit.
32. Hummingbird Behind The Ear
Depending on the manner of execution and location of the hummingbird tattoo, the meaning may alter somewhat, emphasizing different meanings. Along with the other connotations, a hummingbird tattoo behind the ear represents knowledge and responsibility in their judgments. It also means a person who is discreet and not easily duped. This is a sign of individuals who believe solely in the elect. Hence, their character characteristics buried in the tattoo pattern are hidden in areas where not everyone can see them.
Conclusion
Smaller designs may be equally as significant as larger ones, and you can include additional imagery such as flowers and insects. If you're seeking for ideas for your next tattoo, keep reading to learn about all the many ways you may have a hummingbird tattoo. And whether you decide on a hummingbird tattoo or not, make sure you explore all potential patterns, styles, and meanings. You should make sure that you understand what it symbolizes. Do not get a tattoo in haste. Take your time and select a design that you are comfortable wearing. People who rush to get a tattoo are more likely to wind up with something they don't like later. You will be happier with your choice if you take your time and look at the different styles and patterns.
Other Articles