When opting to get a tattoo, select a stylish design rich in symbolism, so you don't regret it. Because of the connotation connected with it, a crown tattoo is an excellent choice for powerful men and women. The monarchy is associated with the head ornament, which signifies power, triumph, self-control, and grandeur. Surprisingly, each crown tattoo represents a unique sense of power and control. You can go for a bold, brightly colored tat or something fundamental and subtle. The crown works well in both large and little designs when it comes to placement. Another standard option is for a couple to have matching tattoos.
The most excellent part about having a crown tattoo is that it goes with everything. In this sense, most individuals recommend getting a crown tattoo design as their first tattoo or while getting a new tattoo. Are you sure that you should have a crown tattoo but aren't sure which one to get? Just take a look at these intriguing crown tattoo design ideas mentioned below and consider these alternatives for your next body art if you want to feel like a king.
1. Couple Crown Tattoos On Hands
Without a queen, a king is nothing. What better way to bond as life mates and have a sense of royalty than via body art? As a result, pair tattoos are a popular crown tattoo design as well! You can select a crown with one female and one male counterpart. It's a unique approach to highlight the strength of your relationship.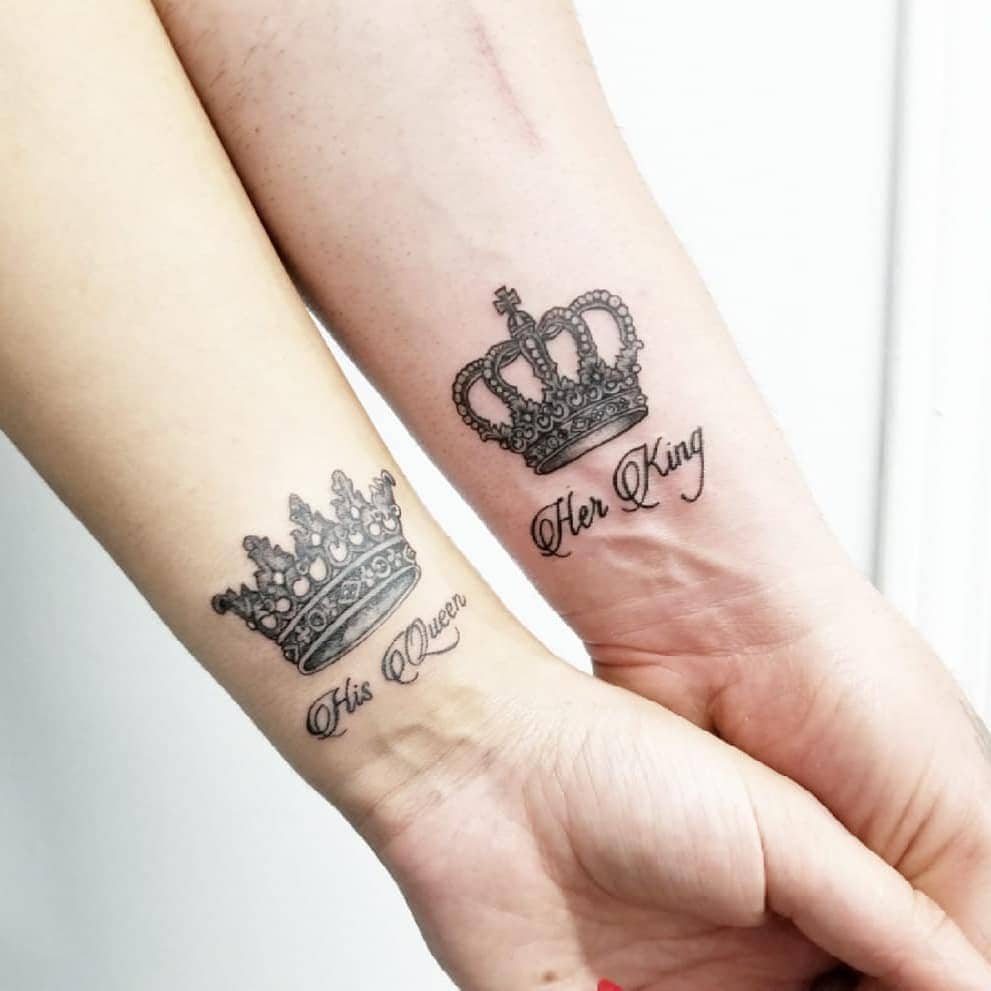 2. Pink Crown Tattoo For Ladies
Pink personality traits indicate that you are romantic and friendly. People are drawn to you because of your charisma and lovely serenity. Being a pink personality implies you like both providing and receiving nurturing. Despite all these, blending a pink crown tattoo with your pinky personality means you have everything under your control as a queen, and you reserve yourself as a queen does.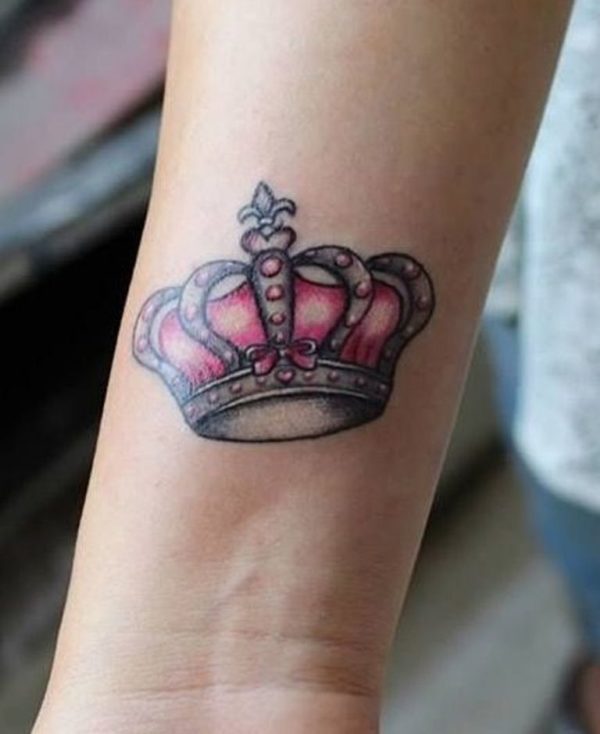 3. Crown Tattoo On The Elbow
Why not get a crown tattoo and place it on the area that is so visible to everyone?  The visibility of elbow tattoos is one of the reasons they are so popular. The region allows the user to see their selected design whenever they want and show it off. The location is best suited to all designs, yet they may still be solid and elaborate if desired.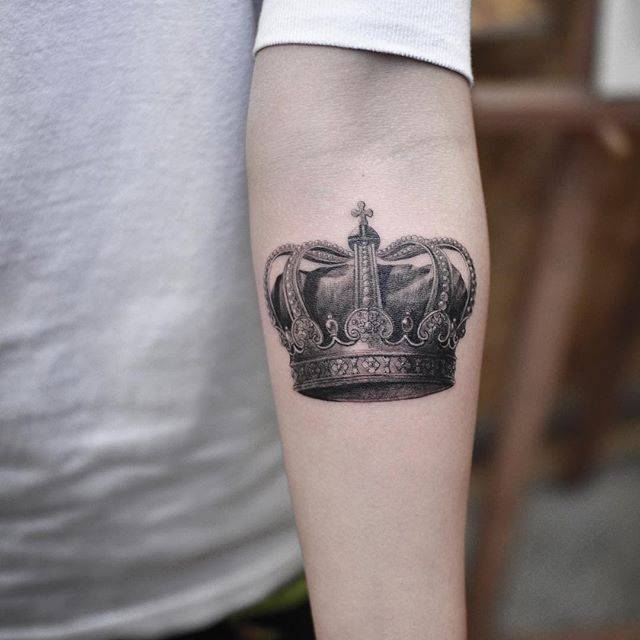 4. Crown Tattoo On Hand
A crown tattoo on fingers and hands is a discreet way to demonstrate your royalty. It's a beautiful option for those who don't want to be the center of attention but want to be noticed. This can also be decorated with the rays of life oozing from the tattoo. It will symbolize that you have all your life under your control as a king. To express this, the word life is tattooed on the fingers.
5. Crown Tattoo On The Shoulder
If you want a tattoo that you can show off and cover-up when you want because of its prominence and adaptability, the shoulder is an excellent choice. It also allows anyone who works in corporate positions to keep their design hidden. It was formerly a hangout for sailors, who proudly exhibited their selected ink at the top of their arms. For a lady, this tattoo is decorated with flowers to symbolize beauty.
6. Unique-Crown-With-Runes
This is among the most fantastic crown tattoos out there that carry a lot of meaning. The runes stones have a solid and magical past; they were greatly revered and utilized with considerable caution. They were thought to have significant divinatory powers in Norse civilizations and other Northern European cultures. Crown tattoo having the writing of the runes symbolizes that you are robust, divine, and so magical. That is the main reason why you should do this crown tattoo.
7. Customized King And Queen Crowns Tattoos
Young couples are constantly on the hunt for anything that may serve as a symbol of their love. King and queen tattoos are a popular choice for couples who want to show the world how much they care about their significant other. They imply that you and your partners are the queen and King of each other's hearts. They can also indicate that you and your partner are co-rulers of the life you've created together and treat each other as equals.
8. King Crown Tattoo On The Hand
Who says you have to be born a King to live a regal life? Anyone who believes in dreaming big and makes it happen is a King in their own right. A king signifies the pack's leader, leader, and protector. Even in chess or a deck of cards, the King is an essential component without which no game can be played! This is why many guys choose to have King sign tattoos to show their inner majesty, personality, and attitude in life.
9. Rolex Crown Tattoo
Rolex is a business known for its high-quality watches and luxury items, and the same concepts are found in tattoos. Because it is linked with status and achievement, its crown emblem is a popular option for being tattooed. If you want to remind yourself of your life objectives or strive for financial excellence, this is the right choice for your next body art. With that in mind, it's best to hang this artwork in your hand.
10. Rolex Crown Tattoos For A Couple
Rolex tattoos, like any other tattoo, have a special meaning for the person who wears them. When you want to capture a lovely moment in your life and remember it with your spouse all the time, then you may go to a tattoo parlor and tell them what you want in your Rolex tattoo designs. It will constantly remind you of your difficulties, dreams, goals, and what you are working to achieve.
11. King And Queen Crown Tattoo On Fingers
Crowns can be used in a variety of ways. Crowns look beautiful in black and white, and they aren't only for men. The hands intertwined with the King and queen tattoo symbolize that you are meant for each other, and you will always end up together no matter what happens. This is best for you if you want to show off your King or your King to the world.
12. Rolex Hand Tattoo For Men
One thing though, Rolex tattoos ideas can never be exhausted. The essential thing to remember while getting a tattoo is to remember what type of personality you have. If you have the demeanor of a gentleman, you should consider having some Rolex Tattoos. The Rolex Crown Tattoo Meaning is a one-of-a-kind arrangement of letters with a profound meaning. It is a rare mix that not only results in distinctiveness but also in a rarefied appeal.
Conclusion
The crown has traditionally been used to represent royal power and authority. The crown denotes total authority to govern. Wearing the crown as a tattoo means success and gaining respect from those around you. The crown tattoo symbol represents more than just the command right. It represents a person's control over their life, feelings, ideas, and actions. The crown tattoo represents self-control and serves as a reminder to utilize power and authority wisely and justly. You will never go wrong with a crown tattoo; get the best tattoo artist to get the best out of it.
Other Articles