We understand that mornings can be a whirlwind of responsibilities and time constraints, leaving you with little to no time for elaborate hairstyling. That's why we're here to help you look fabulous, even when you're running late. In our blog, "Quick And Easy Hairstyles for Busy Days" we've curated a collection of 30 hassle-free hairstyles that are perfect for those hectic days when every minute counts. Whether you have long locks, a short bob, or anything in between, we've got you covered. Our quick and effortless hairstyle ideas will have you looking polished and put together in no time. Let's dive in and discover the world of easy and stylish hairstyles that will make your busy days a little bit easier and a whole lot more fashionable.
1. Twisted half-up hairstyle
The twisted half-up hairstyle provides a sleek and refined appearance that can be achieved in a short amount of time and with little effort. Gather sections of hair from each side, twist them gently, and then secure them in the back with bobby pins that are discretely placed. This sophisticated hairdo incorporates both texture and refinement, making it a great option for professional settings or formal occasions.
2. High twisted bun
The high twisted bun is a sophisticated and a quick and easy  hairstyle. Make a high ponytail with your hair, twist it tightly, and wrap it around the base. Secure with bobby pins, and voila! A polished and elegant updo for any occasion.
3. Simple loose waves with a headscarf
Effortlessly achieve a trendy and bohemian look with simple loose waves and a headscarf. Curl your hair, add a stylish headscarf, and you'll be ready to conquer the day with this chic and time-saving hairstyle.
4. High ponytail with a scrunchie
This quick hairstyle instantly adds volume and a touch of retro charm to your look. It's a quick and easy way to elevate your everyday style or rock a casual yet chic vibe for a night out.
5. Low messy bun
The low messy bun is a versatile and time-saving option when you want to look effortlessly cool. Begin by gathering your hair loosely and relaxedly at the nape of your neck. Make a bun with your hair, leaving a few strands loose for a carefree look. Secure the bun with bobby pins, allowing it to sit low and slightly off-center.
6. Sleek low ponytail
It is a classic and versatile hairstyle that always makes a statement. It's simple yet sophisticated, making it suitable for various occasions. This sleek low ponytail exudes a sense of professionalism and confidence, whether you're heading to the office, a formal event, or a stylish night out. It's a timeless hairstyle that effortlessly elevates your overall look.
7. Sleek high bun
The quick sleek high bun is a classic choice due to its simplicity and refinement. This polished hairstyle is ideal for formal occasions or to add a touch of glam to everyday attire.
8. Tousled waves with a headband
This quick and easy hairstyle will have you out the door in no time. This effortless look gives the illusion of spending hours in front of the mirror when, in reality, it takes just a few minutes. With tousled waves and a headband, you'll be ready to conquer the day in style, even on the busiest mornings.
9. Pigtail Braids
Pigtail braids are a playful and versatile hairstyle that adds a youthful charm to any look. They are perfect for casual outings, festivals, or even a workout session, as they keep your hair neatly in place. They also provide a great base for accessorizing with ribbons, flowers, or beads to add a unique touch.
10. Messy French braid
The messy French braid is a trendy and effortless hairstyle that combines the classic elegance of a French braid with a relaxed and undone look. It's perfect for adding a touch of bohemian charm to your look while still looking effortlessly chic.
11. Quick Side Barrette
With the quick side barrette, you can effortlessly transform your hairstyle and elevate your overall appearance in seconds. It's a fantastic option for those busy mornings or when you want to add a little something extra to your hair without investing a lot of time.
12. Undone Bun
The undone bun is a relaxed and effortlessly chic hairstyle perfect for those days when you want a stylish look without spending much time. It works well for both casual and more formal occasions, and you can personalize it with accessories like headbands or decorative pins for an extra touch of style.
13. Bubble ponytail
The bubble ponytail is a fun, playful hairstyle that gives the classic ponytail a unique twist. This versatile piece can effortlessly elevate your style for any occasion, whether it's a laid-back hangout with friends, a glamorous party, or a show-stopping ensemble for those unforgettable special moments.
14. Braided low ponytail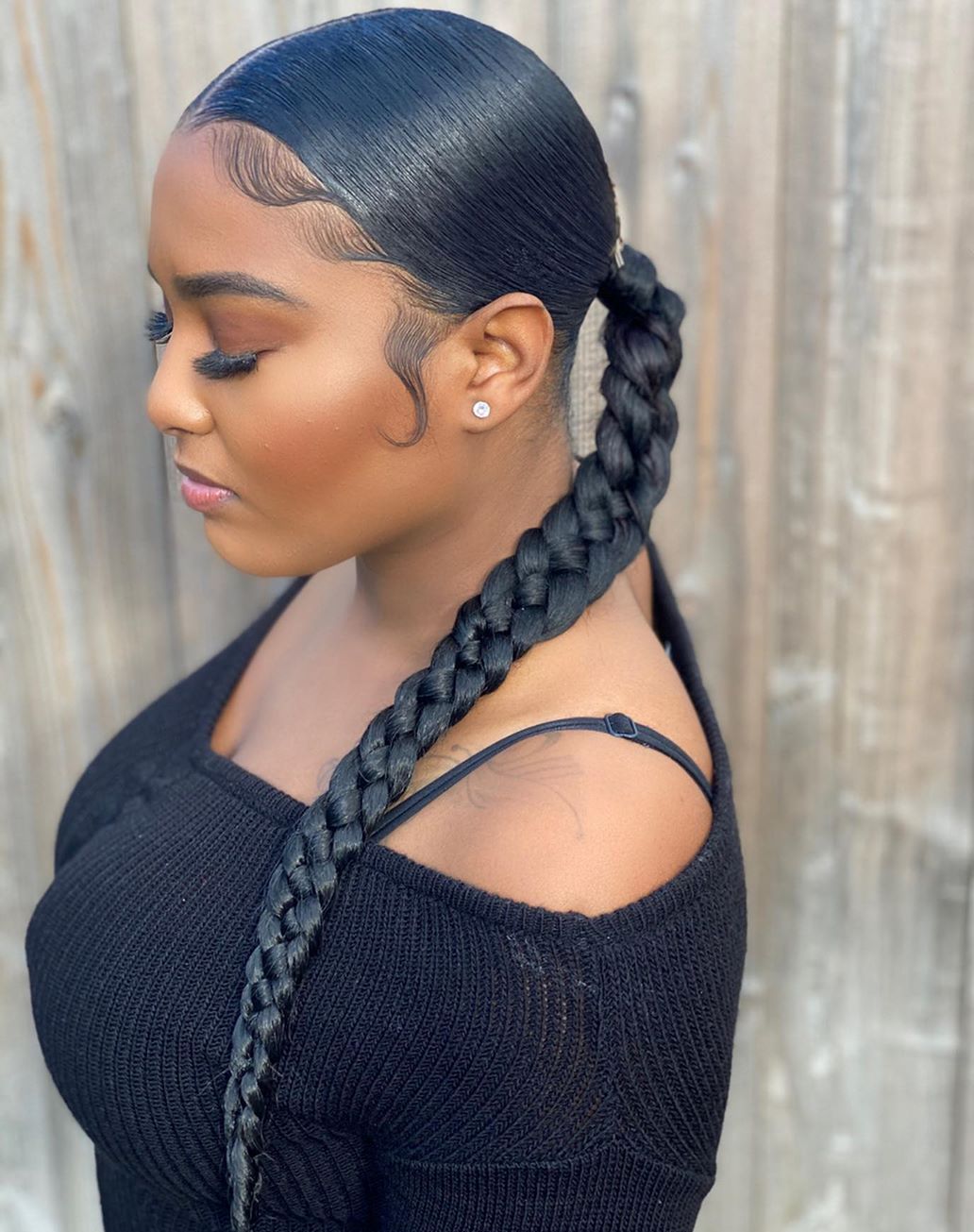 The braided low ponytail is a chic and versatile hairstyle that combines the elegance of a classic low ponytail with the intricate detail of a braid. This hairstyle strikes the perfect balance between sophistication and effortless style, making it suitable for various occasions.
15. Messy twisted updo
The messy twisted updo is a trendy and effortless hairstyle that combines a relaxed and tousled look with an elegant updo. This style is perfect for occasions when you want a chic and sophisticated look without spending too much time on your hair.
16. Braided space buns
If you're looking to add a touch of whimsy and creativity to your hair game, this style is an absolute must-try. Braided space buns are a versatile hairstyle that screams festival vibes, but don't be afraid to rock them wherever your heart desires. They're perfect for parties, concerts, or any time you want to unleash your inner free spirit.
17. Rolled updo with bobby pins
The rolled updo with bobby pins is a chic and time-saving hairstyle. Roll your hair from the back of your neck up toward your head and pin it in place. The rolled updo with bobby pins is a go-to hairstyle for those busy mornings or whenever you need a sophisticated look in a hurry.
18. Side-swept low ponytail
Effortlessly elegant and easy to achieve, the side-swept low ponytail is a go-to option when you want to look polished and sophisticated without spending too much time on your hair. To create this style, start by brushing your hair to remove any knots or tangles. Then, sweep your hair to one side, gathering it at the nape of your neck. Secure it with an elastic band, creating a low ponytail that rests on the side of your neck.
19. Low chignon
To create this timeless look, start by brushing your hair to ensure it's smooth and free of tangles. Put your hair into a low ponytail at the base of your neck, and then twist it into a tight coil. Now, secure the coil at the base with bobby pins, ensuring it sits securely against your head.
20. Double braided headband
This hairstyle adds an elegant twist to your look, and it's surprisingly simple to create. To begin, part your hair down the middle. Take a small section of hair near your hairline and begin braiding it tightly towards the back of your head on one side. Use a small elastic or bobby pin to secure the end. Repeat the process on the opposite side. When both braids are in place, cross them over the top of your head like a headband. Secure the ends discreetly with bobby pins, and voila! You have a lovely braided headband that adds a dash of whimsy and romance to your look.
21. Twisted side ponytail
This eye-catching look is perfect for both casual and formal occasions, effortlessly combining sophistication and flair. It's a great option for a day at the office, a night out with friends, or even a special event like a wedding or formal dinner.
22. Messy double buns
This hairstyle exudes a carefree charm and adds a touch of whimsy to your overall appearance. It's a quick and fun way to tackle those rushed mornings without compromising on style. Simply divide your hair into two equal sections and twist each section into a loose bun on either side of your head. Don't worry about perfection here—embrace the messy vibes by leaving a few strands loose to frame your face.
23. Sleek half-up hairstyle with a barrette
When you're running late but still want to look polished, the sleek half-up hairstyle with a barrette is your go-to savior. It's effortlessly stylish and takes minimal effort. Start by smoothing down the top section of your hair, pulling it back neatly, and securing it with a chic barrette. This quick and elegant hairstyle will make it seem like you had hours to spare, even on your busiest mornings.
24. Textured high ponytail
This elevated version of the classic ponytail involves adding volume and texture to the hair before pulling it up into a high position on the head. It's an effortless way to elevate your look and showcase your style with a touch of glamour.
25. Half-up top knot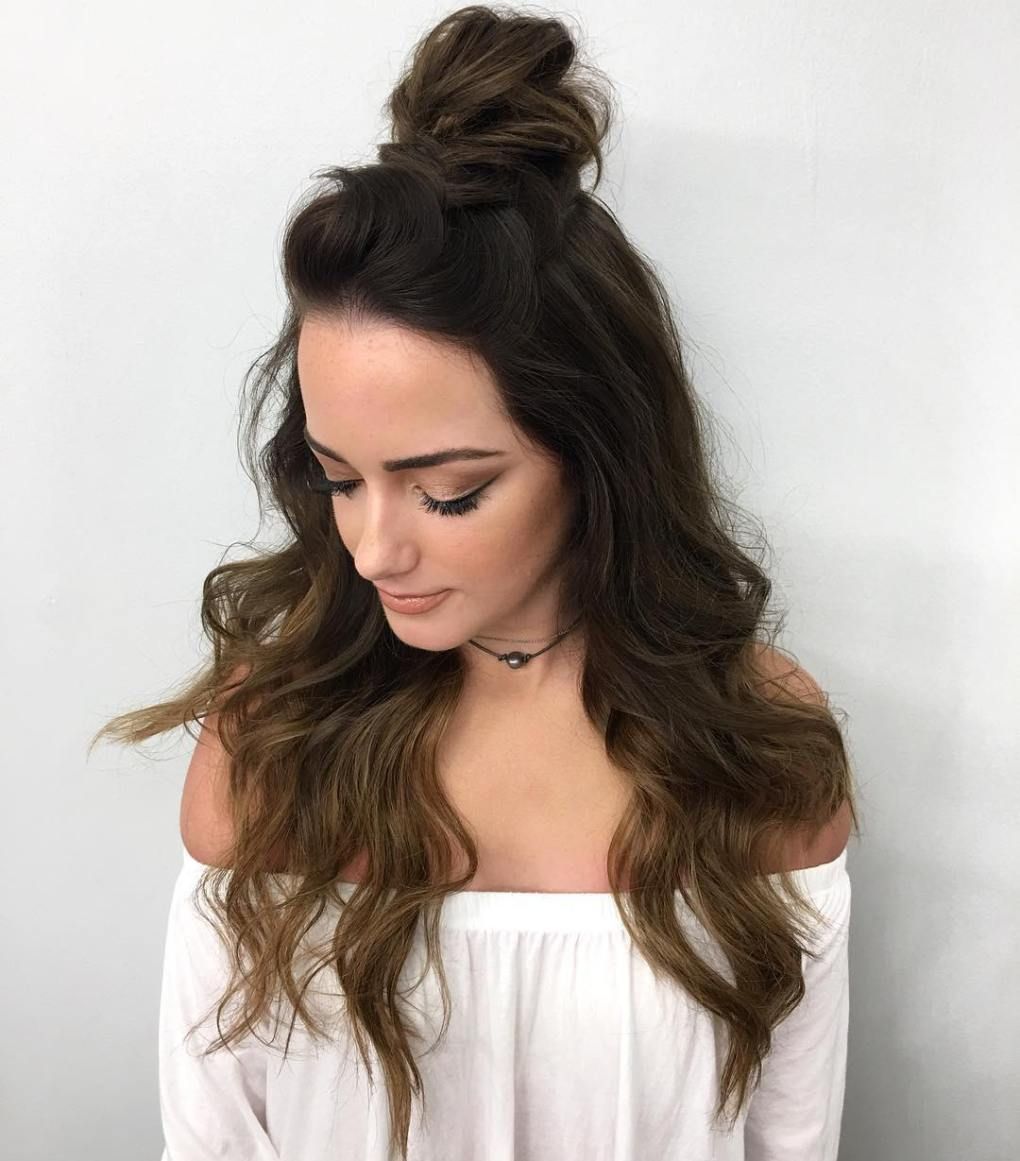 This trendy and versatile hairstyle combines the ease of a casual updo with a playful touch. This chic look involves gathering the top section of hair and creating a small bun or knot, leaving the rest of the hair flowing freely. It's a perfect choice for those wanting a stylish and effortless appearance.
26. The Side-Swept Curls
The Side-Swept Curls hairstyle is a timeless and glamorous option that adds elegance and charm to any look. It exudes a classic and romantic vibe, combining loose curls with a sweeping motion that frames the face beautifully.
27. Dutch side braid
The Dutch side braid is an excellent choice when you're short on time but still want a chic and put-together look. It works well for various occasions, whether you're heading to the office or attending a social event.
28. Fishtail Braid
This hairstyle adds a touch of elegance and uniqueness to any look. It's a stunning choice when you want to showcase your creativity and add a touch of sophistication to your hair.
29. Crown Braid
The crown braid is a stunning and intricate hairstyle that adds an ethereal and bohemian touch to any look. It's a versatile hairstyle that's perfect for weddings, festivals, or any occasion when you want to feel like a bohemian queen. It's a stunning and romantic option that will undoubtedly turn heads and leave you feeling like royalty.
30. Classic French twist
When elegance is your top priority and time is running short, the classic French twist is a go-to hairstyle that never fails. This timeless updo exudes grace and professionalism, making it perfect for formal occasions or a polished day at the office.