If you think of a Moon tattoo, you immediately imagine that it is perched on a woman's body, right? The truth is that, although many men also wear this tattoo, it is more prone to see it among women since it is a sign that has always been linked to the feminine world. While the Sun is the "masculine" star, the Moon appears pale every night, flooding our skies harmoniously and calmly. In addition, the lunar phases have been linked to motherhood within Western culture, and it has been considered the protector not only of women but also of families. Therefore, one of the meanings of a Moon tattoo can be related to femininity, motherhood, and family.
Symbolism
Luna's tattoo depicts emotions. The Moon is also associated with a person's personal and emotional evolution; in fact, the lunar phases can represent the life of each of us, in which we grow, achieve our maximum fullness, and eventually shrink to fade. As a result, life and nature have an unbreakable bond with the Moon. The star is also associated with children, and it is thought to be a sign of our inner child, who lives on in us despite the passage of time. A Moon tattoo symbolizes that we want to keep cultivating the eager youngster that likes to laugh, play, and dance till they drop. You've probably seen a tattoo of the Moon and the Sun before, right?
The intrinsic relationship these two stars have built is one of the opposites required to live and give life. The Moon represents the passive principle of nature, or "Yin" in Chinese, whereas the Sun represents the dynamic principle, or "Yang." As a result, the Moon represents femininity, creation (maternity), and emotions, whereas the Sun represents masculinity, brightness, heat, and purifying fire. Both stars represent the critical balance required for nature to function correctly. As a result, a Sun and Moon tattoo represents the merger of two opposing poles of human nature, reason and emotion, the feminine and the masculine, which are required for balance and stability.
Designs
1. Crescent Moon Tattoo
Many enjoy these tattoos since they are most productive or active at night. The half-moon tattoo is traditionally associated with feminine divinity and purity. A crescent moon can also represent the wearer's strength, particularly if they have overcome adversity and emerged victorious.
2. Cat Moon Tattoo
Cats are related to the Moon and are associated with mystery and companionship in many cultures.
3. Tribal Moon Tattoo
The Moon is a prominent spiritual symbol that holds a lot of meaning for cultures worldwide, and tribal moon tattoo designs are rather popular among most people. This tattoo usually represents the wearer's religious system, connection with the dead, and deep link with nature.
4. Crescent Moon with Star Tattoo
When two powerful celestial objects collide, it indicates heavenly might. A crescent moon with a star represents divine power with feminine connotations. The crescent Moon represents progress, while the star represents knowledge and illumination.
5. Watercolor Moon Tattoo
This design features a personified crescent moon surrounded by watercolor hues. It represents the wearer's easygoing nature. The crescent Moon can represent spirituality and nature, and the colors enhance the design's visual appeal.
6. Wolf and Moon Tattoo
This pairing is not surprising, given the wolf's association with the full Moon. The wolf is howling at the Moon, calling out to his pack. This tattoo is for persons who are excellent communicators and act as pack leaders.
7. Rose Moon Tattoo
This half-moon tattoo with roses is lovely. The half-moon represents innovation, progress, and positivity, while the flowers represent desire, love, and yearning for the unattainable. Overall, this tattoo represents hope and the beauty of nature.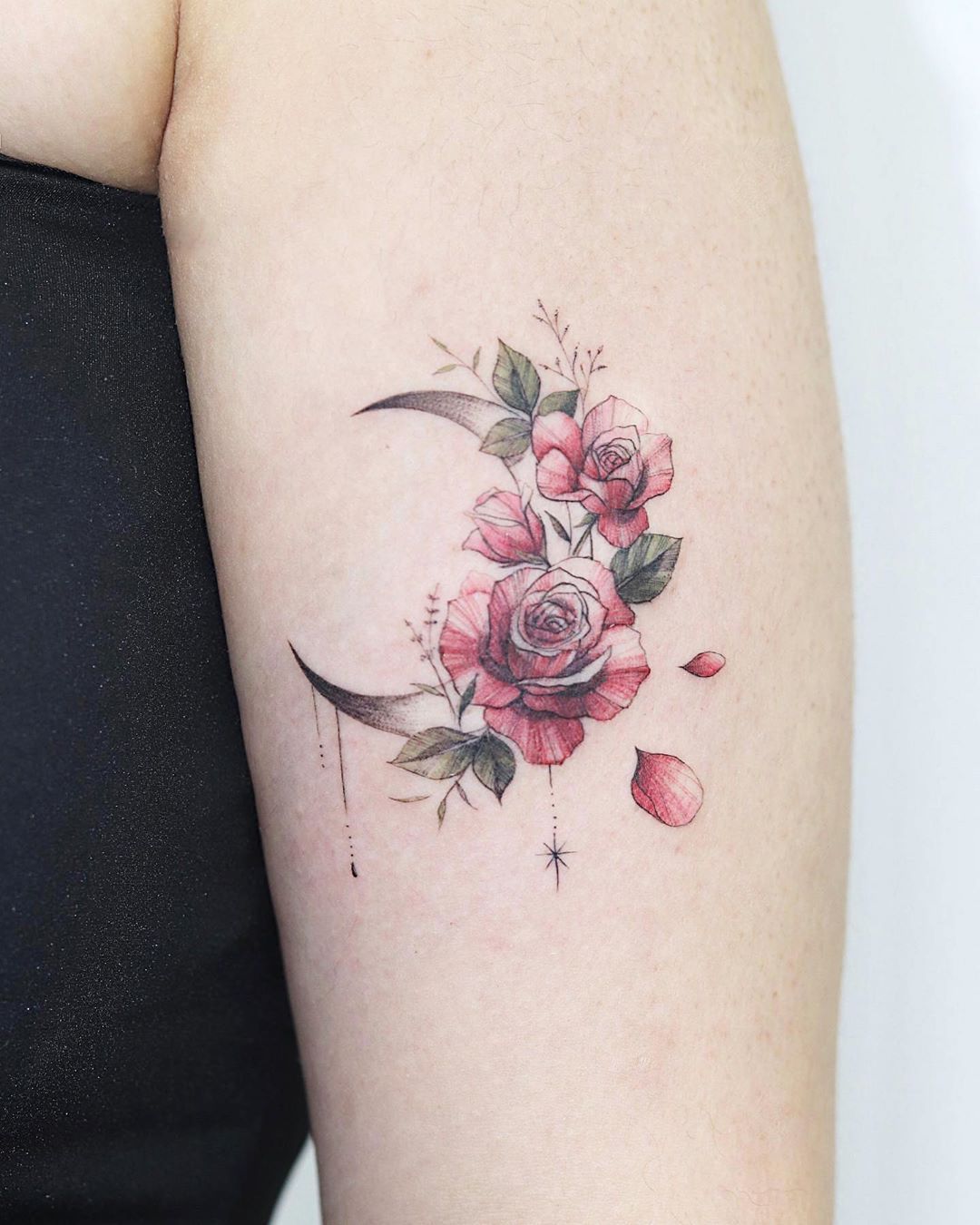 8. Lotus Moon Tattoo
The lotus is a spiritual emblem of heavenly birth and purity, while the Moon represents rebirth and feminine vitality. They not only look good together, but they also tend to generate a divine spiritual aspect with the energy of each separate thing merged.
9. Full Moon Tattoo
The full Moon is associated with the evil side of one's life, and the werewolf is a mythological monster that transforms into a wolf by using the light of the full Moon. The full Moon is incredibly potent and represents peace and clarity.
10. Geometric Moon Tattoo Design
This stylish tattoo comprises perfect geometric forms such as circles and squares. This is for those who believe in the adage 'less is more.' Circles frequently indicate relationships and community, whereas squares represent stability.
11. Moon Lake Landscape Tattoo
The Moon and water are both feminine emblems. This is a landscape tattoo in which the entire setting comes to life at night under full moonlight. The Moon governs tides, and water represents metamorphosis, cleansing, and the source of life. They represent absolute power when combined.
12. Lion Moon Tattoo
Nothing compares to the majesty of the jungle monarch. When you get a lion tattooed on your skin, it may indicate that your personality is similar to that of a lion or that you look up to the lion for strength.
13. Moon Mandala Tattoo
In Buddhism, the moon mandala tattoo pattern is extremely important. It is known as 'bodhicitta,' which translates as the mind of enlightenment.' The word derives from the Sanskrit language. Mandala motifs, like the Moon, depict spiritual meanings such as harvest, protection, and abundance.
14. Realistic Moon
The Moon has been a source of many superstitions since the dawn of time, and the full Moon is regarded as the most potent celestial entity. This realistic design of a personified half-moon with a cat sitting on it and gazing at a star is stunning.
15. Fairy on Moon Tattoo
A fairy resting on a crescent moon is a popular design that emphasizes the idea of feminine mystique and strength. The fairy can signify mischief, compliance, innocence, or scorn all at once, demonstrating the multiple contradictory aspects of a woman's nature.
16. Bat and Moon Tattoo
The bat is a symbol of death and rebirth for Native Americans. However, certain Chinese tribes think the bat represents good fortune, happiness, and luck. In general, a bat tattoo might signify the wearer's keen awareness of what is happening around them. A bat with a moon tattoo design implies that the wearer is mysterious.
17. Moon Phase Tattoo
The Moon changing phases represent the transformation of life from one place to another and that it will finally return to where it all began. This moon tattoo design is also a call to the inner animal, as many wild animals emerge at night and become unstoppable. They get their power from the moonlight.
18. Cosmos and Moon Tattoo
The Moon plays an important role in our cosmos. Because the Moon and the Earth are always held in a synchronized rotating motion, this tattoo depicts how the Moon revolves around the Earth. This tattoo, with a cosmic twist, represents womanhood and the various stages of femininity that exist in a woman's life.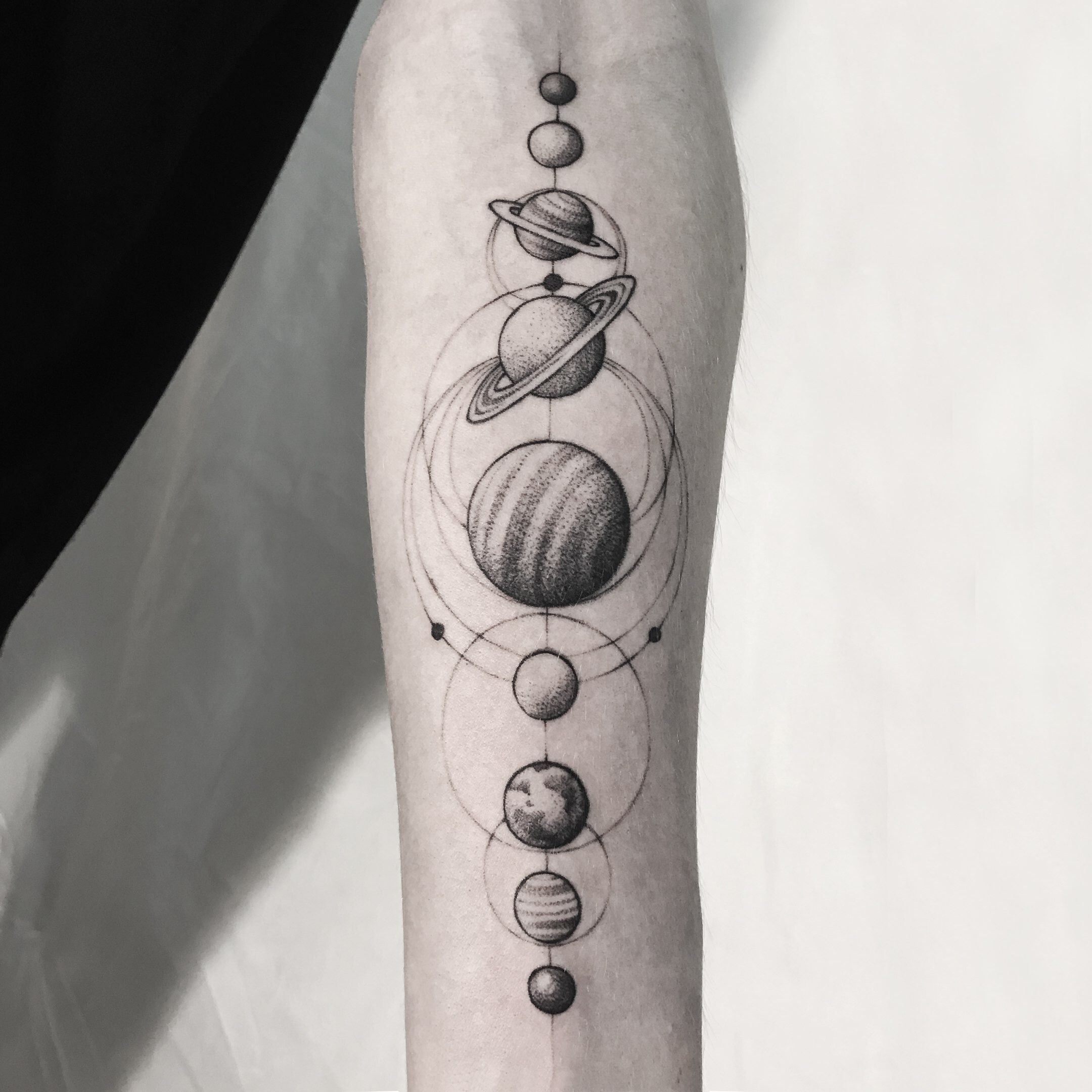 19. Moon and Mountain Tattoo
This is a trendy design among those that enjoy hiking and trekking and have a mystery side to them. The Moon can be seen hanging over the mountains from this vantage point. At night, the moonlight guides you through the rocky forest and natural routes as an object of wisdom and guidance.
20. Minimalist Finger Moon Tattoo
This finger tattoo can have a mystical meaning because a crescent moon is typically associated with an individual's darker side. It can also be interpreted as a symbol of personal development and innovation. These charming finger tattoos are an excellent option for individuals who want to get tattoos but don't want to go all out with a complicated design.
21. Behind the Ear Moon Tattoo
Crescent moon tattoo designs come in various sizes, making them ideal for a small, hidden location, such as behind the ear. This tattoo is a terrific fashion statement that looks trendy and is popular among young folks. People who seek a stylish yet little tattoo design might consider a dark black shape of a crescent moon.
22. Snake Moon Tattoo
The snake, like the Moon, can renew or alter its skin regularly while shedding the previous one. The snake and the Moon have both been associated with immortality.
23. Sun Moon Tattoo
Sun and moon tattoos have been known to represent the merging of opposing entities, unity, and collaboration, much as they do in the sky despite their differences. The Sun is connected with male attributes, whereas the Moon is associated with feminine traits. This tattoo design can represent you and your spouse, your father and mother, or even you and your sibling, who are all unique but complement each other well.
24. Tattoos of Moon-child Moon
Moon-child tattoo designs are getting increasingly popular due to their distinct and mysterious appearance. Moon-child tattoos can be created in a range of styles, ranging from essential and elegant to complex and detailed. A moon-child tattoo is an excellent choice if you want an out-of-this-world tattoo. A moon child is more impacted by the phases of the Moon and the lunar cycles, and if you believe you are one, this small moon tattoo may be ideal for you. This tattoo is one of the most popular small tattoos for ladies this year.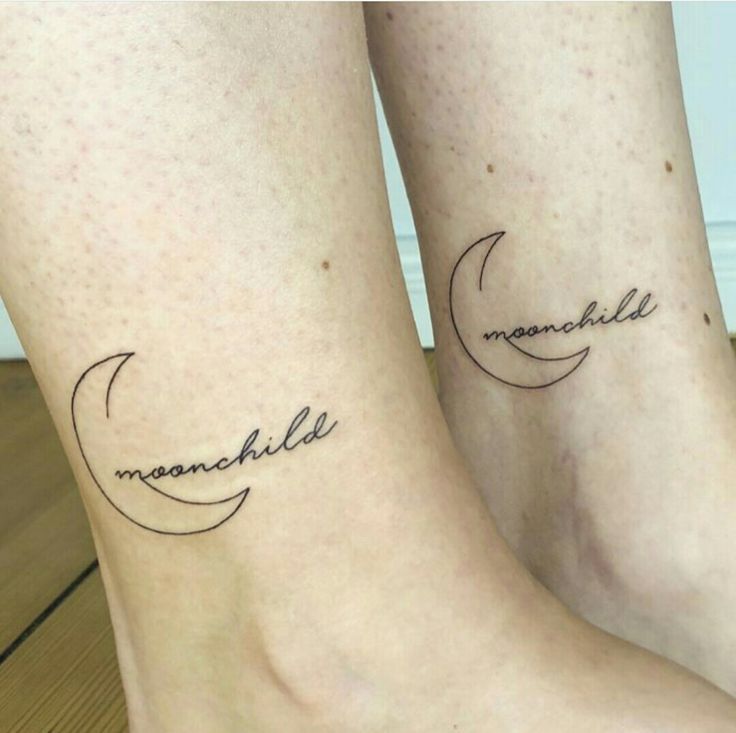 25. Hand Tattoo of Astronaut Moon
This astronaut sitting on the moon tattoo is a terrific design for anyone who enjoys space exploration. The design is straightforward, but it contains a lot of significance. The astronaut is seated on the Moon, representing the spirit of inquiry and the willingness to take on new tasks. This tattoo is a terrific reminder never to stop striving for the stars and exploring new things in your own life.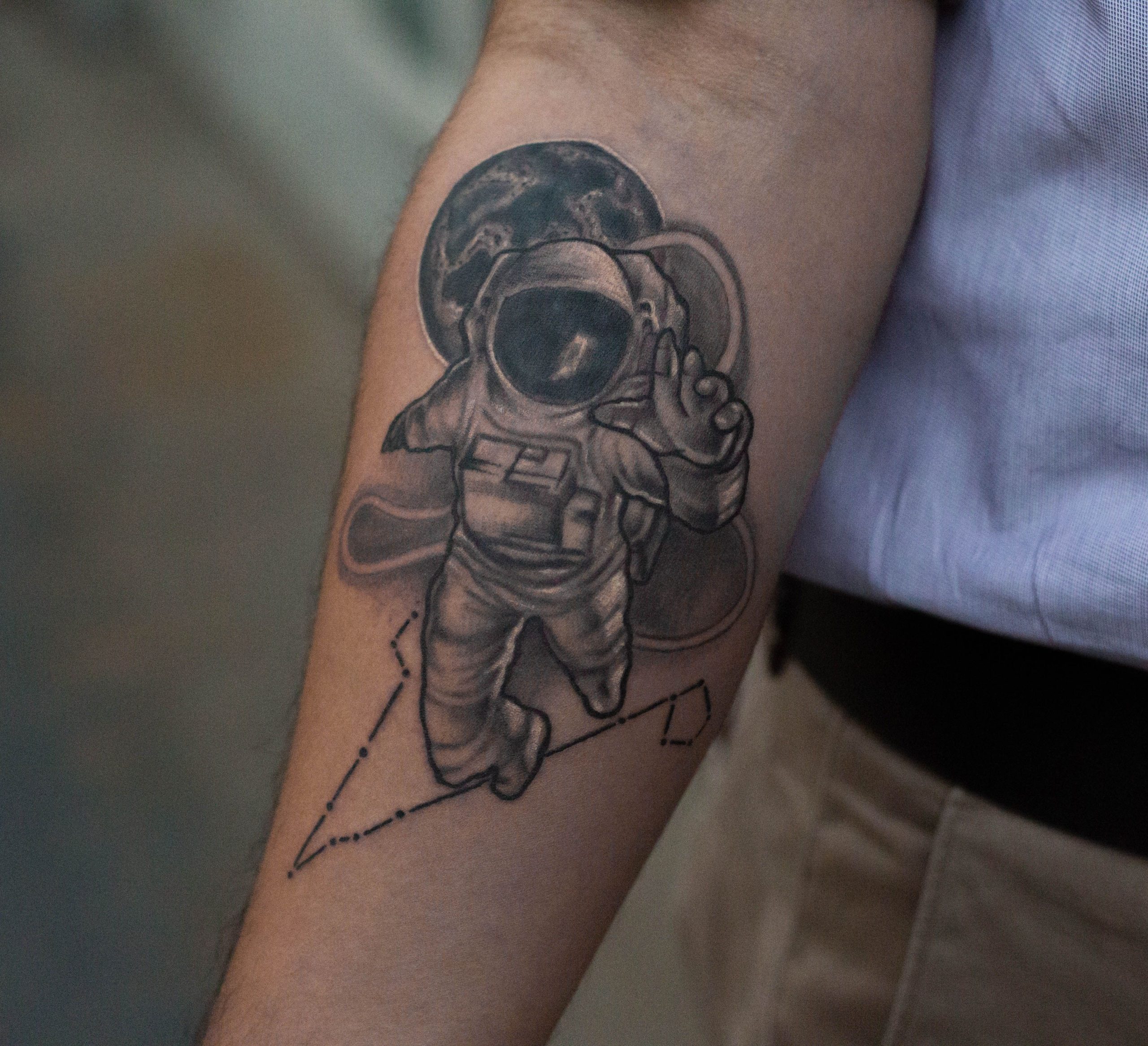 26. Minimalist Wave And Moon Tattoo
This simplistic Moon and wave tattoo design is ideal for expressing your love of the ocean and the Moon. The design is simple and clean, with a minimalistic style ideal for people looking for a small and subtle tattoo. Because we all know that the Moon affects the tides, this moon tattoo is based on accurate and factual notions. The tattoo is elegant and straightforward, and it would look fantastic on any part of the body.
27. Small Moon Tattoo With A Face On the Hand
This one-of-a-kind Moon with a Face tattoo is ideal for anyone seeking something distinctive. The design is essential and attractive, and it is easily customizable to meet your preferences. If you're searching for a small tattoo with a huge impact, this is the one for you. The Moon with a face symbolizes enchantment and mystery, and this tattoo perfectly depicts that sense.
28. Tattoos of a Skull and a Moon
The skull and moon tattoo design is ideal for those who wish to express their dark side. The skull denotes death, while the Moon represents mystery and the unknown. This tattoo suits anyone who wants to show off their fierce side. A skull and moon face tattoo can mean a variety of things. The moon tattoo meaning is all up to you.
29. On The Moon Swinging
Swinging on the moon tattoo design is a great way to express your feelings for someone. This style of tattoo might reflect a strong bond you have with someone, or it can serve as a recall of a wonderful occasion you shared. Swinging on the moon tattoos can be beautiful and unique, regardless of their meaning. Other planets reflect inclusion as well.
30. Minimalist Butterfly And Moon Tattoo
Many people love to have moon tattoos, although the tattoo's size varies from person to person. Some people love minimalist tattoos because they seem adorable, but the perfect design may express a lot while taking up the least space. The butterfly tattoo is one of the most tranquil and beautiful tattoos available. When paired with the Moon, even for only a tattoo, it may represent beauty and the quest for serenity and capturing beauty even if it is far away.
Other Articles