Medusa Tattoo Ideas, what a lovely Greek element that you can add to your tattoo. Medusa stands for beauty, boldness, strength, femininity and more. Though Medusa represents Greek mythology, It doesn't take away from it becoming a part of modern pop culture. For example, Versace, one of the world's leading fashion design businesses and a symbol of Italian luxury, has Medusa as its emblem. The Gorgon from Greek mythology was chosen as his logo because she was a woman of such captivating beauty that she captured everyone around her. Anyone who glanced at her couldn't turn away, just like Versace's style.
History
For those unfamiliar with much Greek mythology, here's a summary of who Medusa was. According to Greek mythology, Medusa was once a lovely woman who fell in love with Poseidon, the god of the sea, but she did not return his love. Poseidon transformed her and her sisters into Gorgons, monsters with live snakes covering their heads. Medusa's still lovely face turned anyone who looked at it into stone. After Perseus, the Greek hero, severed Medusa's head, two creatures emerged from her blood: Pegasus, a winged horse, and Chrysaor, a huge or winged hog. These were Medusa's children with Poseidon, according to legend. Although Medusa was no longer alive, her head still could transform the living into stone. Perseus frequently wielded Medusa's head as a weapon.
Symbolism and Meaning
The most frequent explanation of Medusa is that she is an apotropaic emblem, similar to the modern evil eye, intended to protect from and ward off the negative. Modern, powerful women have boldly worn a head full of snakes to represent power, eroticism, and acceptance of their new status in society and politics. When it comes to tattoos, the Medusa tattoo can signify a variety of things, but it's most commonly associated with survival, strength, and conquering adversity. Medusa has become a figure of protection for women who have been abused victims of sexual assault or other forms of violence, particularly by men.
Design Ideas
1. Small Medusa Tattoo
Smaller Medusa tattoos are a delicate alternative. Tiny designs are an excellent choice because they are simple and lovely. Because they are little, they will be less painful to ink and most likely be readily camouflaged. This is a benefit if you wish to hide your tattoos. Another advantage of little Medusa tattoos is that the ink costs far less than a large and intricate piece.
2. Medusa Tattoo in the Old School Style
Old-school tattoos are distinguished by their bold black outlines and primary color palette. The aesthetic is returning since it exudes a classic and vintage vibe. Because Medusa is an ancient myth rich in meaning, a traditional tattoo style may be appropriate.
3. Realist Medusa Tattoo
Tattoo art has come a long way, and some of the most talented artists now work in the field. This means that the quality and aesthetic merit of body art is truly limitless. Why not get a genuine Medusa tattoo if you want something that looks lifelike and takes the highest level of tattoo artistry?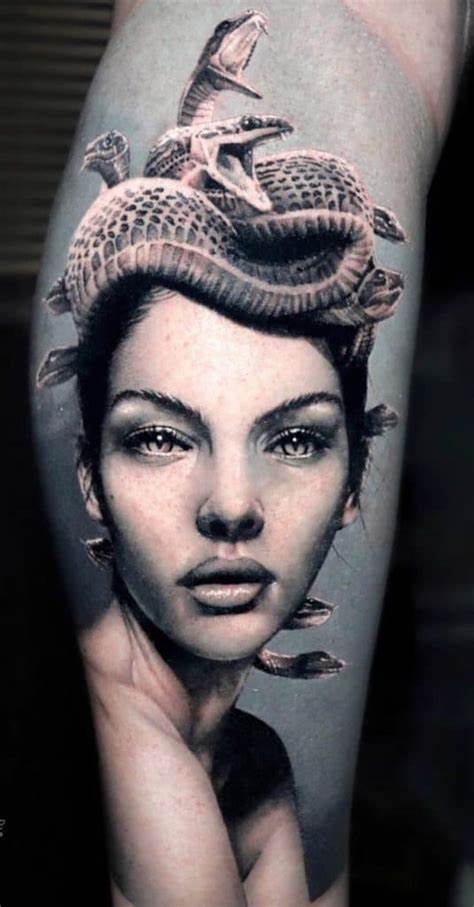 4. Erotic Medusa Tattoo
Medusa's story is associated with beauty and seduction, and she is frequently seen as a temptress. As a result, it might be entertaining to play with her sensuality and have a Medusa tattoo with sexy motifs. It's up to you and your tattoo artist how you want to portray her in a sexy light, but splitting the lips conveys the message!
5. Tattoo of Medusa Statue
Many followers of Greek mythology are familiar with Greek statues and art, which influence our modern conceptions of Medusa. It's an intriguing concept to acquire a tattoo inspired by statuesque Greek portrayals of Medusa to reflect this traditional depiction of the maiden.
6. Hand Tattoo
Hand tattoos look fantastic, and the snakes emerging from Medusa's head complement the length and curve of the fingers nicely. However, the ink fades quickly on the hands. This is so that they are continuously exposed to the sun and suffer normal wear and tear from everyday home duties. To keep the ink appearing new, you can always go for frequent top-ups.
7. Back Tattoo
Full Back tattoos are not for the faint of heart, and they are especially unsuitable for people who don't want to make a statement. A back tattoo is the way to go if you want a striking style that will turn heads. The large amount of space available for back tattoos, as well as the fact that it tends to be a flat workstation – like a canvas! This implies that you can create extremely detailed and complex designs with ease.
8. Tattoos on the Chest
The chest is another excellent location for large tattoos because there is much room to work with. It's also a great place for a lady to have a Medusa tattoo because it's one of her more desirable areas. If you want a Medusa tattoo because of her strong femininity and seductive qualities, the area around the chest is ideal.
9. Medusa Versace Tattoo
Medusa appears in the logo of the fashion house Versace. This is allegedly because the brand's founder, Gianni Versace, is a huge fan of Greek art and sculpture. If you like fashion, especially Versace, you might be interested in getting a Medusa tattoo that looks like the Versace emblem. You can copy and paste the design or add your embellishments to make it more personal.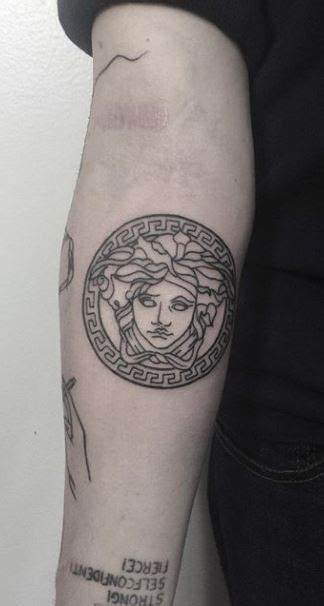 10. Medusa Head Tattoo
Because the finale of Medusa's story involves Perseus using her skull as a weapon, the head itself is a popular tattoo design. When focused only on the head, the snakes become more prominent, giving the appearance a slightly horrific appearance. If you want a truly eye-catching Medusa tattoo, go for her head with flailing snakes.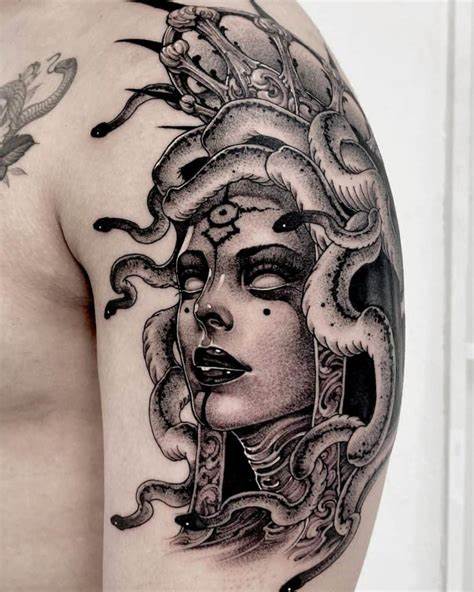 11. Half-Sleeve Tattoo
If you want a bold arm look, you don't have to go for a whole sleeve design. Instead, you can get a half-sleeve tattoo that extends from your wrist to your elbow or even from your elbow to your shoulder. This will not set you back as much as a complete sleeve, and it will also be less uncomfortable and time-consuming.
12. Tattoo of Medusa's Skull
Among the various meanings linked with Medusa is the concept of death and rebirth. Her serpent hair is regarded as a representation of the natural cycle of life. There are several ways to interpret this notion when choosing a design, including portraying her face with a skull. There is no argument that this is an eye-catching tattoo and a conversation starter. If you plan to get anything like this tattooed on you, consider the arm or thigh, as these areas have adequate space for the detail the item requires.
13. Tattoo of Dark Medusa
Medusa is a terrible, horrible monster, yet she is also a symbol of feminine power and transformation. There are many approaches to take when deciding to get inked with her image. Women who want to concentrate on the darker aspects of the story can construct a gloomy Medusa design. Your tattoo can be as frightening as you want it to be, with a forked tongue, scales, and snake teeth.
14. Thigh Tattoo of Medusa
Your tattoo's placement is equally as crucial as its design! If you want to flex your tattoo, somewhere visible is preferable, and if you want it to be more intimate, the thigh is an excellent location. A thigh tattoo is also considered one of the most feminine and attractive places for a woman to get inked. In terms of pain, the upper outer thigh is one of the least painful locations of the body to have tattooed on. The cause is that there is muscle and fat but not many nerve endings.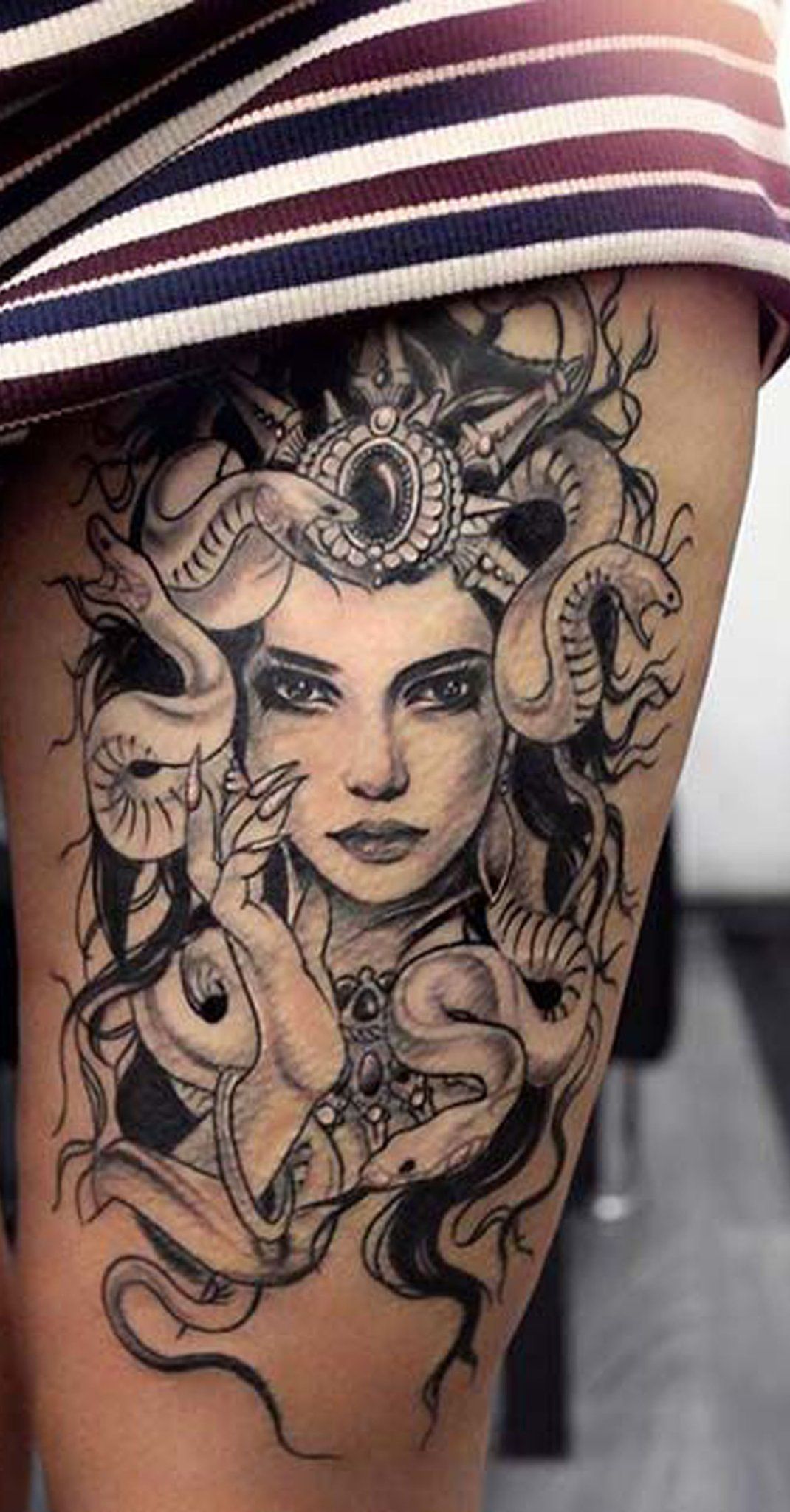 15. Tattoo of Medusa on the Chest
If you consider Medusa a feminine symbol of freedom or magic, what better place for a lady to get inked than on her chest? The area is close to the heart, which could indicate that the message of the chosen design is important to the wearer. A chest tattoo is a common choice for ladies since it can be bold. It is also the more difficult region to tattoo due to the proximity to the bone and the absence of fat, which provides an unpleasant experience. Remember, the discomfort is temporary, and your tattoo will last a lifetime!
16. Tattoo of Angry Medusa
If you wish to emphasize Medusa's dark side, you can depict her as evil and something to be feared. She is a Gorgon, a female monster in Greek mythology. She is related to evil and envy, and she might represent all of the terrible traits you want to avoid. According to legend, anyone who caught her stare would turn to stone, making her a terrifying figure. To make her appear scarier, give her a chilly countenance and lifeless eyes, but the serpents can appear with their mouths wide, baring their fangs.
17. Floral Medusa Tattoo
Medusa is a snake-haired maiden from Greek mythology who can appear as a monster or appear beautiful, and choosing a floral Medusa design will make a strong statement because it is rich in symbolism. Depending on your interpretation of Medusa's story, which involves the Goddess Athena cursing her so that anyone who catches her gaze turns to stone, she portrays evil and the feeling of jealousy. She is also linked with life, death, and rebirth.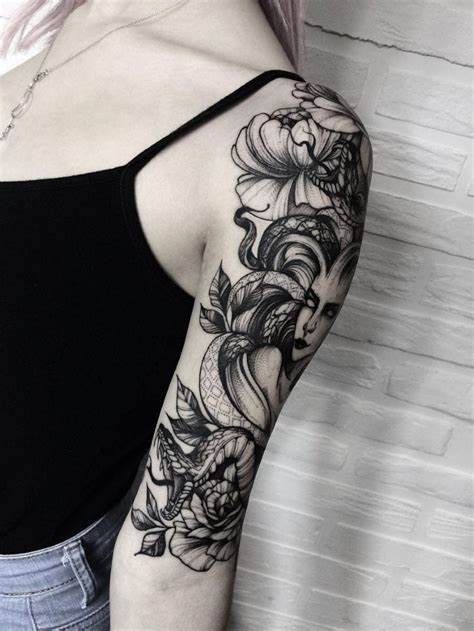 18. Medusa Tattoo in a Minimalist Style
The technique you use when getting inked is as significant as the design itself. Minimalist tattoos emphasize the fundamentals and the design's outlines. They're done in black ink, with no shading, and with crisp, clean lines. The simplicity of this piece is its charm. A simple Medusa tattoo will nevertheless be meaningful. Another benefit of this method is that it takes less time and often costs less.
19. Medusa Tattoo for Men
Men and women can have a Medusa tattoo, which has significant symbolism and expresses the wearer's emotions and feelings. The symbolism linked with Medusa will be influenced by how you represent her. For those who want to focus her attention more on her positive attributes, she is frequently depicted as a lovely snake-haired maiden signifying female power, metamorphosis, and strength.
20. Stencil of Medusa
Some Medusa tattoos are quite intricate, while others focus on the essentials. A stencil tattoo will be straight lines with no shading or detail, nearly giving a silhouette-like effect. This is a good choice for someone who enjoys simple tattoos or prefers the meaning behind the design to highlight the artwork itself. Stencil tattoos will also be less expensive and faster to create.
21. Medusa Wrist Tattoo
The inner wrist was thought to emit spiritual energy in ancient times, making it a suitable location for a symbol that means something to you.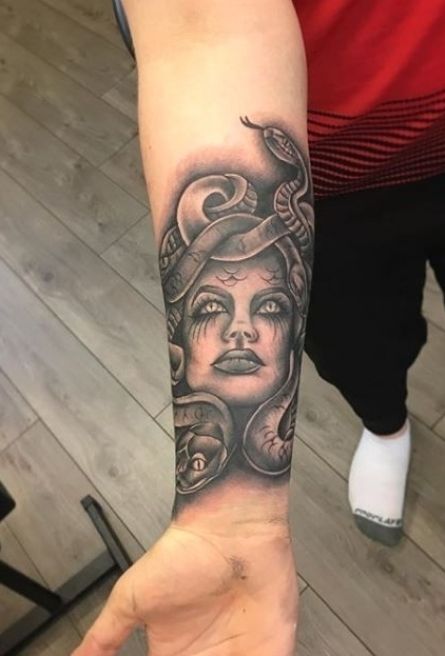 22. Medusa Mandala Tattoo
Mandalas are for the harmony of body and mind in Buddhism. Mandalas are frequently used in church artwork, even in Christianity. Mandala tattoos can represent various things, including your internal equilibrium, soul and eternity, or something unique.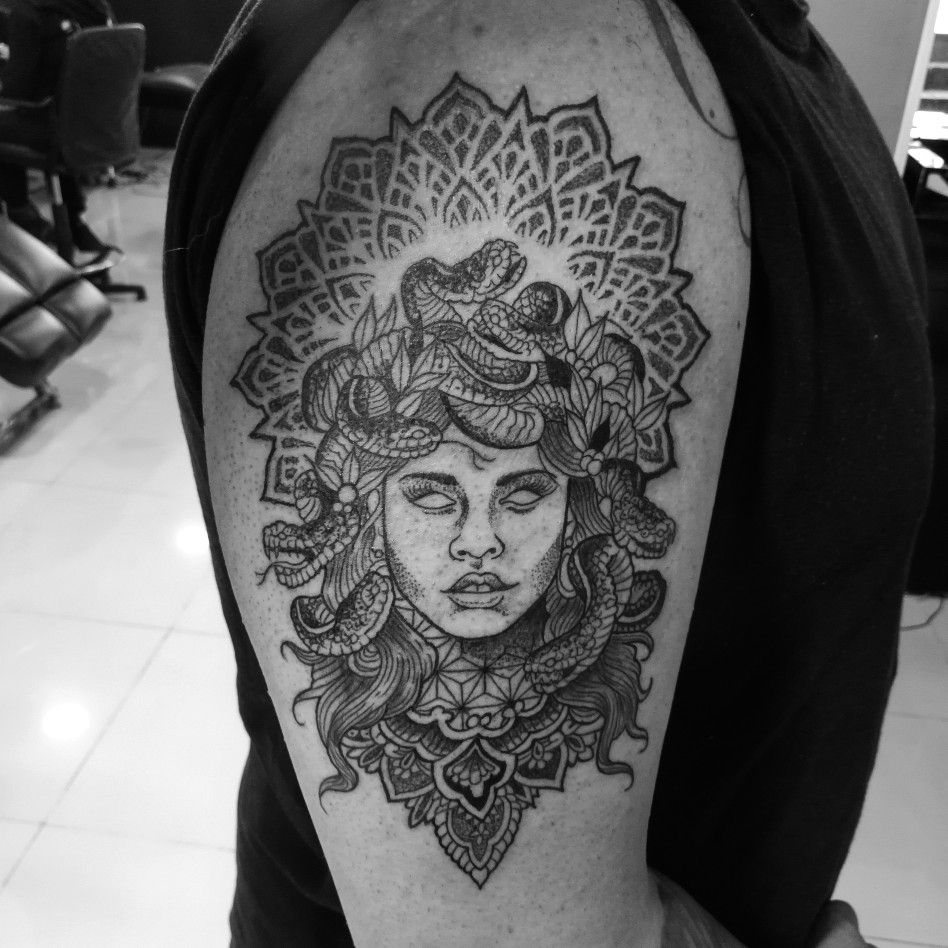 23. Tribal Medusa Tattoo
Aside from decoration, people would utilize this type of body painting to highlight their strength or spiritual journey. Indian tribal tattoos are well-known for using straight and curved lines, geometric patterns, and pictures. This culture has various deities who are frequently depicted through body art.
24. Lineart Medusa Tattoo
Aside from decoration, people would utilize this type of body painting to highlight their strength or spiritual journey. Indian tribal tattoos are well-known for using straight and curved lines, geometric patterns, and pictures. This culture has various deities who are frequently depicted through body art.
25. Geometrical Medusa Tattoo
The majority of people acquire geometric tattoos to depict shapes and patterns that are meaningful to them. A circle, for example, may represent oneness or completeness, whereas a triangle may represent strength, stability, and balance. Geometric tattoos, regardless of design, will make a powerful statement.
26. Butterfly Medusa Tattoo
Butterfly tattoos are widely used to represent metamorphosis, rebirth, and rejuvenation. These tattoos' kaleidoscope rainbow color could indicate a celebration of the vibrancy of life, particularly new life.
27. Cute Medusa Tattoo
Add cuteness to Medusa, and you are ready to go.
Other Articles