Tattoos are increasingly becoming common across all races. This is because there is no better way to express your feelings rather than having them in image form. The heart beat tattoo never goes out of style. This is because of its simplicity and the fact that you can blend in any kind of image into it.often the heart beat tattoo is normally minimal thus easy to place at absolutely any part of your body. Ensure you choose a tattoo that is meaningful. For instance if you are a first time parent  you can have a heart beat tattoo and blend it in with the date your child was born. This was always remind you to be responsible and that there is a little being looking up to you.
1. Heart Beat Tatoo With Words
The heart is one of the most vital organs for human survival. Whensomeone's life is at stake, medics always monitor their health status through their heart rates. The heart beat tattoo is a symbolic representation of strength, endurance and ability to move on despite the many challenges. Adding meaningful words such as momma or papa can be a brilliant idea. They act as a reminder of the good people who stood by you in your high and low moments.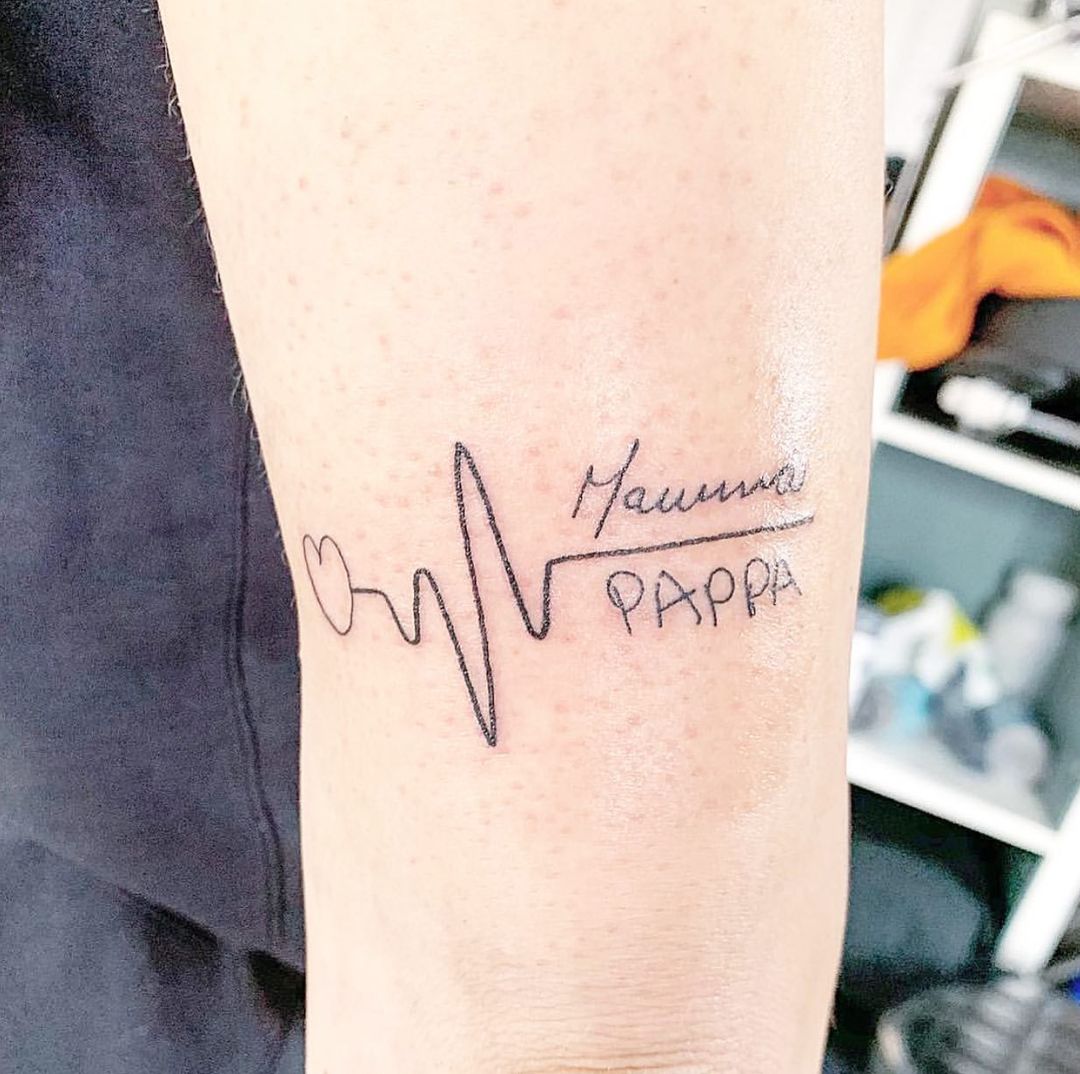 2. Minimalist Heart Rate
The heart rate tattoo is a simple lined tattoo which is a representation of love, passion, endurance. It can also remind you that time is running out. Being a minimal tattoo it can be etched at absolutely any part of the body without much strain. The advantage of having minimalist tattoo is that it takes less time to draw it and still carries the same meaning as a huge tattoo. In addition you don't have to hide it as it is less noticeable.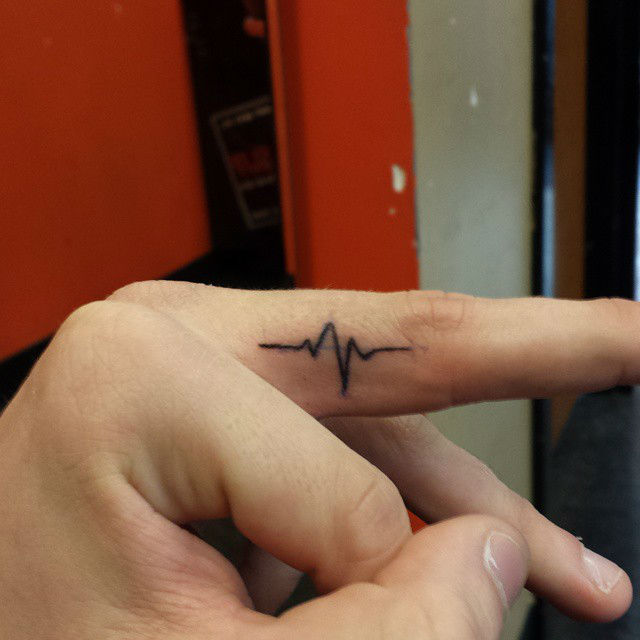 3. Heart Beat Tattoo On The Forearm
The forearm is a great place to have a tattoo etched at. This is because you can easily expose it or hide it according to your wish. This makes it an ideal place for   people working on the corporate world. A simple heartbeat tattoo would be ideal as it signifies strength and endurance. Life is not a straight path and one will always experience pain and hardships. Thus it is ideal to have a tattoo that reminds you keep pushing even in your low moments.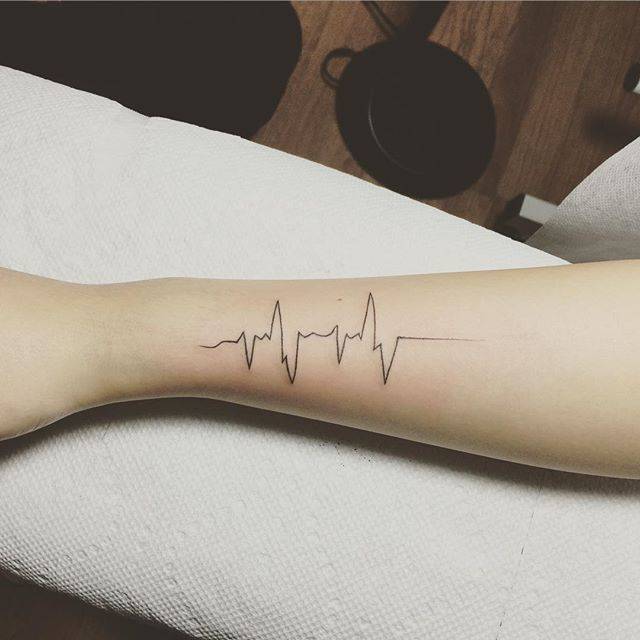 4. Simple But Awesome Matching Heartbeat Tattoos
Meeting a person who can stand with you during the good and bad times is not a walk in the park. However if you are lucky to find someone who loves and is ready to endure pain with you then you better appreciate them. There is no better way than having a matching heart beat tattoo.it will remind you to stick by each other   during the good and bad times. The tattoo is great when it's all black in colour.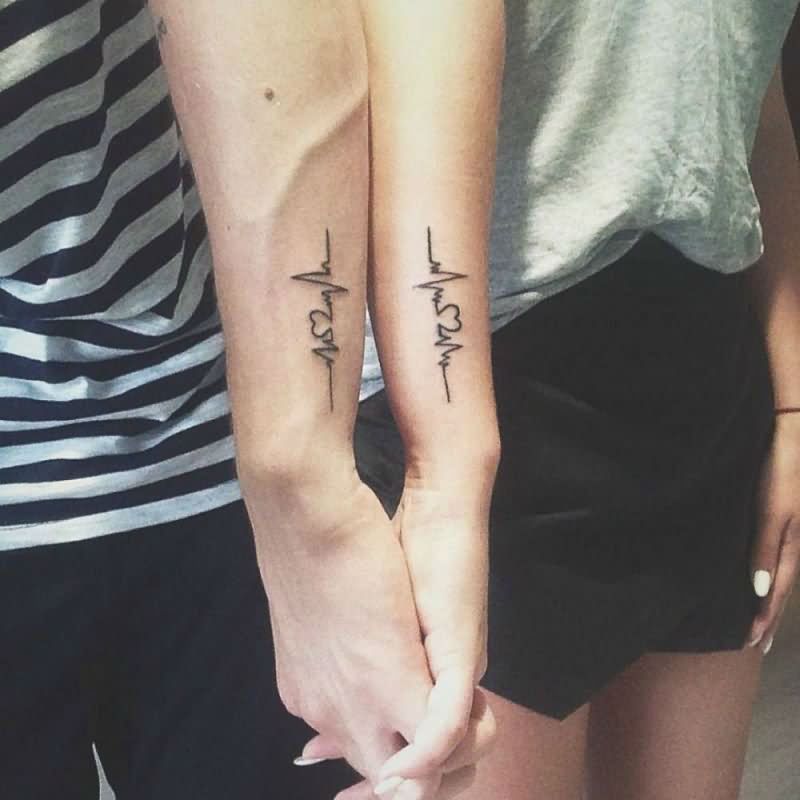 5. Rhythm And Heart Blend Tattoo
This tattoo is great for musicians or people who love music. This art can mean different things for different people. Often the art represents a cheerful soul that can endure any kind of suffering. It is best when placed on the arm.Ensure you add a little of shadow effect to your design to beautify it.Customally most people opt for the black colour however you can make it more interesting by using different shades. Thecolours add shine and brightness to your tattoo.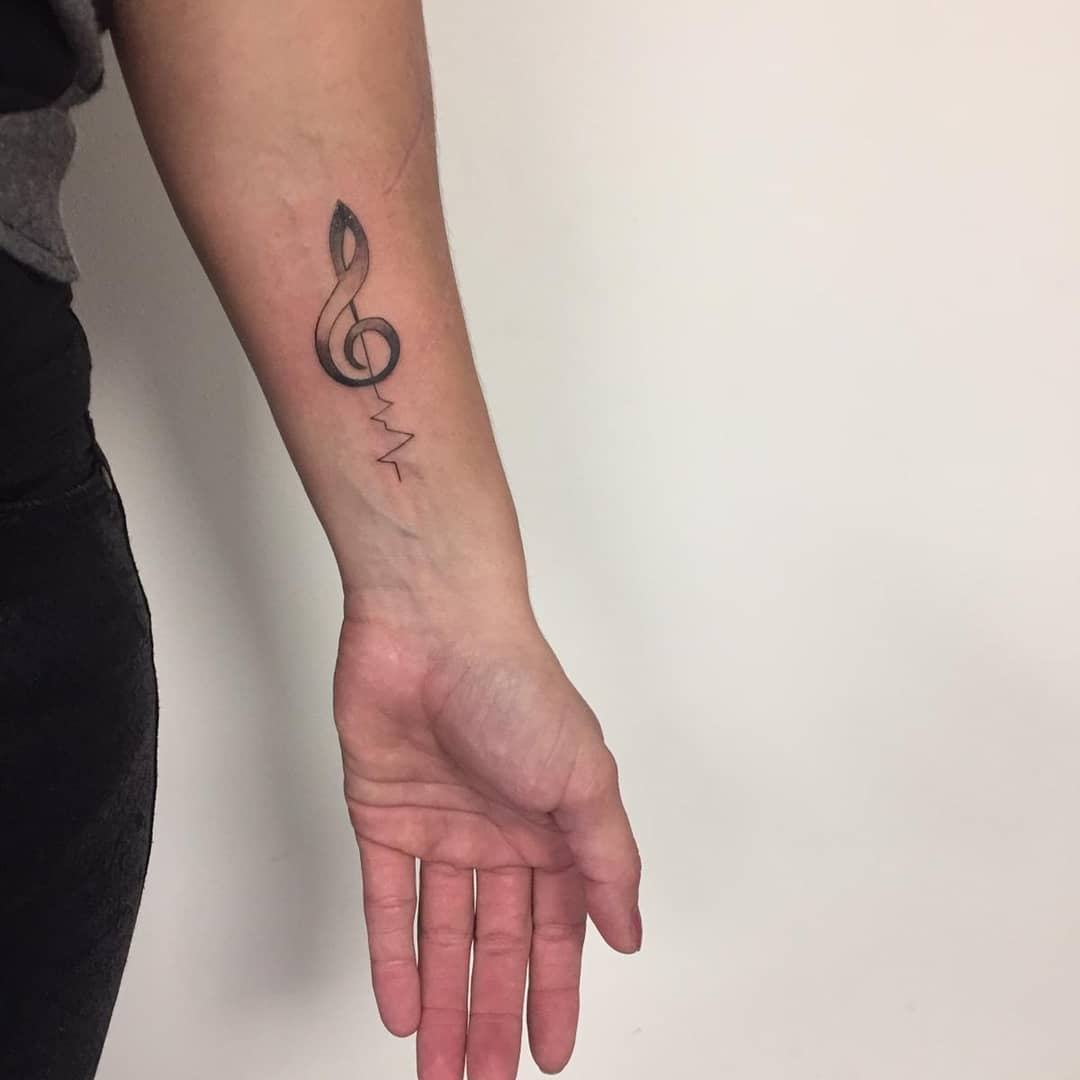 6. Minimalist Heart Beat Tattoo At The Back Of Your Neck
Small tattoos are cute and attract less attention. Good thing is that they absolutely carry the same meaning as similar large tattoo designs. The heart beat tattoo can be etched in different diverse ways. The back part of your neck is a good place to have the tattoo placed at. This is because the place is less noticeable making it an ideal place for shy people who don't like much attention.it symbolises perseverance and ability to move forward and overcome different challenges of life.
7. Heart Beat Tattoo On The Shoulder
The heart symbolises happiness and love. However different people choose different meanings for this kind of tattoo. Often when a heartbeat tattoo is placed on the shoulder it symbolises grief.it shows that you are trying to recover from pain by trying to forget and get in terms with it.There is no better place to have this tattoo image rather than the shoulder. This is because at the shoulder you won't constantly see the art thus you'll easily forget the pain.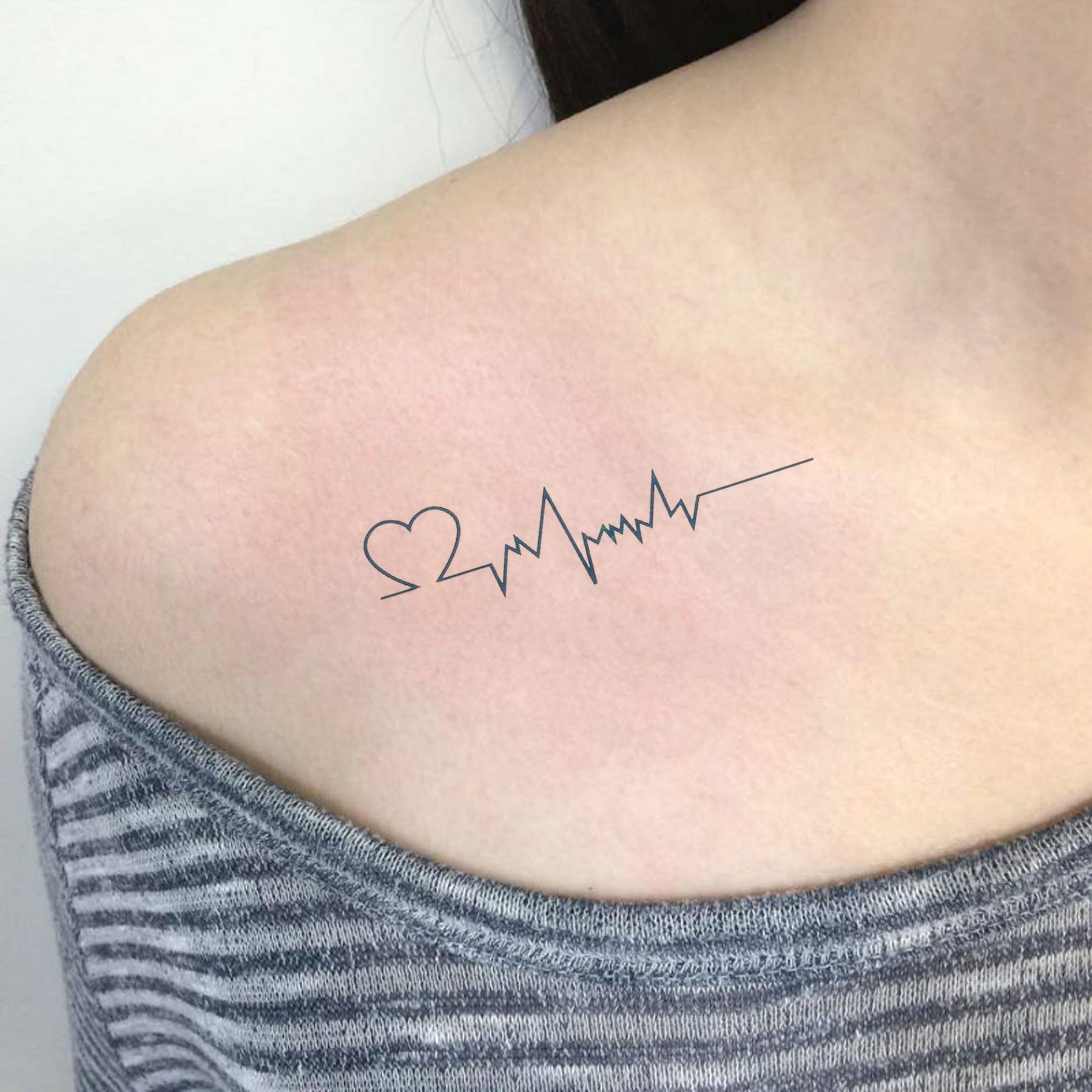 8. Cute Firstborn Heart Tattoo
Being a first time parent can be very overwhelming at times. Raising a kid is no joke but it's not that hard. There is no better of commemorating the day you became a first time parent than having a tattoo image of your child'sbirthdate. You can spice it up even more by adding the name of your child. This will always remind you that there is someone who is looking up to you thus you have to be responsible. The forearm is a great place to have this amazing tattoo. Be proud of your offspring and let other people envy you for being a caring parent.
9. Arrow Heart Beat Tattoo
The heart beat tattoo can be combined with different designs and the arrow is one of them. The heart beat represents endurance and ability to move forward despite different circumstances that surround you. The arrow and heart beat tattoo symbolise a renewed life especially when you've had an experience where you almost died. There is no better place to have this design than the arm.Ensure that the tattoo has a black colour for simplicity.
10. Sensational Heart Beat Tattoo
This is almost similar to a water coloured heart beat tattoo.it is cute and quite colourful making it ideal for women. Just like other heartbeat tattoo this one too symbolises strength and perserverance.there is no better place to have this amazing tattoo than the shoulder area. Ensure you get this tattoo done by a skilled artist so as to get the best results.
11. Heart Beat Tattoo On Shoulder Blade
The fine line heart beat tattoo is normally simple yet quite symbolic. Often it symbolises the ability to persevere through the hardships of life. Life can be hard and unfair at times but despite this we need to struggle and find a way to cope up with all the challenges. The shoulder blade is a perfect place to have this small tattoo etched at. I advocate for the shoulder because you attract less attention as people often don't focus on the shoulder.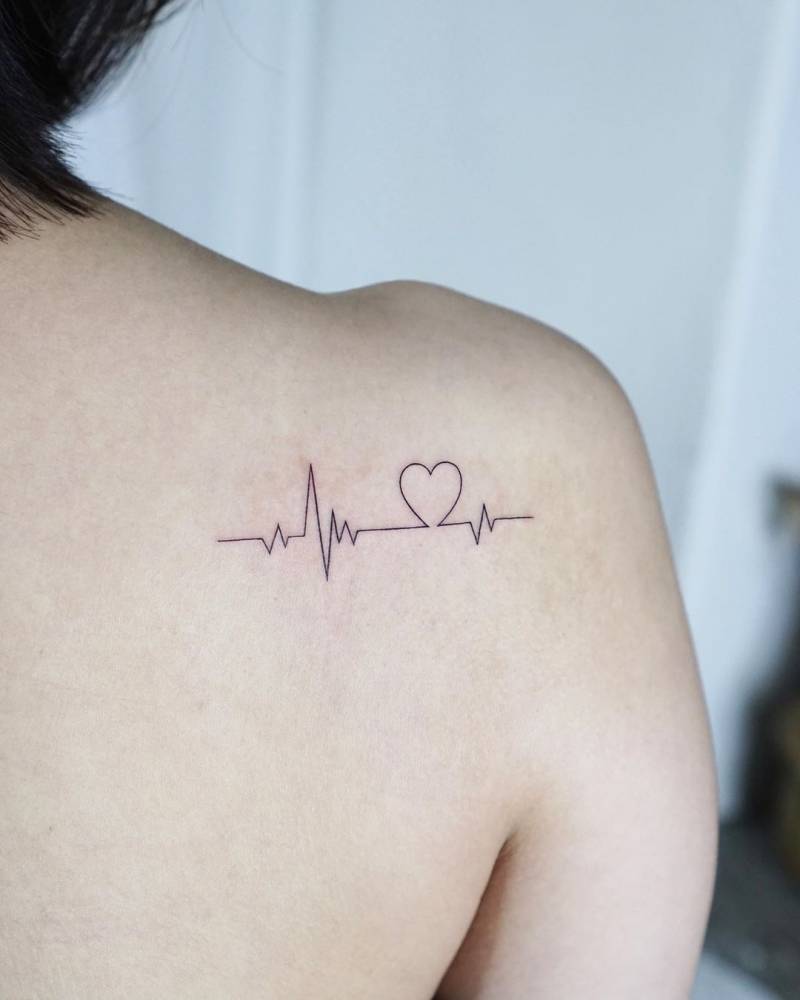 12. Queen/King Heart Beat Tattoo
The king/ queen is considered as one of the most royal and respectable person in the kingdom. Being a king does not necessarily mean that you have to run any kingdom. You simply can become the queen/king of your own life. There is no better way of expressing this legendary art rather than having a tattoo etched on your arm.This goes in hand with the heart rate tattoo which symbolises prosperity and endurance.
13. Heartbeat Tattoo With You Word
This is one of the most common used tattoo. It is simple but quite romantic. It can signify that you are ready to walk through   the journey of life either alone or you will help your lover/family member in all their seasons of life. There is no better place to have this artwork etched rather than the forearm. Ensure the tattoo is all black though you are not limited on the colours that you can have for this tattoo. Always seek services from a licensed and skilled expertise.
14. Black Heart Beat Tattoo On Wrist
The heartbeat tattoo can be quite personal and intimate at times. Often it symbolises love, power, strength.Many women often have this tattoo in memory of their important dates. You can decide this tattoo to be as minimal as possible. Ensure that it is black in colour and is best when placed on the wrist. Get this amazing tattoo and show it off to your friends.one thing I love about this tattoo is that you don't attract lots of attention from people.
15. Faith, Hope And Love Heart Beat Tattoo
This is one of the most awesome tattoos that anyone can think of having. Thefaith, hope and love words are quite significant. They signify that despite any kind of hardship you still hope that one day everything is going to be all right. The no better design to blend along with this rather than the heart beat tattoo. It is best placed on the ribs. Ensure you choose all black colour as it blends well with all skin types leaving you looking beautiful.
Having had the above discussion it is now easier for one to decide which tattoo suits them best based on their personal preference. This is mostly influenced by the meaning of the tattoo and the area that it is being placed at. Ensure you get your tattoo done by a skilled artist who is licensed and follows all the health procedures. It's time you get your dream heartbeat tattoo and flaunt it around.