If you are looking for an easy hairstyle that gives you an elegant look with a bohemian vibe, look no further than this Beetle bun. This statement style can make any occasion special with its effortless, eye-catching look, making you the center of attraction. Let's dive into the step-by-step guide to this boho-chic Beetle Bun.
Materials Required
Hairbrush
Hair elastic
Bobby pins
Hair spray (optional)
Step 1 Of Making A Beetle Bun: Prep Your Hair

Start with clean, dry hair that's free of tangles. If your hair tends to be on the unruly side, give it a good brush to ensure it's smooth and ready for styling. Spritz on some leave-in conditioner, or use a detangling spray to make your mane more manageable.
Step 2 Of Making A Beetle Bun: Half-Up, Half-Down Ponytail

Gather the upper half of your hair and secure it into a mid-height ponytail using a hair elastic. This will serve as the foundation for your Beetle Bun. Now, with your ponytail in place, make a small hole just above the elastic band with your finger and insert the ponytail through it.
Step 3 Of Making A Beetle Bun: Section Your Hair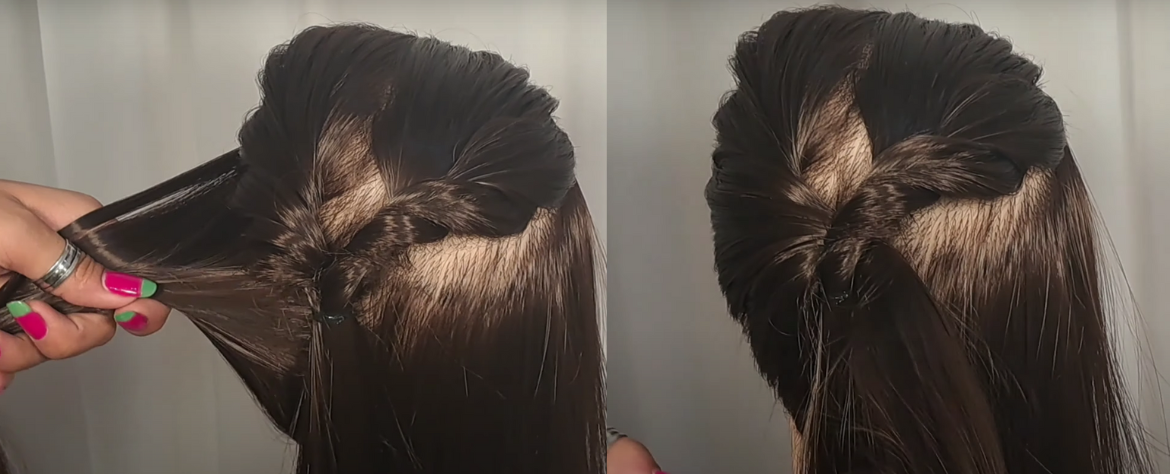 Divide the lower portion of your hair (below the ponytail) into two equal sections. Take the divided sections one after the other and insert them through the hole you created. This creates a looped effect, transforming your simple ponytail into a more dynamic structure.
Step 4 Of Making A Beetle Bun: Fishtail Braid

You'll notice a low ponytail-like structure with the lower section looped through. Grab the hair together, eat a fishtail braid, and tie it with an elastic band when you reach the bottom of your hair.
Step 5 Of Making A Beetle Bun: Roll and Secure

Hold onto the end of your fishtail braid and start rolling it toward the nape of your neck. This will create a beautifully textured bun. As you roll, use bobby pins to secure the bun in place. Make sure it's tight and snug for that polished finish.
Step 6 Of Making A Beetle Bun: The Finishing Touch

Once you reach the nape of your neck, secure the rolled bun with additional bobby pins. Tuck in any loose strands and make any necessary adjustments. Feel free to loosen the bun slightly for a more relaxed, bohemian look or keep it tight for a sleek and sophisticated vibe.
Other Articles