Who doesn't love tattoos, it looks cool, trendy and holds special place in everyone's heart. We have come up with some relaxing innovative and creative tattoo ideas. Most of the most popular bird tattoos is a swallow Tattoo, a bird tattoo which holds rich meanings and looks aesthetics on our body as tattoos. One of the reason of its popularity lies in its their traditional meanings and cute designs.
A lot of stories revolves around swallow tattoos, out of these of the most popular one is about its origin in Britain. In the early days of Britain, British sailors used to get swallow tattoos. It was popular among sailors to show their experience in sailing.
It was also an expression of the sailors to express their hope to come home safely. It was because while sailing the sailors used to see swallow they knew that land was near.
Traditionally, sailors used to get inked in black colour of swallow bird onto their chests. Nowadays a lot of youngsters are getting the same swallows tattoo but the placement of tattooing has not been limited to chest. From large to small, a swallow tattoo could be inked on chest, back, wrist, neck, or even behind the ear. So far, the most popular styles are flying swallows where these flying sparrows looks stunning while flying in different directions. You can also add personal message with them as well.Due to historical reason the swallows is mostly drawn with anchor so it could be a sailor's tattoo. There are many elements that make this tattoo awesome. For instance putting detailed birds is sure to please anyone or the one holding jewellery together, creating a one of a kind style.
Another style could be of flying together for couples or one with high dreams. About to land swallow bird tattoo with detailed swallow image is one of a kind indeed. Soaring swallow could be great image to watch. Asmall swallow that is soaring in the air near your ear. Another design ideas that are modern and chic is geometric designs. It always look really cool. Adding some bright colors to a great swallow will made it further eye catching. Tiny swallow or chest covering swallow tattoos, choice is yours. Keep the budget in mind before deciding the size and don't worry if you have limited budget. We have picked up some small swallow that can can fit anywhere like the foot or the wrist, few with dotted lines, outlines and few made up of paint splatters. A great swallow tattoo that fits behind the ear.
In this post, you will enjoy some of the most innovative and creative tattoos with its strong message and mesmerizing design.
1. Detailed filled swallow tattoo
A great detailed tattoo with the wings flying high on thigh is sure to please eyes. Such swallow tattoo designs on the is an indication of power and the ability to fight. This is one of the new positions for this type of tattoo. Mostly tried by guys on thighs but a days you will see amongst women.
2. Fly high swallow tattoo
If you wanna fly high and love travel then this could be your tattoos of choice. This swallow tattoo symbolizes travel, loyalty, and fidelity. One on your twist with flying swallow is tattooed with one swallow, shows the desire to travel If one has many Swallow tattoo, it indicates a very experienced and valuable sailor according to tales. Hence, most popular meaning of this tattoo is travel.
3. Detailed about to land swallow tattoo
Swallow tattoos are considered to be a very old-school and traditional. Look at it new and creative approach to this detailing and intricate design done all around and inside the bird. A pretty unisex choice with the tattoo having the swallow in the centrefilled with lot of black ink a repetition of elements.
4. Big filled landing swallow tattoo
A swallow tattoo is also used to express love by getting inked with two lovely bird. It is because this bird chooses a mate for life and only nests with its loved one. Thus Swallow tattoos is also an expression of love, loyalty and fidelity. This is one of the reason for its popularity among girls and women. Wearers are often inked with two loving swallows or with a loving heart as shown.
5. Flying Together swallow tattoo
A great swallow tattoo of the two of them flying together. Bringing out joy and peaceful times. When two swallows are incorporated into the same design, it usually symbolizes strength and loyalty – due to the nature of the bird itself as shown above.Often the meaning and symbolism of the swallow tattoo will vary depending on the way the design is portrayed in the tattoo. Another possible meaning of two flying swallow birds could be the promise that for better or worse, you will stick by my side could another meaning of two swallow birds flying together.Back in the day, a sailor had to cross 5000 miles of ocean to earn a swallow tattoo.
6. Keep walking swallow tattoo
A swallow bird is a travellerwho loves is to travel alone. Just like them one who migrates from one place to another to escape. This represents swallow tattoo shows the swallow bird traveling in the sky that indicates the bird is going.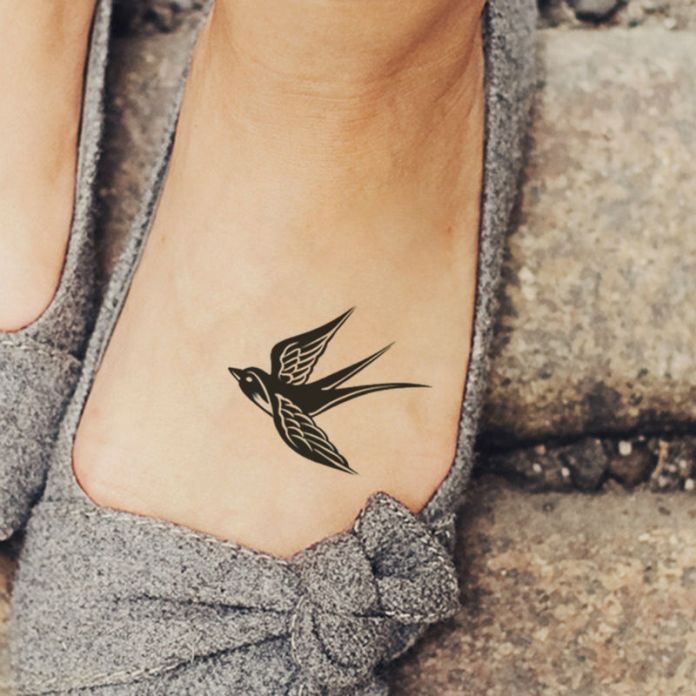 7. Sailor colourful tattoo
A colourful swallow tattoo with other elements like the sailor's hook on one feet and the bird on another.This way a lot of other elements – both from nature and the imagination – making them unique from one another.
8. Swallow High hopes tattoo
An eye catching place to get tattoo. This cute design swallow tattoo which isn't only beautiful, but it's rich in symbolism. Look like a little bird, this swallow tattoo is linked to loyalty, wealth and long health. Get in behind the ears to get extra attention.
9. Long distance swallow tattoo
Getting tattoo on fist isn't new and this cute swallow tattoo symbolises the long travel you want to do. A commonplace sight today, and no longer restricted to decorating just the chest. It could be for your decoration appeal or meaning behind such swallow tattoo still stands for loyalty, protection, seeking home.
10 Flight swallow tattoo
A swallow in flight could mean good luck and noble intentions. This tattoo done on the chest has little bit color and indicates different things. Like the red one depicts the staying away from negative. The one of chest has different meaning and depending on the way the design is portrayed in the tattoo.
11. Clipart style multiple swallow tattoo
A swallow tattoo with all the movements of its flight shows different phases of life and shows the lift life at different phases. As a strong stand-alone tattoo, this style can be applied to get timeless and beautiful about a boldly outlined and filled clip art style swallow tattoo inked in simple colors or shaded in black.
12. Hardship and victory colourful swallow tattoo
The swallow tattoo as a symbolic bird offered up a sign to the sailors. It is used in modern days as a sign of the hope and safely. The tattoo is beautifully crafted with all possible details and colourful head. Famous among men, such tattoo on wrist could be a symbol of the return home after a struggle or a hardship survival or maybe a victory gained after lot of struggle.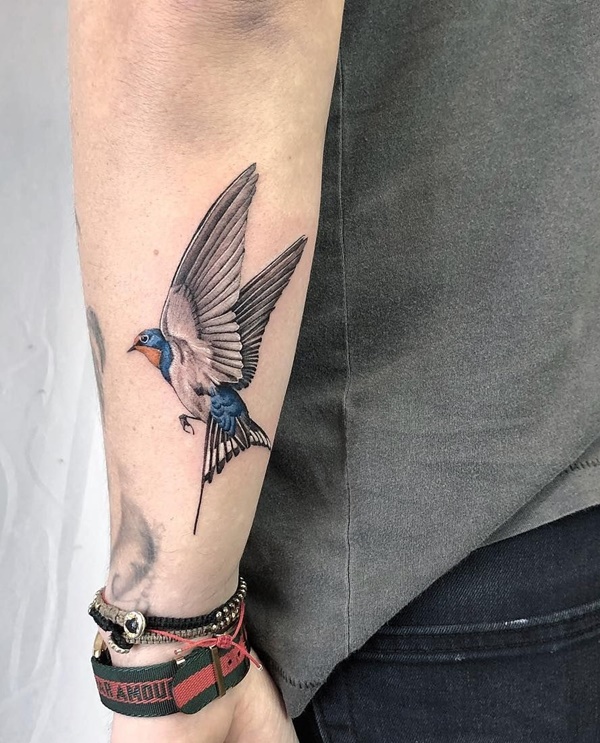 13. Splash of colours
A beautiful combination of colors and design on the inside of the tattoo placed on one side of the back. It could be placed anywhere if you are looking for something small. One of the new styles where the swallow looks as if it was painted on the skin; it's so beautiful and elegant and filled with incredible colors. The best part of this tattoo is the wonderful colors that you see. So many different color, and they are very eye-catching.
14 Outlined stylized swallow tattoo
When life gets tough and we feel the need to start over from a difficult time in life. Maybe creating a fresh start from scratch is what you need to remember and nothing can be better than a Swallow tattoos. It is often use to symbolize the rebirth of life itself.
15. Moving forwards swallow tattoo
Like any other creature of nature, can be drwan on one side above your chest. The swallow tattoos are attributed with the qualities usually associated with birds but in a more dainty and elegant manner as described in the beautifully outlined Swallow tattoo. However, depending on the size and the design, swallow tattoos can present a much different appeal.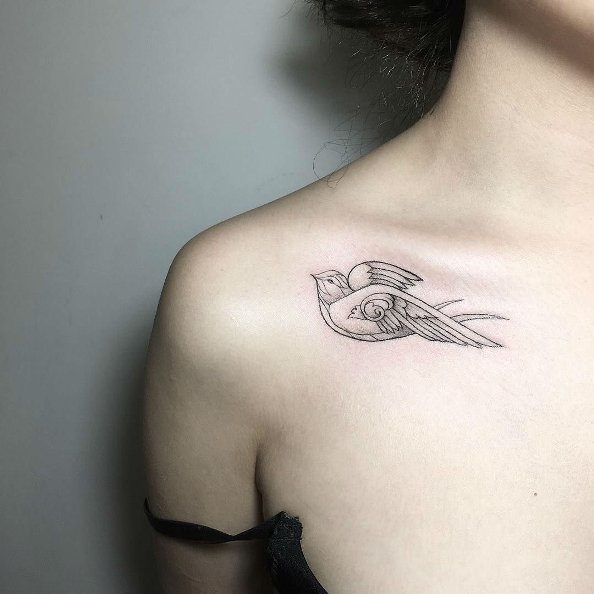 16 Reaching the ear little swallow tattoo
A great small swallow tattoo is trying to reach the heights. With its shaded wings that i giving it a different look.
17. Swallows on the ankle
This great design is one for your beautiful feet. The swallows shows change towards the better as well as loyalty. Four swallows together represent familial and maternal connection as they are known to have the same mate for life.
18. Colourful graphical swallow tattoos
The colors of swallow tattoos is one of the latest trends. The colour detailing and its graphical approach is chosen with as much consideration as the position and design of the bird itself. The color of the tattoo indicates different things. Like a blue swallow means the positive and the red one depicts the negative. It could be your couple thing as well or a symbol of the triumph.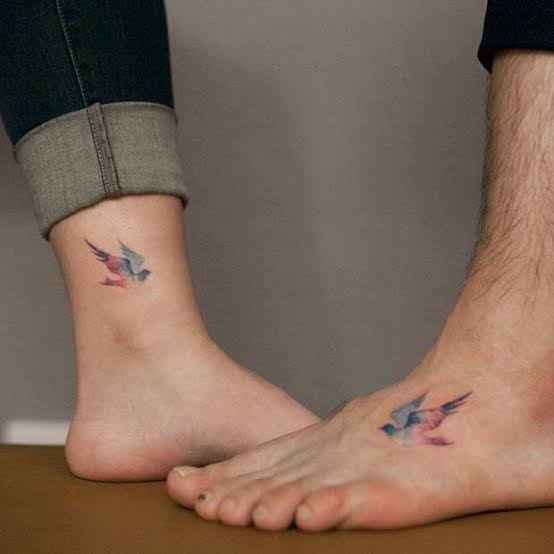 19. Different directions swallow birds tattoo
The first birds that you get to see when you reach firm land and a symbol of good omen. It symbolises the long way you have to go bytravelling. Two friends or couples can try this tattoo as they are a gorgeous tattoo and you have one for each side. One can also get one and the partner should get another as a symbol of unity and love.
20. Growing each day swallow tattoo
The swallow is also known to fly alongside vessels in the sea and land on the ship when tired. A popular place that you will see swallow tattoos are on the chest and with sailors, a number is usually found around the wings representing the distance they have traveled.
This way you can design your own tattoos by adding your swallows to other tattoos to create a unique design that fits your personality.
Getting a tattoo is kinda serious and so choose wisely. It wont be wont to say it is like getting married. If you choose the right design, it might end with a lifetime of happiness. Don't even think about getting it removed. Instead stick to it and flaunt it all the time. Covering your tattoo later on isn't worth and so take the time to carefully consider your decision first. I hope the above designs will give you better idea and with the following tattoo designs with its meaning and message , you will end up having an amazing tattoo experience.